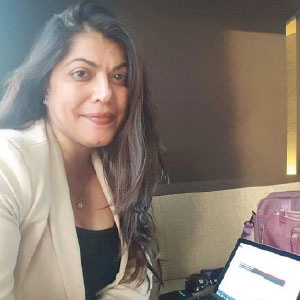 With women like Arundhati Bhattacharya and Indra Nooyi making their marks on the international market, Indian women are now challenging the orthodox beliefs and seeking ways to be more self-reliant. Such progress always makes Kashmira Sethna ecstatic who believes in the importance of women's financial independence and is setting an example herself as a founder of Thought Bridge, a global recruitment consulting organization that is today serving multiple organizations, streamlining their recruitment proceedings.
Having worked with several industries like telecom industry, insurance, IT and Recruitment for over 17 years, Kashmira has the perfect concoction of industrial knowledge, sprinkled with personal learning that helps her run her enterprise. She states,"I believe that gaining experience from a job for the first decade of your career is imperative. It teaches you discipline and handling pressure, and strengthens your interpersonal skills,although unlike today, professionals back in the 90s had very limited choices. Thanks to my journey, today I feel more confident about running an enterprise and feel like nothing is beyond my reach".
The Accidental Inception
Kashmira has been a part of the corporate world for as soon as she passed her graduation with a Bachelor degree in Psychology. Before she incepted Thought Bridge, the womanpreneur worked at a telecom company for six years, amidst a very competitive environment where she learnt the art of sales & customer care, and groomed her time management, patience, and perseverance skills. Starting off as a receptionist, and worked her way to the top as Senior Executive - Sales & Services. A major
starting point in her career, her tenure here enunciated the importance of inter-personal relationships and problem-solving skills. By the time she left the job, she had gained substantial professional acumen to move on to the next level. Her next stint at Kotak as Trade marketing & Advisor coordinator introduced her to a relatively new segment of the investment industry, where she dealt with event management, product launches, administration, and backend.
The idea of helping somebody with their career and creating a substantial change in their lives appealed to Kashmira greatly
However, fate had a different plan in store for Kashmira. Post her baby's birth, she approached a recruitment consultant to help resume her career. What was supposed to be a brief encounter turned out to be the turning point of her life! Kashmira recalls, "They asked me if I would be interested in working as a consultant for their Telecom vertical, and since this was a completely new domain, I wanted to explore". Thus was the foundation of her life long love affair with recruitment industry was laid. Following that her experience at Mafoi, as a Sr. Team Leader and IMS People as the Head of Global Recruitment, acted as the stepping stones to build up Thought Bridge. Post IMS, Kashmira recalls working at an IT company in a generalist role, but it failed to give her that boost to continue. This prompted her to create something of her own, and this is how Thought Bridge came into existence. These corporate journeys taught her nitty gritties of the recruiting industry.
Service with a Difference
The recruitment industry enticed Kashmira like no other for reasons beyond only earning revenues. The idea of helping some body with their career and creating a substantial change in their lives appealed to her greatly. Because she believes that professional and personal lives are always intertwined, if one is happy in both areas , only then it gives a sense of fulfilment in totality. Her idea of
Thought Bridge is to deliver responsible and reliable recruitment, overseas talent management solutions to valued clients in a consistent and cost- effective manner while fostering long-term professional relationships with them. And in order to deliver these promises, Kashmira ensures that her team is happy and motivated. She explains, "Our job is far from mechanical. It involves a very concentrated effort for every client who comes in has a diverse requirement and criteria". Instead of just scanning the pre existing data and filling the required positions, she directs her team to first look for target industries and explores other options close to that particular position. The challenge intensifies when any executive hiring comes into play. Since every element is so diverse, a single mindset cannot prevail for an efficient and tailor made hiring.

One cannot determine the journey behind a venture from its end success. Though Thought Bridge is today a successful venture, the inception was rather rocky where she admits failing in the choice of partners to see the future in the same direction as her. Ultimately deciding to embark on a solo journey henceforth was not so tough a call to make, as this was the dream she saw for her self, although some troubles came her way. Kashmira elucidates, "Some times your scope of vision gets limited because you come from a very different background". But with the support of her family, her mother to raise her child, and the people she met on the way to this journey, the bootstrapped Thought Bridge today is enduring a smooth sail.

Kashmira admits to being a bit mild with her co-workers at times, even in times of distress. However, from her point of view, it is her way of 'gentle but firm'tactic of enhancing her inter-personal relationship with her employees. Moreover, these inter-personal skills often help her bridge the demand gap with her clients. A movie buff, Kashmira loves spending time with her friends & family and looks forward to her yearly family trips. Emphasizes on the importance of discipline and a clear vision for not only business but for every aspect of life, Kashmira believes that women should get ready to embark on an entrepreneurial journey any time in their life.