Ghodawat Consumer Products: Manufactures Quality Consumer Products at modest prices with Goals of Innovating Instant Healthy Foods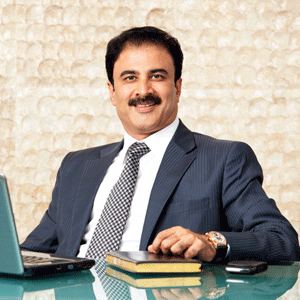 With its expertise etched across the most valued industries and sectors of India, Sanjay Ghodawat Group presently silhouettes as a strategically well-diversified group equipped with the advanced and most diversified infrastructure and assets. Born as the FMCG arm of this groupin 2013 under the reign of Mr.Sanjay Ghodawat (Chairman), Ghodawat Consumer Products LLP (GCPL) manufactures a wide range of consumer products by leveraging the best & advanced technologies and machineries in the industry.
GCPL has emerged into an 800 people company today from just 25 during its establishment year and reaps incredible revenues from merchandising its products. This firm has segregated its consumer products portfolio primarily into the staple segment entailing Rice (both Basmati & Non-Basmati), Edible Oil, Atta, Salt, Sugar and Jaggery and also the impulse segment Namkeen division - entailing Potato Chips, Namkeens, Extruded Products, Fryums and fillet based snacks. In addition, it holds a confectionery division 'CANDYSTAR' for candies, toffees and eclairs, Beverages division for packaged drinking water, Fruit Juices (FRUSTAR) and Carbonated Drinks (FIZZINGA) and also a ready to cook division 'RICEASY' for all rice-based products.
Get inspired by delving into the following excerpts of an exclusive conversation of Sanjay Ghodawat with CEO Insights that illustrate the idiosyncrasies of his firm's food products among similar others in the market.
As the Chairman of Sanjay Ghodawat Group, how did your 35 years of industry experience assist you in setting up GCPL?
Working along with my beloved father and grandfather from a very early age, I realized that the consumer products business was always at the kernel of my interests since I was 19 years old. Post my
diploma in Mechanical Engineering,I uplifted Sanjay Ghodawat Group as its Chairman from just 25 people in 1994 to 8,500 people presently, forayed into diverse industry segments and oversaw our edible oil business. Also, I obtained diversified experiences from building all our companies in the group across eight sectors from the scratch, uplifting those to multidimensional levels and hiring professional teams to manage day-to-day operations.

" Eliminating the need for middlemen, we directly associate with Indian farmers to source each commodity from our collection centres located at various marketplaces"

Leveraging the best of these experiences, I moved ahead to start GCPL and also created an overall strategy to enlist the segments which we need to embark and emphasize on as well as to survive in the market substantially. Since then, right from designing the product portfolio, ensuring the quality standards of each product by supervising internal QC team, managing the operations at economical & affordable costs, to maintaining scalability till getting it ready for packaging, I left no stone unturned to deliver the best in class products to my customers.

Kindly shed some light on the avenues that you conform to in order to produce the best food products?
Eliminating the need for middlemen, we directly associate with Indian farmers to source each commodity from our collection centres located at various marketplaces, thereby creating maximum value for their investments and also source packaging materials from the right vendors across India. Further at our manufacturing facilities, we assure to deploy a lot of proprietary technologies from European or American markets fused with Indian entities to produce the best products. For instance despite the entire production line at our rice milling unit being set up by Bühler, a Switzerland-based company, all our manufacturing operations are executed only across India. To never compromise on quality of our products, we adhere to the norms of FSSC : 22000, BRC, Halal, Kosher, ISO 9001and US FDA (yet to be approved) and also deploy the right and skilled manpower. As India is way behind in terms of expenditure or technology across food business when compared to
the rest of the world, we at GCPL ensure to bring in more and more newer products that are already established in the Western markets into India.

How is innovation being carried out at your company and what is your role in it?
Besides spreading my insights on the latest technologies and products worldwide to our new product development(NPD)team, I ascertain that they constantly upgrade our existing product line and reinvent new products in tune with consumer demands and feedback.

With the surge in fad for packaged foods among people, the disposable incomes of each individual as well as the per capita income of India, the demand for packaged foods is growing by leaps and bounds while its total sales is forecasted to increase by 7 percent annually within the next five years. Hence, we are working on a strategy to develop instant food products for the consumers as well as an entire line of instant healthy & affordable products with no transfat and low sugar, sodium and fatty oils and no non-food grade(NFG) materials and preservatives. Recently, we created the ready to cook category when it was obscure in the market with our focus on rice, the staple food of India.

From owning just the staple arm of business, we have gradually leaped into a firm with multiple lines of business that ensures best viability to our distribution channels and also best benefits to our retailers and end consumers. We are in fact expecting to generate revenue of around $125 million by the end of this year.

Key Management:
Sanjay D.Ghodawat,Chairman
Leveraging 35 years of comprehensive experience entailing right from production, sales till door-to-door marketing of diverse products across multiple segments, Mr.Sanjay administers GCPL in seamless manufacturing of economical consumer products as well as development an entire line of instant healthy products.

Office:Kolhapur(Maharashtra-India)

Offerings: Rice (Basmati & Non – Basmati), Oil, Atta,Jaggery and Sugar, Salt, Namkeens, Carbonated Drinks (Fizzinga), Fruit Drinks (Frustar), Packaged Drinking Water, Soda, Sugar Boiled Confectionery, Ready to Cook (RicEasy).