Growing manifolds reinforced by the country's economic growth, the automotive sector (undergoing a technology-driven transformation) has grown profoundly, from a small, protected market to a well-organized industry today. However, when it comes to receiving any service - 'after-sales' (be it technician or parts) it becomes a huge hassle in our day-to-day lives, especially in ours manufacture-driven automotive industry, comparative to other supply-driven countries like US, China & Europe. One has to look for an authorized workshop and cannot go to the local garages for the same. However it has been famously said ~'Necessity is the mother of invention'.

Driven by the same inspiration is the growth story of Harpreet Singh, a young turk, and Founder & CEO, AutoFlipz, one of India's first network of standardized & technology enabled Car care, service and repair centres. Ensconced in 2019 by two investment bankers, the firm is new but demanding as it's a one-stop-solution platform, which enables assured car services and repair, anytime, anywhere. He has been the harbinger of one of the most sought-after automotive after-sales service space which is certain to turn big in the coming times.

To know more about Harpreet's exalting journey, delve into the following excerpts of an exclusive interaction between him and CEO Insights.

You founded AutoFlipz quitting your well-sought career as an Investment banker. What was the inspiration?
I am a B.Com. graduate from Sri Guru Tegh Bahadur Khalsa College, Delhi University. My career started at a very young age of 14 when I was in school, but the actual corporate experience which I can count onto is from an investment banking firm AnBac Skills. Then, I was an intern there. My role involved performing valuation analysis on a wide range of public & private entities within various industries using accepted and relevant approaches & theory.

Designing financial models for discounted cash flow, market multiple, and option pricing analysis was also under the purview of my role there. However, my first entrepreneurial stint was with my venture Finjaw (in second year of my degree). Having been in touch with some of the good clients then, from amongst my network I came across Moonquik Venue Experts who offered me the COO role. But, belonging from a digital age, I had a penchant to grow amidst the same by being independent.

It all began from a real life incident. I once happened to be returning home from office after work, and my car broke down. Stuck in the middle of the road for a whole three-four hours with no assistance, knowledge, awareness of the
situation and any mechanic or technician athand, I suffered a peculiar predicament. However, after calling my friend-cum-Co-Founder, I managed to get a road-side mechanic's help. Sadly, I had to leave my car at the workshop without any genuine assurance on technician's part or service there. I was left behind with skeptical thoughts. It was then I realized that bringing such services at hand to people can certainly help lessen the hassle in their lives. The incident spurred me into action.
Building the right infrastructure to deliver quality is very important and customer experience is the key
It was in 2019, Japjot Singh (Co-Founder) and I started AutoFlipz operations in Delhi NCR with a view to provide next-gen automobile after-sales service to people with full transparency through 'The AutoFlipz Advantage' online app. Ours is a unique customer-vendor centric platform where with stringently set norms we onboard selected repair shops and deliver quality services to our customers. With multiple options to choose from one can book for service anytime, anywhere. There's also a free pick-up & drop service, and our live tracking system helps one keep a real time update the vehicle.
What were the major challenges that you faced as an entrepreneur & CEO so far?
There were quite a lot of challenges. One of the major one was to thrive against the already existing competitors in the automobiles after-sales service sector. They had enormous fundings & partnership support to help in brandings and other affairs of their company operations. While, we being a bootstrap startup, faced huge challenge with it. However, my experience in devising Business Strategies, Networking, Business Development, Brand Building, Revenue Strategy, and go-getter attitude turned out to be the building blocks in the journey.
We came up with an application fee for vendor, mechanic/technician onboarding on our platform to make them serious. It was difficult to gain trust of such partners who were already getting a business of 10-12 lacs from our competitors, but even then our fortune outshined and we plunged into the space with full force. Bonding with a favourable & trustworthy partner, was what we required. In a span of two years, we have serviced 1846+ cars (which means 20+ each day), and amongst which 18 workshops are live in Delhi NCR area, today. Our 92 percent positive feedbacks are a great inspiration to keep us going.
What are your strategies to carveout the beneficial solutions
and leverage the best of it for both the company & the clients?
The after sales market in India, which was a price focused one earlier, has now shifted to the quality of service, especially with more & more people buying luxury cars today. In India, the average spend of a consumer on car is estimated to be less than 3k per year, less than even the food spend (ordered online from Zomato/Swiggy). People need to understand that the car they drive is something that portrays their status in the society. Building the right infrastructure to deliver quality is very important and customer experience is the key. Hence, keeping it the highlight of our service with trust and conveyance we tend to increase the average spending by a consumer in the Auto after sales market.
Further, adding on supply facet too to a manufacture-driven country like ours, we have planned to work with due diligence and advanced data analytics. Keeping technology paramount, we will be persistently working on value addition for customer's comfort.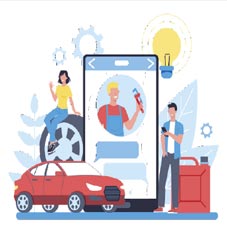 Delineate about your means to cope up with the upcoming trends in the industry?
We maintain an internal communication with members amongst our company. However, I also keep reading about the industry related information at global level, be it China, US & other European countries.
How do you manage to strike the perfect balance between the personal and the professional life.
When it comes to striking the balance between the personal and professional life, I believe both need to be managed in such a way that none gets affected by the other. I have my mentor who has been the guide light in the walk of life. I am very young in age, and I believe this age is the perfect to focus on growth and personalization of one's career. Free from any family responsibilities, I am very fortunate to have their back and expand my horizon.
Harpreet Singh, Founder & CEO, Autoflipz
An Investment Banker turned an entrepreneur, Harpreet is an enthusiastic & visionary leader who is striving to bridge the gap between authorized and IAM Repair Shops. AutoFlipz, a one-stop-solution platform, which enables assured car services & repair, anytime, anywhere, is an exemplary blueprint of the same.