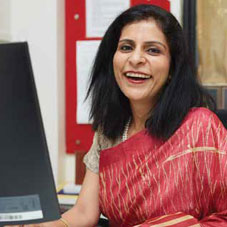 ALphabet international school is a pioneering educational institution that operates with a vision to provide a stimulating learning environment for children and develop a sense of 'Yearning for Learning' amongst young minds by nurturing the uniqueness of each child. The institute strives to achieve this in myriad ways right from their classroom environment to their pedagogy which is upgraded regularly. By imparting holistic education, fostering every child in becoming a confident, independent, and a self-esteemed individual, aLphabet international aspire to be a change bringer in the Indian education space.
Kavita Saraf is the brains behind aLphabet international school and under her guidance, the school has been able to make impressive strides in the crowded Indian education space and make a name for itself.
In an exclusive interview with CEO Insights, Kavita talks more about aLphabet international school and what sets them apart from the rest.
Can you talk about your role at aLphabet international school?
I am the Founder and Head of School at the institute. I am also a visionary serving as the academic leader who is responsible for managing the schools' operations including curriculum planning at the school. Apart from that, I also have to ensure that our day-to-day operations are aligned with our vision and mission to develop knowledgeable and caring young people who help to create a more peaceful world. By prioritizing the uniqueness of each child, we create a stimulating learning environment so that they can realize their true potential. As a leader at the school, I strive to ensure that the needs and requirements of each student are addressed promptly.
What is aLphabet international school's teaching philosophy?
We, as a unique educational institution, aspire to develop
compassionate and young lifelong learners in a stimulating environment of academic excellence. We strive to instill values of mutual respect, honesty,empathy and open-mindedness. With tolerance, our learners will become humane and knowledgeable citizens of the world, understanding various cultures thus promoting unity.
We believe that each child is born with a set of cultures and values which have to be an intrinsic part of their teaching and learning process. By offering a holistic learning experience to our students, we strive to enhance qualities like tolerance, compassion, respect, and co-existence leading to a peaceful life on this planet. More than that, aLphabet international instills leadership qualities to surge into the evolving century and the school creates an environment of continuous learning, critical thinking and excellence in academics.
One of our primary motives is to equip the students with needed skills required to thrive in the increasingly competitive and dynamic world
Apart from that, our faculty ensure that they guide the students in the best possible manner so that we can nurture inspired learners who can play a crucial role in the development of the society.
Elaborate more on the uniqueness of aLphabet international school?
One of our primary motives is to equip the students with the needed skills required to thrive in the increasingly competitive and dynamic world. To ensure this, we follow a curriculum that is based on inquiry and engagement. Through realtime simulations and applications-based learning, we train our students to be a crucial part of the society. We are committed to offering holistic learning where every student has the opportunity to aim for excellence.
We also prioritize on improving the student's communication, research, self-management and social skills. We believe that empowering the learners starts with empowering the educators and we have IB (International Baccalaureate) certified teachers who participates in regular training and development. Then, when it comes to infrastructure, we have a sprawling
campus with state-of-the-art classrooms, labs, sports and arts facilities as well as other study equipment.
Can you talk more about the evolution of aLphabet international school and how you make your students industry ready?
Our overall journey has been a fulfilling experience and our teams' commitment to offer the best learning experience to the students has helped us to build a positive reputation in this segment. We are IBPYP and IBMYP authorized school and this is something unique in itself. Our students also apply what they have learned in real-life problems, find solutions and then evaluate their effectiveness. Also, we make sure that our students develop their international mindedness so that they can reach for greater heights. Our students also participate in various curricular and co-curricular competitions as well as regular field trips as part of their learning process.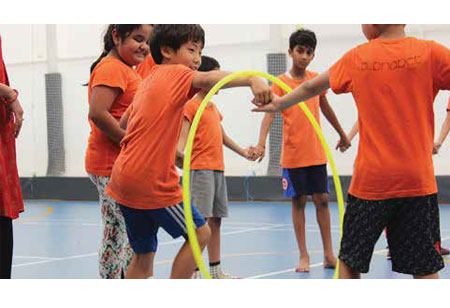 In your opinion how is the IB program helping you to offer a holistic learning experience to your students?
The IB program is adopted by schools worldwide whose emphasis is on developing inquiring, knowledgeable and caring learners, with the ability to make a difference in the world. The program is in itself unique owing to the fact that the curriculum is focused on the approach to learning and teaching, rather than only the content involved. It encourages 'student agency' where students are able to take ownership of their own learning enabling them to consider the opinions and viewpoints of others around them. IB provides the learners with extensive opportunities to apply the process of learning to global issues and reallife contexts and make a positive change. We believe that, no other curriculum is better suited for churning out the next generation of global leaders.
Kavita Saraf, Founder & CEO, aLphabet international school
Kavita was born and brought up in Kolkata and been in Chennai for more than 32 years now. She has got multiple decades of teaching experience and that experience helped her to start a school of her own. And over the years, she has received various accolades both as a teacher and an entrepreneur.