Deepika Sharma: A True-blue K-12 educator, an Education Philanthropist, and an Exemplary Education Leader who is determined to uplift the face of the Indian Education System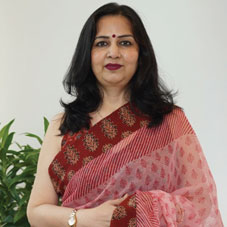 A strong education system is the backbone of a secure future in any country. While there is a strong demand for quality education in the country there have been many governments as well as private Educational Institutes joining the education sector over time. However, nowadays, even basic education has been extremely commercialized with the financial aspects being the primary focus. In an award-winning and accomplished career spanning over three decades, Deepika Sharma has headed many Educational Institutes successfully before joining as the Principal at Grand Columbus International School, Faridabad. Apart from providing excellent education, Deepika has also focused on providing both extracurricular activities as well as career guidance to the students. Her hardworking, as well as the out of the-box approach to raising the standard of the educational system, has helped the school become one of the best schools across Faridabad as well as Delhi NCR.
In an exclusive interview with the CEO insights, Deepika shares the key aspects of Grand Columbus International School, the challenges faced during the pandemic while continuing the education over online medium, and much more.
Shed some light on your educational and professional background and also explain your current role at Grand Columbus International School. How are you leveraging the best of these elements across your school's operations?
I belong to a family who believes that knowledge is the product of experience and continuous learning it is more about realising your true potential and changing the world through 'original thinking'. That is how you create revolutionary solutions for the nation. And, this became my guiding principle for life 'Think Original, Think Different'! Moreover, I also believe that education is right and not a privilege. I want to make educational aids omnipresent, irrespective of any economic status.
Hence, during my early stage of learning at the age of 15, I accompanied my mother in empowering indigent kids with the benefit of education. My mother is an active stalwart supporter of endowing indigent families with life's fundamentals, and education is always topping her list. Gaining from my experience as a teenager and learning life's funda mentals as a daughter, my heart was set to become a torchbearer in reforming the education system. And, the first step was to become an educator.
I am a growth oriented, transformational, and affiliative leader with working experience of 30 years in administration, teaching, and mentoring with a clear vision to become a pioneer and a catalyst of change. And, I have become one. I well knitted my career with DPS, Faridabad where in, I explored personalized methodologies adapted them and took it willingly to new ways of working. Before joining Grand Columbus International School, I was leading DPS Gurgaon. currently, I am a Principal by designation and Instructional Leader by nature, working at my full capacity at Grand Columbus International School (GCIS). I am determined to establish a new world of education for the people where it meets the metaverse an inter connected, immersive and realtime online space for imparting knowledge. I am the vice president of Sahodaya School Complex, Faridabad Educational Chapter, where the team of educationists work together in reforming the Indian Education System by introducing new policies, methodologies, pedagogies, and providing regular human resource training.
At GCIS, you would often see me building new education strategies, developing the latest edtech tools, bringing unique learning programs, introducing gamified learning pedagogy, and giving keynote speeches at reputed news platforms around the world. I am forming an institute where my team seeks a greater value for their actions and works autonomously with the set goals and ideologies. I want my students to be knowledgeable, courageous, confident and lifelong learners. Among many substantial changes and new ventures in the school, Goonj is very close to my heart. I started Goonj, with a motive to challenge the talents of the students, help them learn how to
compete productively, and come out as an invincible victors! Goonj is an Inter School Talent Fiesta which is hosted by GCIS annually and is the most awaited fest as it is the culmination of the school's academic year. It's a time for celebration and recognition of students from various schools.
What are the key aspects of Grand Columbus International School?
We are the pioneers of housing the state-of-the-art IT infrastructure, where education will soon meet the metaverse. With NEP 2020, a huge revolution can be seen in the Indian Education system. GCIS is ready and prepared with technology aids,teaching methodologies, and advanced laboratories to run the school with NEP 2020. We have an experienced and tech-savvy staff, topnotch technology tools, customized teaching pedagogies, IT engineers and Software backend team to adopt the changes and enhance our teaching -learning process. We lay great emphasis on keeping our staff updated and abreast of the latest technology and its use. Staying ahead of the curve, we have introduced a special.
Whether it's the infrastructure or my team of experienced and well-conceived Teachers, I think it's an experience where the childhood to the Teenage is well spent
Launchpad program for Grade XI and XII to provide training for competitive exams such as JEE and NEET. A special Kalam Scholarship Program is also offered to meritorious students. Leaving no stone unturned, GCIS also conducts a special enrichment and improvement batch for the students. We are successfully running student-led and mentor-led educational programs for underprivileged children around the city.We are also helping a few schools with lesser resources by providing transportation for field trips and access to our laboratories and services. We also conducted the Common University Entrance Test (CUET) which is the eligibility test for admission to various Undergraduate, Integrated, Postgraduate, Diploma, Certification courses and Research Programmes in 45 Central Universities of India.
Give some insights on the admission process and various academic courses that you offer at your school along with the career and college guidance that you provide your students.
We follow the traditional admission process for the pre-primary wing, which begins with the fundamental interaction with the students to assess them for the characteristics such as being collaborative, compassionate, imaginative, thoughtful, curious and adventurous. An interview with the parents is an essential part of the admission process which is followed by level-2 interaction with the Principal. We offer Junior Kalam Scholarship Written Test and Kalam Scholarship Written Test to the students of Grade I to VIII and Grade IX & XI respectively.
This is followed by a personal interaction & psychometric test. Starting from Grade VI to X, we have introduced Computer Sciences, Data Science and Artificial Intelligence (AI) as an integral part of the curriculum, where the students explore, innovate, create and gain 21st century skills as demanded by NEP 2020. Giving us the extra edge in the competition, we offer Fashion Designing, Interior Designing, Legal Studies, Finance, Music, Hindustani Vocal Music, Fine Arts, and Sports as one of the main subjects from Grade IX onwards to keep up the beat with the ever-evolving need for students to be creative, highly-adaptive, and competitive. We have a mutual alliance with an agency that provides quality professional career services using proven best practices in the fields of counselling psychology and career development. Keeping in view the individual interest and market scenario, we help students make the best career choices.
Tell us about the most effective methodology and technologies used in Grand Columbus International School to ensure better learning experiences for your students
We believe in preparing students for their career after school because according to us, school is not just till Grade XII, but it is for the preparation of beyond it. Launchpad@ Grand Columbus is an initiative to prepare students for the competitive exams like JEE & NEET, while they are in school only to negate the pressure. We also prepare our students for Olympiads such as National Cyber Olympiad, International English Olympiad by British Council, Silver Zone International Olympiads, SKGKO, IFLO, IOS, and more. We emphasize
the social and mental well-being of the students and practice the concept of zero screen time. We have customized the lesson plans, advanced the Subject Enrichment Assessment(SEA) pattern and have completely slimmed the duration of displaying the digitized content.

Our 'Out of box' home assignments and projects are based on experiential learning and student teacher engagement. We motivate students to comprehend their ideas, generate their own questions and connect with their peers outside the classroom. We have a special Soft Skill Club to help our children communicate better and build a confident personality. The Environment Club, which is close to my heart, is making the students conscious about the environment. Presently, we are supporting SAVE SOIL Movement, which is the global movement and an initiative by Sadhguru. We have a team of Student Council who are always on their toes and serve as an effective communication medium between the administration and students. They are the innovators, motivators and problem solvers.

Apart from academics, tell us about the various extracurricular facilities and infrastructure that students can avail themselves of at your school?
ATAL Tinkering Lab(ATL): ATL is a place where young minds may put their ideas into action in a hands-on, do-it-your self environment while also learning how to innovate.

LEGO ROBO Lab: From primary school onwards, children are taught fundamental coding and progress through the Robotics Lab to advanced robotics.This is a characteristic that just a few schools in Faridabad can pride them selves on.

Sports: It includes Volleyball, Cricket, Basketball, Taekwondo, Power lifting, Table Tennis, accompanied by a dietitian, a physiotherapist and a team of professional coaches.

Launchpad: It is an initiative to prepare students for competitive exams like JEE and NEET, while they are in
school only to mitigate the pressure.

International Language Academy: Although we have French as a third language, we are also planning to open an International Language Academy soon in the fall, which will expose the students to various languages such as Spanish, German, Mandarin & Korean.

How has your school's journey been so far and what challenges have you encountered during this journey? Kindly share the qualification and working experience of your facility and staff. Also, explain how their combined experience is helping your school to establish itself as a brand in the education sector?
Starting from 2020, we have been keeping the students engaged in the learning process through devices. Every few weeks, we change the way we engage with the students to address the sedentary lifestyle and boredom. One of the major challenges in the last two years was to enhance the student reach, offer them customized pedagogy and become successful with the adaptation. Another challenge was to ensure the mental and physical well-being of the students because of the stressful time that we live in.

We offered Subject Improvement Classes as well as Subject Enrichment Classes depending on the individual challenges faced by the students. This was followed by a constructive evaluation pattern that promoted students' optimism. To keep them entertained throughout the learning process, we also formed different clubs such as Reading, Movie, Fitness, IT, Theatre, News Design. Vedic Maths, Cooking, Doodle Art & LEGO Our coveted team of professionals includes teachers, administrators, engineers, software developers, graphic designers, content developers, and a separate team of IT Hardware handling. Their combined experience has helped us to become a pioneer in bringing the online learning model during the COVID-19 pandemic. We have got the best team of dynamic, committed and highly educated teachers who bring out the best in our students.

Deepika Sharma, Principal, Grand Columbus International School
Deepika Sharma is an entrepreneur and educational leader with an extensive award winning career in teaching as well as heading schools spanning over three decades and is determined to raise the teaching and learning standards. Presently working as the Principal at Grand Columbus International School, Deepika is also an avid traveler and nature lover.

Favorite book:To Kill a Mockingbird by Harper Lee
Favorite cuisine:Italian
hobbies:Traveling, Reading, Gardening
Favorite travel destination:Goa