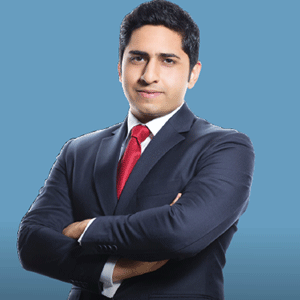 Global market reports state that India's urban population has grown five-folds in the last half century to approximately 430 million inhabitants and the number is expected to rise to 600 million by 2030, accounting to 40 percent of India's total population. Despite recording strong growth prospects in housing supply, the country still faces urban housing shortage, which is undoubtedly challenging but at the same time opens new scope of opportunities for residential realty market. Discerning this urban residential need back in 1980, Kishorkumar Gokaldas(Founder & Chairman) established KG Builders to edify contemporary residential & commercial structures with modern infrastructure and advanced facilities.
Following Kishorkumar's footsteps, Gayithri Punjabi-Mirza(Director)carries forward KG Builders'deep-rooted principles and traditional values while staying abreast with modern marketing and construction methodology to cater to young growing clientele of technology and globalization era. In an exclusive conversation with CEO Insights, Gayithri unfolds KG Builders' excellent delivery of diverse construction projects and its proactive approach instrumental in executing urban housing and commercial undertakings.
How has been KG Builders'journey so far and what are your strategies to align with new reforms like GST & RERA?
As the sector is highly regularized, capital intensive and dependent on numerous external factors like availability of labour, materials and political stability, our journey has never been a cake walk; yet, we have carved a niche in the real estate business with our experiential expertise. Our special bond with Chennai has carried us through a successful journey of 38 years. Blending clientele trust with our complete track record, we have evolved as a real estate panjandrum specialized in residential spectrum.
The real estate sector always elicits attention as everyone has an
interest in buying, selling or just knowing their property's value. Currently, the sector is in a highly dynamic state caused by numerous statutory factors, most notably, demonetization, RERA and GST. All three factors will have a positive impact in the long term, aimed at providing transactional transparency and industry consolidation, and we, as a real estate entity are actively embracing these changes in our system.

" KG Builders is an owner driven, professionally managed, full service real estate company"

How are you equilibrating market's variable requisites with KG Builders'key offerings?
KG Builders is an owner driven, professionally managed, full service real estate company. Our focus has always been on extensive research to provide ideal products that cater to the current housing market requirements at optimum pricing and simultaneously ensure that sales are robust with projects effectively funded. Investing in a seasoned professional team with deep expertise in project management has helped us anticipate the vagaries affecting industry and take the project to completion. Our offerings are categorized into two segments- Products(residential, commercial buildings, warehousing, hospitality ventures and plotted developments),and Services(entire range from property development, construction, marketing, financing, tenants & facility and management).

Kindly throw some light on your diverse construction projects that reflect your expertise in achieving timely & efficient deliveries.
By deploying a two-fold vision that kingpins strategic location & timely delivery as the project's nucleus, we have delivered over 160 projects including 1000+ flats (edified last fiscal year) to over 6000 happy customers. Our existing projects in North & West Chennai include our flagship project 'KG Signature City' in Mogappair (2500+ apartments) and affordable housing project 'KG Centre Point' in Poonamallee (700+ apartments). While the former won 'Best Real Estate Project Award 2018 – South' by Times Network, the latter was laurelled with 'Affordable Project of the Year Award 2017'.

Our presence in South Chennai is visible in most parts of the IT corridors, right from KG Earth Homes in Siruseri(500 apartments) and KG Good Fortune in Perumbakam (195 apartments) to KG Chandra Vista on Old Mahabalipuram Road (consisting of 50 exclusive high-end apartments and customizable villas). At the
other end of the spectrum, the upcoming KG Pinnacle in Adambakkam is an exemplar of KG Builders' commercial project that is just five minutes away from Chennai airport.

How are you inducing innovation in your current modus operandi and what is your stratagem for tapping maximal opportunities for KG Builder's growth?
By integrating experience with expertise, we create an optimal product mix within a project that strictly caters to current market requirements wherein the product is carefully designed and built with a single minded focus for timely delivery. Additionally, ensuring product quality and complete project maintenance and management helps the customer transit into their new homes hassle-free. Extensive product design and development ensures zero change orders and all requirements are taken care from the design stage itself, a catalyst in delivering timed commitments. Besides, usage of modern construction equipments like tower cranes, dump trucks, cement mixers, bull dozers, pre-cast concrete products and investment in factory-made aluminium formwork is highly aiding mass construction activities and reflects our prowess and aids in quicker completion & schedules. Finally the integrated use of technology has helped us fulfill the customer delight and provide experiential service.

The Indian real estate market is immense with a current housing shortage of over 20 million units, which opens doors for larger opportunities in residential sector. With over four million sq. ft. of development currently in progress(scheduled completion by 2018-end), we envisage extending our realty presence across Hyderabad & Bengaluru and has blueprints ready for another ten million sq. ft. of development for residential, commercial and plotted developments, planned to be delivered in next four years.

Key Management:
Gayithri Punjabi-Mirza, Director
An economics graduate from University of Michigan, Gayithri is in charge of automating construction processes and introducing ERP systems. She single-handedly manages KG Builders' sales and marketing divisions.

Headquarter: Chennai
Offerings: Residential Projects, Affordable Projects, Commercial Office Buildings, Warehousing, Hospitality Ventures, & Plotted Developments