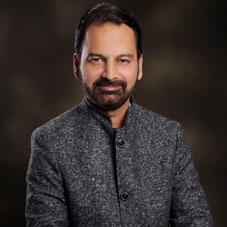 Technology has made our lives easier and our future a lot better. Especially in the healthcare industry, technological advancement has helped cure many, even sometimes, rare diseases. All credit goes to the technological advancements in the medical industry, which enabled a deeper understanding of humanity.
Lalit Mamtani, Founder & Managing Director of L2MTech GmbH is one of the flag-bearers of adopting advanced technologies in the life sciences industry. Lalit through his company L2MTech is well-equipped to revolutionize the medical and healthcare sector. Founded in 2017, L2Mtech GmbH is a privately-owned multinational medical device company headquartered at Bonn, Germany. L2Mtech specializes in design, development, manufacture and commercialization of medical devices that are used by healthcare establishments globally.
L2MTech provides interventional physicians with innovative vascular devices including Drug Eluting Balloon manufactured in Europe. Our Core mission is to build a product portfolio focused on minimally invasive treatment for patients with cardiovascular, endovascular and vascular artery disease.
In this interview with CEO Insights, we are introducing the multi-talented member of the fraternity, Lalit Mamtani, Founder & Managing Director of L2MTech GmbH.
Could you walk us through your career journey?
I was accepted into top MNCs after earning my MBA and electrical engineering degrees. I worked incredibly hard in sales and marketing in fields of Telecommunication, Industrial electric motors, Computer hardware and consumables industry. Before I moved to Germany in 2007, I worked for a number of different businesses. Ever since then, my interest toward medical industry began growing.
I have a track record of success as a management executive with a focus
on the medical device industry. I am a competent operations professional with expertise in sales, business planning, marketing management, and the sale of medical devices.
In 2017, I established L2MTech GmbH in Germany and at the company I am spear heading the global operations while wearing many hats.
At L2MTech, we have distributions partners in Europe, the Middle East, Latin America and Asia Pacific we have the required authorizations, registrations, and regulatory approvals to export our products to respective countries in those continents.
A true leader, in my opinion, is someone who gives the team enough direction, instruction, & support to guarantee that they function at their best
So how would you define your leadership approach? Could you name a few traits that best associate with your style of leadership?
Collaboration and motivating others to perform at their best are key components of leadership. I would describe my management style as being very democratic.
A true leader, in my opinion, is someone who gives the team enough direction, instruction, and support to guarantee that they function at their best. However, a competent leader gives the team a degree of autonomy while still having faith in their ability to perform. As part of my managerial approach, I place a high priority on making sure everyone has fun at work. I think that people work better when they are relaxed. Of course, it is my responsibility as a leader to ensure that each employee is aware of our values, goals and the objectives to be achieved within a defined timelines in business.
What possibilities and trends do you foresee in the market in the near future?
The medical device industry is poised for steady growth. The need for medical devices, in-vitro diagnostic tools, and respiratory care equipment has significantly increased and is expected to grow at compounded annual rate of 8-10 percent. In terms of Medical device rules and regulations, we expect additional scrutiny's, complex approval process and challenges. As a result an established business
with proven track record, quality management systems in place and quality of products which is well accepted by reputed Key Opinion leaders across the globe will have an edge in the market. New minimally invasive devices and techniques provides enhanced safety and efficacy for patients by minimizing procedural time & thus reduced exposure to procedural radiation for both patients and the operator. Existing and new technologies/ innovations shall continue to provide immense benefit to patients for speedy recovery.

Having been in the medical industry for a long time now, what advice would you give for a budding entrepreneur?
Before starting a medical device company, it's important to identify a clear need in the market. Look for areas where there are gaps in the current offerings or where existing devices can be improved. Know your target audience: It's important to know who your target audience is and what benefits can be provided in terms of enhanced safety and efficacy with your medical device. Conduct market research to understand the needs and preferences of your potential customers. Focus on safety and regulations: Medical devices are subject to strict safety and regulatory requirements. Make sure you understand these requirements and plan your product development and testing accordingly. Build a strong team: The success of a medical device company depends on the strength of its team. Whatever changes or challenges come on the way, we should keep moving towards our goals and objectives with the positive approach.

The medical device industry is constantly evolving, so it's important to stay up-to-date on new technologies and trends. Hire people with the right skills and experience, and build a culture of collaboration and innovation. Medical device development can be a long and challenging process. Be patient and persistent, and don't be discouraged by setbacks or failures. Focus on the user experience Medical devices should be easy to use and should meet the needs of both patients and healthcare providers.

Lalit Mamtani, Founder & Managing Director, L2MTech
An experienced Management Executive with a demonstrated history of working in the medical device industry. He has strong operations skills and a true professional skilled in Negotiation, Marketing Management, Business Planning, Medical Devices, and Sales.