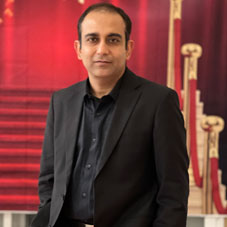 The IT consulting industry in Germany is a rapidly evolving sector with a strong demand for skilled professionals. As businesses increasingly rely on technology to streamline their operations and stay competitive, the need for expert IT consultants has grown significantly. Among the influential leaders in this industry is Umesh Batra, the Managing Director of Sofigent Technologies. With his educational background from IIT-Delhi and Kellogg-WHU, Umesh brings a wealth of knowledge and expertise to the table. His role in empowering the IT consultants sector in Germany has been instrumental in facilitating the settlement of many talented IT engineers from India. Umesh is known for his strong customer relationships and his ability to provide effective solutions. Let's learn more about him in the below interview snippets.
Can you share a brief story about your professional journey, experiences over the years, and the factors that contributed to your current position?
It all began in 2000 after graduating from IIT Delhi. I chose to join a startup to learn and grow, working there for two years. Following that, I gained corporate experience at Oracle and then joined Wipro, a consulting company, where I learned about different perspectives. Later, I had an on-site assignment in Munich, gaining insights into client interactions. I then returned to Oracle in the US, experiencing how US companies operate. Feeling inclined towards consulting, I started my own company in Germany, initially working alone as an individual consultant. As the client base expanded, I recruited more people and formed a consulting team. We grew through client referrals and managed multiple projects with a team of 40
before COVID-19 impacted us. We primarily hire based on references and employee feedback. While I occasionally provide consulting services to clients, our team members serve as the primary points of contact. I become involved when things escalate or new business opportunities arise.
When developing effective corporate growth strategies, we prioritize customer satisfaction as the key factor
How have your experiences shaped your leadership approach, and what qualities or traits define your leadership style?
My leadership approach combines Servant Leadership and Mentorship. I believe that people thrive when given the opportunity to excel in their areas of expertise. I provide guidance, goals, and mentorship, allowing employees to work independently and take ownership of their projects. Our teams are self organizing,with individuals capable of leading their own teams after gaining experience.
Define Sofigent Technologies as an organization and its position in the market.
Sofigent Technologies is an organization comprised of IT experts who work as external consultants. We bridge the gap between customers and IT development companies by providing services such as writing specification documents for software development and conducting business acceptance testing. Unlike larger competitors, we offer the flexibility and adaptability that they lack. While being a small company has its challenges, we are more efficient and capable of embracing change, which gives us a unique advantage in the market.
What are the factors you look into when developing effective corporate growth strategies?
When developing effective corporate growth strategies, we prioritize customer satisfaction as the key factor. Our organic growth is driven by positive client references
and their satisfaction with our work. Diversification is another aspect we consider, as the current trend favors remote work and cost-saving measures. To adapt, we are exploring opportunities in different areas where offshore work is not required. Additionally, we are exploring strategic partnerships with larger companies in Germany to access bigger projects that align with our goals.

What is your anticipation of the future outlook of the market?
The outlook for the IT consulting market in Germany indicates a shift and potential contraction. Legal regulations surrounding external consultants have become more stringent. Additionally, the impact of COVID-19 has led to a trend of outsourcing consulting work to near-shore or off-shore locations. As a result, we anticipate a shrinking market, with a focus on project-based consulting and a preference for remote services due to cost efficiency. Expert consultants will likely remain in demand.

Where do you see yourself headed in the upcoming years? What is your future roadmap?
At present, our primary focus is on sustaining our business. We have experienced a decline in operations. However, we remain optimistic about the future and have already secured a few projects in different areas. Our objective is to regain our pre-COVID level by 2025. We are currently evaluating various opportunities and assessing their potential for success. While we anticipate challenges ahead, we also believe that every change brings new possibilities. Our goal is to continue expanding our services and providing added value to our clients.

Umesh Batra, Managing Director, Sofigent Technologies
Holds degrees from IIT-Delhi and Kellogg-WHU. His strong customer relationship has helped his company and many IT engineers like him to settle in Germany. He is solution-oriented, dedicated, a quick learner, and a hardworking night owl

•Hobbies: Traveling, Hiking, Diving
•Favorite Cuisine: Indian, Italian
•Favorite Book: Panchtantra
•Favorite Travel Destination:
Salzburg