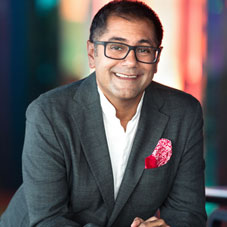 Neeraj Seth
Cluster Director of Marketing Communications & Public Relations
"Success isn't overnight. It's when every day you get a little better than the day before. It all adds up." Dwayne Johnson. CEO Insights' exclusive interview takes cognizance of a global marketer who is known for creating prime luxury brands across multiple continents. Neeraj Seth, Cluster Director of Marketing Communications & Public Relations, Kandima & Nova Maldives is an inspirational leader who started his career two decades ago with one of India's earliest web portals Rediff.com and became one of the pioneers of digital marketing. It is his passion, professional outlook, sheer hard work and dedication towards creating larger than life smart marketing strategies that helped him innovate successful launches and brand executions for big global brands like Samsung, HTC, and Huawei to name a few and including being a part of the historic launches of the one of the first ever smartphone launches for the consumer technology giants, creating a whole new digital era universally. He has created success stories for worldwide brands and has delivered his marketing expertise across 60+ countries and three continents. Combining unparalleled experience with his passion for travelling and love for experiential marketing strategies, Neeraj is presently focused on creating yet another brand and marketing success story, in the name of Kandima & soon Nova Maldives in Maldives. He is a self motivated leader who believes in doing something creatively innovative every day, to be the best in the future. Let's hear it from him.
Take us through your exceptional professional journey.
Over the past 22+ years, I have spent a significant share of my career around the world, gaining a lot of experiences in various spheres in marketing across Europe, Middle East and Africa(EMEA). I started my career with creative advertising, and later moved on to client relationships. I have an elongated experience with Rediff.com as a Manager Client Servicing which gave me a wonderful exposure and played a crucial role in shaping my skills especially digital spaces very early in life. Post moving to Egypt soon after and exploring a hardcore Public Relations role gave me a very strong insight and cultural understanding which combined with my interest to create marketing strategies opened a new space of skill for me. Till date, I take pride in having strong insights into both client and agency verticals. Later in my career, I started working with
consumer tech marketing and established my own luxury beauty venture in the UAE. My positions with Samsung, HTC and Huawei were all tuned into creating success stories for MEA. Before exploring a new exciting career in hospitality with Kandima, Maldives, I worked as a Regional Brand Director for MEA at Huawei Consumer Business Group overlooking marketing strategies and brand implementations across the regions. I have been able to successfully implement strategies that impacted brands on a global scale across all of GCC, Levant and Africa while I reported back to Asia. It has been a real exciting journey to venture into the luxury hospitality sector for one of the largest privately owned Maldivian groups which shares a similar philosophy of always innovating.
I have successfully developed brand campaigns & celebrity endorsements and implemented marketing strategies in more than 60 countries across multiple continents
How is Kandima Maldives the best island destination for tourists?
Kandima Maldives is anything but ordinary. We call it a lifestyle destination, offering something for everyone. While it's luxury still, in the Maldivian context, it targets an affordable luxury segment starting from couples, families to solo travelers! Kandima is nested on an incredibly native and beautiful 3km long Island and that's what makes it so special. There is something to match everyone's lifestyle and that's what makes Kandima a very exciting concept to market. We provide the perfect'escape to paradise' experience and the modern Maldivian hospitality to our guests. It's a great team of smart and innovative, yet rooted and responsible hosts. We promise our guests an experience of a Maldivian island with a soul, deeply rooted in genuine hospitality with a human touch while we offer a mix match of extensive experiences from expansive villa types or dining options to aqua activities to holistic wellness offering in our award winning outlets all in the backdrop of the blue crystal waters.
What new strategies were implemented by you to cope up with the challenges imposed by the pandemic?
We faced the pandemic not as a challenge, but as an opportunity to create and offer something even more extraordinary at Kandima. We developed new offerings & experiences for our guests through extensive research into the NEW consumer mindsets their new demands and expecta tions post pandemic travel were at the heart of every lifestyle offering. We launched a ground breaking unimaginable post pandemic reopening campaign where a lot of experiences were recreated by us within the new safety protocols and hence created new industry benchmarks. At Kan
dima,we called this new reopening campaign 'Lifestyle Reimagined'. The launch of this global campaign went viral with probably one of the best reopening travel contests on the planet for our industry called '365 days in Paradise' and it promised to host one lucky winner for one whole year. Successfully launching and brand recalling of this campaign through innovative media and credible influencer marketing & social strategies gave us an immediate push globally. We soon became and continue to be one of the first few resort choices while planning a vacation in Maldives as it created immense media and word of mouth publicity globally. Furthermore,we have created an environment for our guests, wherein they can enjoy work with leisure. It's a pride that even during the tough times we did not hesitate to innovate and revive our strategies as per their current needs.

What are the professional milestones that bestowed you with utmost satis faction?
My professional milestones include my core strength of understanding consumer's psychology across various verticals and changing marketing strategies & launching new products for global businesses. The fact that I have been a huge part of digital evolution by launching one of the smartphones in the world gives me immense satisfaction as well. Executing my marketing strategies at many global lifestyle platforms and being part of global sporting events like Champions and Europa League for many years was an experience like no other. I have success fully developed brands, expansive multi cultural celebrity endorsements, planned & executed extensively large sized budgets worked with world class cinematographers to create content that delights a global audience,delivered expansive multicultural celebrity endorsements and implemented holistic marketing strategies including media in more than 60 countries across multiple continents.

Neeraj Seth, Cluster Director of Marketing Communications & Public Relations, Kandima & Nova Maldives
An award-winning professional, with 22+ years of diversified experiences in marketing across EMEA, Neeraj has played a key role in shaping global brands. With innovation and experiential marketing at its core, he is currently engaged with the luxury hospitality sector in the Maldives through one of the largest privately owned Maldivian groups with multiple hospitality offerings.

Hobbies: Photography
Favorite Cuisine: Asian
Favourite Book: Where You are is Not Who You are by Ursula M. Burns
Favourite Travel Destination: Egypt

Awards & Recognition:
•President Award Winner & Best Global Marketer by HTC EMEA
•Best Marketer by CMO Asia & World Brand Congress
•100 most Influential Global Marketing Leaders by World Marketing Congress