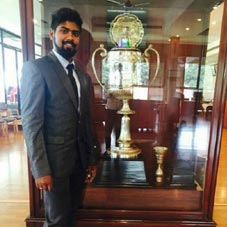 Manoj Sreenivas,
CEO
The Packaging is the fifth largest sector in India's economy and is one of the highest growth sectors in the country. Expected to grow at 18 percent annually, with flexible packaging growing at 25 percent and rigid packaging at 15 percent, the Indian packaging industry is thriving exponentially. Plunging into this billion-dollar market to investigate the future of the packaging industry in India, Packing Panda is considered a flagship division of packaging Services. With innovation as the principal service culture, Packing Panda ensures end-to-end services to the clients focusing on long-term relationships and value-added services. With a passion for achieving Strategic Goals, Packing Panda is focused on providing simple benefits-driven solutions.
Catering to the needs of all FMGC packaging requirements of clients, Packing Panda allows the customers to focus on the other significant areas of the business. Emerging as the new identity of the Indian packaging industry engages in an exclusive interaction with the team of CEO Insights.
Tell us about the inception ideology of Packing Panda.
To be very precise, the packaging industry is an advantageous industry benefitting almost every company starting from pharmaceutical to restaurant, logistics, e-commerce and many more. Conceived in the year of 2016, packing panda was initially started off with the packaging across FMGC, QSR, and cloud kitchens. That was the very first time when Zomato and Swiggy were getting complicated on each other in the market which made food packaging very mandate in the market for online deliveries. So, we started serving our customers as per their requirements ranging from cutleries to food packaging as a onestop solution provider.
Throw some lights on packaging services and solutions offered at packing panda. Also, highlight the major packaging aspects of your company.
Basically, we provide one-stop solution for packaging, cutleries, meal trays and containers. We do customization of products as per the requirement of our customers. We believe in providing the A to Z packaging solution for any restaurant or hotel industry which is quite a major thing. As the manufacturers available in the market always manufacture one single product, rather than multiple products, the clients have to get tissues from one vendor, cutleries from a different vender and food packaging containers from another vendor. There are multiple options that they need to go through and it consumes a lot of time. The restaurant owner or purchase team wants to have a single vendor where it could be feasible for them to purchase the various food packaging products. Hence, we make sure any restaurant or anyone who wants to procure the packaging materials can contact us and we will supply the materials. To tackle the shortage of packaging material in COVID times, we supplied meal trays and containers to many Could Kitchens and Restaurants for supplying food for the Quarantine centers.

If possible, please share one case study with us which depicts the efficiency of your services.
Our client barbecue nation is a very big name in the industry today with approximately 146 branches all over India. Before we entered the scene, they were facing huge troubles for procuring the packaging products locally. Without a centralized system, procuring the materials in time becomes very much difficult. So, we came up with a unique solution for them in which we would be delivering one-time one-party contact solutions for all of their packaging needs, including our customized products to their doorstep across all the 146 locations.

Brief us about your manufacturing facility and the infrastructure that has enabled you to deliver such big orders effectively.
We are not in Manufacturing but mostly in the packaging business, where we buy products from our manufacturers and supply to our customers. Whatever I purchase from manufacturers, they are always available at a better price than the market rate for my customers. Whether they buy from any local dealer or from packing panda, I can certainly assure that the prices will always be competitive. We have multiple manufacturer's on-boarded into our platform from various places across the country such as
Bangalore, Gujarat, Delhi, Hyderabad, Mumbai, Gorakhpur and Faridabad.

Tell us how you constantly refine your solutions to align with customer expectations. Are you working on any new solutions that might be launched in the foreseeable future?
We make sure to satisfy our customers as they always come back enquiring about specific products which are sometimes not available in the market due to some logistical issues. Anything which arrives in the market, we will be definitely sharing its information with our customers. Whenever our manufacturers inform us about the launch or introduction of a new product in the packaging market, we always broadcast emails to all our customers stating the availability of the new product. With innovations happening regularly in this domain, the packaging solutions also may change in terms of boxes, packets, or cutleries. We tell the customers that we have a type of box affiliated in the market. If you are interested to procure them, then these are the pricing and the quantity, which you need to pick up. The major thing is that we need to make sure that everyone in this industry should know that there's packaging panda in terms of effective packaging.

What is the future roadmap that you have envisioned for Packing Panda?
We want to create a tech-enabled system where our customers can procure any packaging on our website. Also, in case of a new requirement, they can just post it on our website and we will come back to them as soon as we procure their requested items. In today's market, you cannot procure packaging products from one single platform, as you don't have everything together in one website. So, within the next one year, we are planning to create an environment, where you can buy all the packaging material from a single contact.

Manoj Sreenivas, CEO
An innovative entrepreneur Manoj Sreenivas apart from being the Founder and CEO of Packing Panda is also the Co-Founder of Qwicly which is a Hyper-Local delivery App. His areas of interest lie across Product Management, Product Marketing, E-commerce, Cross-functional Team Leadership, Business Development, Competitive Analysis and many more. Under his able guidance Packing Panda is gradually emerging as a leading supplier of food packaging for restaurants and food services.