Rajesh Mahajan: Leveraging Effective Stakeholder Engagement Strategies & Sustainable Practices To Help L7h Achieve Tremendous Growth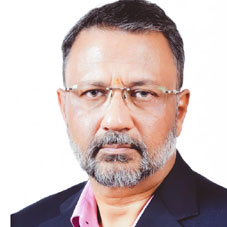 Stakeholder engagement is a vital part of any organization's strategies. Effective stakeholder engagement strategies help a company not only earn the trust of its stakeholders but also improve account ability, and in turn, help massively in organizational growth. An entrepreneur and accomplished professional with 34 years of cross-functional qualitative experience in general management, profit center management, strategic planning, and business operations across diverse industries, Rajesh Mahajan currently works as the CEO of L7H Natural Resources. L7H operates through a unique distribution system, where it helps local communities generate income through retail outlets closer to their home by investing in infrastructure development and training. Under his inspiring leadership, the company has been experiencing massive success across verticals and is on its way to expanding its business operations across Southeast Asia and later in Central Asia.
In an exclusive interview with CEO Insights ASIA, Rajesh discusses L7H and the sustainable practices adopted by the firm, his leadership approach and success mantra, and much more.
L7H is a part of a corporate group and conglomerate with more than 30 years of entrepreneurial experience operating a wide range of successful verticals, such as agriculture, health, infrastructure, natural resources, mining, commodity trading, power sectors, and education across the globe.
What sets the company apart is that the promoters measure organizational success with two yardsticks, which are financial and social. It is mandatory to leave a lasting positive impact on the lives of all stakeholders, and by that I don't mean the shareholders but the employees, farmers, suppliers, vendors, partners, and the local community. Much of our efforts are focused on enabling their well-being at the grassroots level.
Tell us about the sustainable
practices that L7H Natural Resources has adopted in its operations and the company's visions towards a sustainable future.
For us, continuity has always been the most important aspect of sustainability. We strive to ensure continuity not only for ourselves but also for all our stakeholders. At L7H, we have developed a unique distribution system where we help local communities generate income through retail outlets closer to their home by investing in infrastructure development and training. They neither make any financial investment or sales calling nor are bound by any minimum sales limits, fixed working hours, commitments, or report backs. There is no monetary transaction between L7H and them. Instead of asking for results, we act as catalysts while encouraging and helping them establish themselves as small entrepreneurs through mutual collaboration.
Rather than looking too long at the doors that are closed, one must look for the ones that may still be open
Strengthening women, who are the backbone of a family, makes the entire family, and in turn the whole community, stronger. Our current focus is on women from the B40 (bottom 40 percent in terms of income) segment in Pahang, Malaysia. We hope to expand this initiative to the entire peninsular Malaysia within a couple of years.
Back in India, from where we source most of our produce, L7H (India) works closely with numerous farmers to cultivate thousands of acres of sustainable organic farmland. L7H supplies the best quality seeds and organic inputs to farmers to help them produce excellent quality organically grown agri-commodities that fetch them a premium price. Our field staff regularly visits the farmers to inspect and address their issues. Even packing and shipments are done under strict supervision.
How has your path to success been and what is your success mantra?
Like most professionals, I have seen numerous ups and downs throughout my journey and have changed many tracks. The only thing that kept me going was my belief and persistence. My ability to listen and understand others' points of view without any prejudices has also been a huge advantage. At the
same time, I try to ensure that I don't get carried away and lose sight of my objectives, which helps me make better decisions most of the time.

Many times, the opportunities come disguised as threats. I have numerous friends in the tourism, hospitality, and event management industries, who, once left with not many traditional options, discovered their hidden talents and potential during the pandemic. Rather than looking too long at the doors that are closed, one must look for the ones that may still be open.

Tell us about your leadership approach. Any advice you would like to give to budding industry leaders?
Other than just being intuitive, I don't see myself belonging to any of the widely recognized leadership styles. I may act differently in different situations. However, what is constant about me is that I watch, listen, understand, strategize, and act accordingly.

The advice I would like to give to budding industry leaders is to invest regularly in their personal development. You must pursue your hobbies, upskill yourself, travel, and meet more people. Succeeding as a business leader isn't easy. You need to put one foot in your customers' shoes and the other one in the promoters' shoes. Then you must walk on the financial tightrope towards your goal, carefully balancing your team on one shoulder and your suppliers and partners on the other. This is a skill that can be mastered only with practice.

Rajesh Mahajan, CEO, L7H Natural Resources
Rajesh Mahajan is an accomplished professional and entrepreneur with 34 years of cross functional qualitative experience in general management, profit center management, strategic planning, and business operations across diverse industries. He currently works as the CEO of L7H Natural Resources, Malaysia. Throughout his journey, Rajesh has run various profit centers, products & services, and geographical expansions and has organized large scale meetings and events successfully.

•Hobbies:Travelling, long drives in the country side
•Favorite Cuisine:North Indian Tandoori
•Favorite Book:Who Moved My Cheese by Spencer Johnson
•Favorite Travel Destination: Himalayan Orchard Hut, a true village home stay near Chamba town in Himachal Pradesh