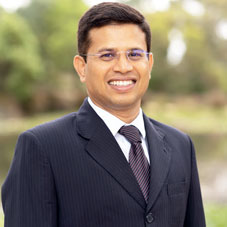 Have you ever day dreamed about quitting your job to become your own boss? It's not always easy to give up your steady pay check. There are a lot of factors to consider, but some times it's just the cravings for your passion that tells you that the time is right. But the walk of transitioning from a corporate job into entrepreneurship, however, is not as simple as the talk. You have to work harder than you ever did as an employee, take way more risks, and have way more stress to make it as an entrepreneur.
If you are looking for inspiration, the journey of Ramesh Rajaram, the Founder & CEO of Colakin a ground breaking platform that recommends the best fitted clothing size to shoppers in an innovative, easy way. Ramesh left no stone unturned while overcoming the myriad challenges to fulfil his dream. He discovered his passion to design a digital interface for clothes shopping and galvanized himself with abundant knowledge before leaving behind his corporate life and jumping into the murky waters of entrepreneurship. Let's hear it from him.
What paved the way for your entrepreneurial journey and how has been the journey so far?
Soon after my education, I moved to Singapore and lived there for almost ten years and worked in several software companies. I have travelled to different countries like the US and then Australia with my family working on various projects and discovering myself. Though I had a financially secured lifestyle, I dreamt of doing some thing more with my professional career. It is
then I decided to be an entrepreneur.To establish myself as an entrepreneur, I needed knowledge, money and network. I have gained these from my 20 years of experience in innovations and product development using artificial intelligence and extensive hands on experience in software development. With my vast expertise and enormous support from my spouse and family, I incepted Colakin.
Having a highly motivated mind and a clear vision, Ramesh aims to promote AI development globally
The reason behind Colakin was not only making money,but also being an inspiration for the coming generations.
Throw some light on Colakin as an organization and its unique propositions.
Colakin is derived from a Sanskrit word that means connecting people.As the name suggests, we aspire to connect with our customers and become a part of their everyday shopping. We are indeed a customer centric organization helping our customers select the most suitable apparel size for themselves and their loved ones. Our vision is to become the exclusive size handling app across all domains that involve size, not just clothes shopping, also in healthcare and transport that can be used by people worldwide.
Enlighten us with your secret formula of being a successful entrepreneur.
I have travelled for almost 20 years and gained heaps of knowledge to start this venture. I believe it takes a lot of courage to give-up one's financially stable life and drive towards the road of entrepreneurship. Colakin was clearly born out of my vision, which would not have seen the light of day if I did not stay committed to tapping into my inner creativity.I believe my success mantra is,
having a clear understanding of the end user needs and meeting them. And, knowing who my customers are, and what they need has always helped me make my products, services, and marketing standout.

What measures were taken to conquer the obstacles faced by you during the pandemic?
The apparel sector has become the most severely affected among manufacturing sectors due to the novel coronavirus pandemic, which has challenged the world on every front, be it economy, healthcare, politics planning or social values at large. But to be an entrepreneur means to be someone who takes on challenges. It is absolutely synonymous. My team and I had always been working with a mindset of conquering everything and anything that would come our way.We as an organization worked even harder to gain back the market position without panicking by diversifying into the energy sector.

Tell us about the milestones you achieved both as an individual and as a CEO. Share your word of advice for the emerging entrepreneurs.
I have achieved 20 years of experience in software product management. I have worked with several organizations such as Century Link in the US, Robert Bosch, NCS Singtel Group in Singapore and Telstra in Australia with different designations. And I do not regret my decision to venture into Colakin. It's been only two years since the inception, and we have already made an impression in the day to day life of our 8000 users. I would encourage the upcoming entrepreneur to dream big, have a creative vision, and execute the same.

Ramesh Rajaram,Founder&CEO, Colakin
Ramesh was born and brought up in Tamil Nadu and completed his Bachelors in Science from the Institute of Engineering and Management from Chennai city. A Master of Project Management graduate from the University of Adelaide, he is a passionate entrepreneur who aspires to design customer oriented products.