ADLUMINO is a full service digital marketing agency and the company has been providing a wide range of services to clients from different industry verticals since 2016. ADLUMINO is committed to using the best practices and staying on top of the latest innovations in digital marketing and they are continually developing new marketing strategies to find new ways to reach users online with the right marketing message.
Ravindra Kumar heads the digital marketing operations of the company and under his guidance, ADLUMINO has been able to clock in impressive growth numbers and not just create but also maintain an impressive clientele.
In an exclusive interview with CEO INSIGHTS, Ravindra Kumar elucidates more on his professional journey and the unique business operations of ADLUMINO.
Can you give us a brief detail about your educational and professional back ground? Also, what is the inception story behind the establishment of the firm?
I graduated from IITVaranasi and I have a Mathematics and Computing background. Initially, my job was related to coding and programming and in 2012 I was encouraged by the CEO of the company that I was working for at that time to get into data analytics which was starting to become the buzzword of the industry at that time. Within a few months, I found out that the clients were liking the job that I was doing and I developed certain skill sets that were required to become successful in the industry.
We wanted to bring together the diverse expertise and experience of
top notch professionals and that is what became ADLUMINO. We want to ensure that regardless of circumstances, we should assist our clients to succeed. We chose to start our business in Malaysia because it is one of the most welcoming regions in Asia for new digital and technology trends. At the same time, the market here is also quite demanding and this motivates us to constantly innovate and improve.
Our main objective is to understand the pain points of our clients and offer them data-centric solutions that will help their business to grow and succeed.
How do you come up with new and innova tive business strategies?
I have worked for MNCs as well as SMEs and this has given me a holistic understanding of the workings of the industry. Data and data analytics are my forte and I do continuous research on the market and provide data and insights for effective marketing. It is important to understand and choose the right people to join the company and develop them as a team that can work together for the betterment of the organization.
We also believe that by combining our expertise and being genuine with our offerings, we can provide positive solutions for our clients.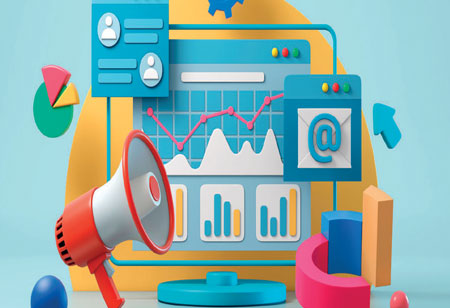 What were the challenges that you faced in the industry?
From a personal standpoint, I oversee a lot of our operations in different countries and since we curated small teams, I have to deal with all the different facets of our operations. This means that I have little time for myself. From a professional stand point, we are growing rapidly and I have to update myself with the latest trends and
techniques and in this stratum, changes are happening so rapidly. So, I have to identify and understand the latest trends, ensuring that the changes won't adversely impact our business.

Every client has different requirements and in order to provide the right solutions, research is key.

What is the USP of ADLUMINO?
Everything we do is based on data and we strive to remain versatile in the industry. This has helped us to always remain on top of our game and we always make sure that we treat people the right way. Our main objective is to understand the pain points of our clients and offer them datacentric solutions that will help their business to grow and succeed.

In your professional journey so far, which are the milestones that have bestowed you utmost satisfaction?
I come from a middleclass family and being able to study in IIT was in itself a proud moment for me. Professionally, the amount of work we put in to develop solutions for our clients and seeing the appreciation and satisfaction is what motivates me to develop myself constantly.

What would be your message to businesses that want to set up their operations in Malaysia? Also, what are the future plans of the company?
The market is very welcoming and demanding at the same time. The country is very technology driven and businesses will have to innovate and strive for consistent improvement. Also, doing some research on the market before entering is crucial for survival.

We have been focusing on the Asian market and now, we are starting operations in Canada as well. Currently, we are media and data partners with Google, Facebook, DoubleClick and others. Going forward, our aim is to partner with market disrupting companies and to continue improving on the quality of our operations.

Ravindra Kumar, Head, Digital Marketing, ADLUMINO
A pioneering industry leader that aims to offer the best value for money services to their clients regardless of circumstances.