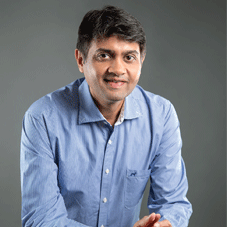 With the increase in the number of investment avenues, it is important for discerning consumers to trust their funds with a platform that is secure, fast, and easy-to-use for crypto investors.To solve this problem at hand and helping support and enable new-age investors across the MENA region, BitOasis - a UAE headquartered cryptocurrency platform - strives to provide a trusted and secure investing platform for the cryptocurrency investors as well as professional traders across MENAT geographies.
Established in 2015, BitOasis has established itself as a pioneer in the region's cryptocurrency ecosystem, serving as the go-to cryptocurrency trading infrastructure for both retail and institutional clients. Chief Financial Officer of the firm Rishi Gupta highlights how the company has grown leaps and bounds through commitment to quality service & products as well as strategic investments for product and service expansion. Recently, the BitOasis team has launched community events and competitions to further foster the crypto community in Dubai.
Read the snippets from the interview with Rishi Gupta CFO, BitOasis sharing his wealth of knowledge and experience for upcoming talents in the industry.
Give a brief account about your professional journey. How do you find your previous experiences helpful in your current role and operations so far?
An engineer and an MBA finance by pedigree, in the last 15+ years, I have built robust B2C consumer internet businesses, especially Souq in MENA, before leading it to a successful acquisition by Amazon. Over these years, I have honed my expertise in the field of finance with a proven-track record of influencing strategic decisions for long-term growth and sustainability. Now as a CFO for BitOasis, I need to ensure business remains well capitalized, whilst allocating corporate capital efficiently and driving the right strategic choices for the sustained growth.
My experience in growing Souq from a start-up to a MENA unicorn as a finance family founding member and, then leveraging the principles, processes and innovative practices at Amazon has helped me grow into a strong finance leader.
I have been fortunate to experience the agility and hustle needed to build a startup as well as learning the importance of cultivating a culture of innovation & customer-centric business decisions. These principles have played a significant role in my professional journey while building the fundamentals of a start-up.

Define BitOasis's impact across the Financial Services space.
Soon after inception in 2018, BitOasis established itself as the first regional full-fledged crypto trading exchange in the Middle East, and since then became the most trusted gateway for newbie and pro crypto investors.

In 2021, we became the first Virtual Asset Service Provider to register with the UAE's Financial Intelligence Unit, reporting on suspicious transactions and activities. We have contributed to a national risk assessment led by the Executive Office of Anti-Money Laundering and Counter Terrorism Financing. We have been working closely with the Virtual Asset Crime Unit of Dubai Police, cooperating on investigations, awareness raising efforts, and token listing.

Moreover, in 2022 we entered in a partnership with the MBC Group, to create content that will raise customers' awareness of cryptocurrencies, enabling a more informed adoption of this revolutionary new technology across the region. We have also launched community events, competitions to foster the crypto community in Dubai.

As the CFO, what are the best industry practices and technology trends that you integrate into strategic decisions for longterm growth and sustainability of the company?
To navigate the VUCA (volatile, uncertain, complex and ambiguous) business climate, CFOs need to get their priorities right by investing most of their time in value creation to drive sustainable growth and competitive advantage. It is imperative that CFOs take this challenge head-on by investing heavily on building data rails by partnering with their data engineering teams.

There is a need to shift focus from low-end to highend automation, as well as leverage similar advanced technologies like machine learning automation for capital allocation, financial planning, and audit etc. It is critical that CFOs over-invest in piloting these technologies to identify the right use cases and be prepared to change direction if initial experiments fail.

How would you describe the latest technology trends and innovations shaping the finance industry?
There are several technologies that are changing the face of finance, blockchain is one such offering that is promising enough to address large challenges of the fintech industry.
While fintech provides convenience to consumers, it is still dependent on centralized systems to power transactions, struggles with low trust caused from unknowns, rife with slow processes due to multi-party involvement, resulting in high operational costs. Blockchain solves them through distributed ledger technology which eliminates single entity control on transactions, also provides accurate, chronological history of transactions meaning the process becomes immutable.

This powers the banking and P2P rails driving several benefits like reduced fees for consumers, eliminating losses due to funds insufficiency, reduced frauds, and faster processing of transactions among others.

Describe your leadership style and the success mantra that has been helping you arrive at positive outcomes in your professional journey so far.
I believe the best leaders exhibit high emotional intelligence meaning they are self-aware, socially aware and manage relationships well. These principles have helped me shape my own leadership style, which is flexible, in accordance with the people and adaptable to the situations that I am managing. As individuals have different development levels in various situations, my choice of leadership style gets adapted to that unique combination. I am a curious person and have an intense commitment to the goals and delivering results which I believe draws people and inspires them to join me in that mission.

What is the future destination you are heading towards?
Professionally, I would like to see the alternative assets world become more widely accepted, available to all communities like what we could achieve in e-commerce in the last two decades, and that's the direction I am heading in. Personally, I would like to contribute to building a sustainable world – climatically, helping to inch towards a zero-carbon emission world.

Rishi Gupta, CFO, BitOasis
Rishi lives in Dubai with his wife, Pooja, an advertising professional working with a global brand and their lovely 7-year-old twins – Kiaan and Amayra. Rishi is an avid reader (or listener) – currently reading 'Out-Innovate' and is a keen nature traveler with his family most recently being to a safari in Kenya sighting the Big 5!

• Hobbies: Plodding on a nature trail, reading a book, playing in a gaming arcade with my kids.
• Favorite Cuisine: Thai
• Favorite Book: Two books that I like are 'It's not about the bike' by Lance Armstrong and 'Grit' by Angela Duckworth
• Favorite Travel Destination: still exploring