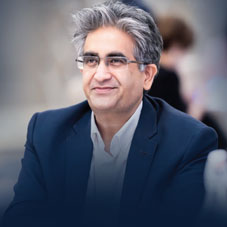 Perhaps the greatest irony of all time is the fact that; despite it being a place where lives are miraculously saved, ailments are constantly healed, and health is preserved for the joy of future, people hate being in a hospital. This can often be traced back to pure and simple frustration with the hoops and confusing processes they must endure to get simple answers to their queries and even understand the care provided to them. But, at least here in Asia, healthcare is undergoing a massive transformation, with patient experience shifting to the forefront of innovation in the industry. In large part due to the realities of the pandemic.
Imparting seamless and transparent healthcare experience, which indeed every patient deserves, calls for talent and expertise in the areas ranging from building healthcare communication strategies to in depth scientific understanding and story telling, integration of latest technologies including data analytics, among others. Rohit Sahgal, the founder of Singapore based Sovereign Health, is on a mission to pilot this transformation in the healthcare industry, backed up by his extensive experience of working on multilateral biopharmaceutical programs across the globe and his reputation in the field of behavior change. His brainchild, Sovereign Health specializes in providing the technology driven disruption expertise for improved health outcomes and to unlock opportunities for their clients' brands and businesses with Healthcare Professionals, Patients and Consumers.
"Unlike the production line style of business that our more traditional competitors under take, we tailor our teams and task forces to the specific needs of our clients"
Rohit's story makes for an interesting read. Having had a stellar multicultural academic career across Singapore, Malaysia, and India, Rohit kick started his professional career in marketing communications and quickly found his passion in behavior change research and related aspects of the human condition, while working on projects for WHO, USAID and Unicef. This gravitated towards life sciences, in particular infant/maternal nutrition, non communicable diseases and vaccines. Over the past two decades, he has headed global network offices for IPG (McCann Health) and WPP (Ogilvy & Mather's healthcare divisions) in Asia and sub Saharan Africa before founding Sovereign Health in 2019. I recently got in touch with Rohit as part of his award nomination and was engaged in a delightful conversation with him. Below is the excerpt of the interview.
Could you recall the major challenges that were up against you in your professional journey so far and how did you overcome those to evolve as a successful business leader?
In truth, the healthcare and life sciences industry has always been a turbulent one. Going back over a decade to the post financial crisis period, which also coincided with what is referred to as the 'patent cliff' billions of dollars' worth of treatments and medicines went off patent and opened the floodgates caused by the rise of biosimilar and generic medicine. This catalyzed a huge shockwave in Asia, where traditional approaches to educate and inform healthcare providers and patients became highly fragmented. But in every crisis lies an opportunity and, in this case, it was the advent of early methods to capture disease data in real world evidence environments as well as the rise of social media in driving new forms of information and category messaging. Sovereign Health was one of the first adopters of user based technology to provide clear and consistent disease pathway insights and ensure message consistency. Hence, as the world grappled with the COVID-19 pandemic, we were already ahead of the curve in procuring, incubating and developing healthcare products and technologies suited to the post pandemic 'new normal'.
What is the initial vision that inspired you to start this venture and in the postpandemic era, where is the company positioned?
I founded Sovereign Health in 2019, with an initial vision of developing
an Asia focused hub for health related research, communications, and intelligence.
Over the course of the pandemic, Sovereign Health evolved rapidly at the center of a boom in healthcare related technology. With a broad range of partners and analysts from across the region, we now essentially assemble bespoke teams of analysts and produce disruptive solutions for a range of clients and categories. As such, my primary responsibilities were to co-ordinate our strategic vision, identifying opportunities for key categories, staying abreast of the ever changing pandemic regulatory landscape and optimizing our use of talent.
The core of sovereign health was to act as an aggregator of great resourcing capability that cut across delivery channels, and instead was able to pattern the patient/disease pathway requirements of global healthcare companies
What are the differentials factors about your organization that separate it from your competitors catering to the Singapore market?
Unlike the production line style of business that our more traditional competitors undertake, we tailor our teams and taskforces to the specific needs of our clients using a proprietary process that I refer to as the 'Ferris wheel' concept. Every day, we challenge the limits of what we can and can't do. It's a part of our nature, and it's vital to our ongoing innovations in health and wellness. We stare impossible challenges in the face and choose to `square the circle,' fight another fight, or find a better way. Sovereign Health is at the forefront of this charge, and we're just getting started.
Over the last two years of consistent delivery, we have become the most trusted medtech solutions provider in Singapore, unifying and energizing virtual customer engagement for Asia's most innovative life sciences companies. We are leading an evolution in health marketing and communications focused on patient centric, personalized experiences, and rooted in science, creativity, innovation, and data. Sovereign Health exists to focus and mobilize best-in-class strategies, design thinking and amplification resources to put Asia ahead in times of immense difficulties. We do this in areas including data and insights, technology, healthcare specialty services, digital and CRM, CRO, marketing innovation, public relations/public affairs and other specialized areas.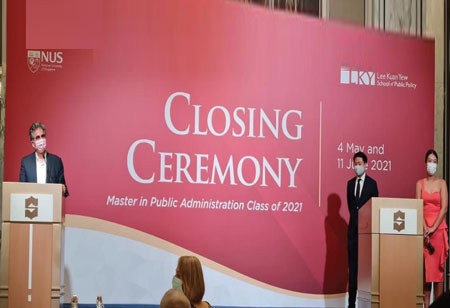 How does your vast experience help you to chalk out business operations for Sovereign Health?
That's a great question. Having set up various business units from scratch in multiple different geographies meant that there was a realization that client needs were no longer fixed and similarly a fixed resource system would eventually fail. That's why the core of Sovereign Health was to act as an aggregator of great resourcing capability that cut across delivery channels, and instead was able to pattern the patient/disease pathway requirements of global healthcare companies. We could at once be vital consultants, content producers, analysts, communication and strategy developers and go all the way through to become the technology driven solution implementation specialists (which has now become our core). Running a meaningful healthcare solutions network requires the ability to pivot as the situation changes and the pharmaceutical/life sciences industry is facing a highly volatile situation, with newly emerging health behaviors, and disease pathway patterns. The disruption that technology is now bringing in is more than ever before.
What comes to mind when I ask you about one of the most difficult projects executed by you so far?
I won't say it was 'difficult', but certainly a challenging one was building a fully virtualand interactive visualization of a particular mode of action from scratch. A bit of background, most categories are facing a massive disruption in accessing their stakeholders (medical, patients & customers) and are therefore requiring a solution that provides consistency in messaging and the ability to have it delivered with an enhanced amount of personalization. We produced a bespoke solution that amalgamated
various available technologies that resulted in a seamless experience for the sales reps. Most importantly,it was all Veeva certified and therefore results could be tracked and Managed.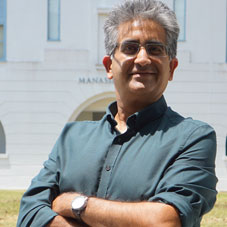 What is the growth scope in the Singapore/SEA market, and what are the opportunities that you foresee in the market and the steps that you take to stay industry ready?
Rising income groups and an affluent population in Singapore and else where in South East Asia have fueled a demand for higher quality healthcare. By 2022, over 50 million new consumers will join the ranks of the middle class in Malaysia, Philippines, Indonesia, and Thailand alone. There is a clear trend towards better access to preventative care and treatment for non-communicable diseases as defined by WHO's SDG-3 goals. Disruption to health services due to the pandemic has resulted in greater pressures on the public health sector that need to be met through the use of innovative and adaptive technology.
Would you like to share any life changing moments that have made a huge impact on your professional journey?
One should never underestimate the value of education. It took me nearly 24 years to begin pursuing my Master's in public administration, but once I did, the experience changed my perspective and outlook permanently. Today's thinking is governed by the ability to multi task and multi think and in that regard, my motto is 'never stop learning'
Who do you look up to for inspiration? What motivates you to continue growing and developing as a professional?
Obviously, my family has been the greatest source of inspiration by believing in me to always do better and go that one step further. They say start to effect change and the universe will conspire to work with you.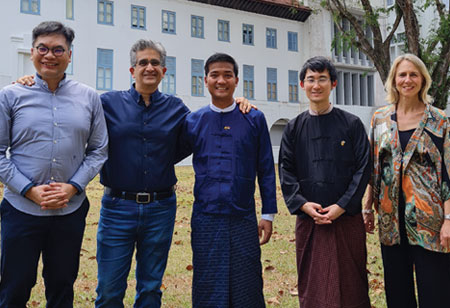 What is the work culture within your organization? How do you help your team maintain a healthy work life balance? Also, what about you, how do you give your time back to your family?
Life in the pandemic has blurred the line between what is personal and professional. We are seeing the impact this has had on those with young families and fear of losing incomes or jobs. These are all serious considerations that at Sovereign Health we pay special emphasis to. Keeping videos off during Zoom meetings, no meeting afternoons, encouraging and supporting maternal and paternal leave are all necessary parts of helping everyone manage their delicate life work balance.
For me, it's made easier with older children, but my wife and I make it a point to always keep at least two evenings a week for a relaxed walk or a meal together and ensure we relate to each other's emotions and feelings.
What will be your advice for upcoming young aspirants who are eager to build their career in this domain?
Never give up your ambition and nothing replaces passion for what you do. If you love your domain, nothing can come in your way because like me, you'll make your passion a career.
Key Management:
Rohit Sahgal, Founder & CEO, Sovereign Health
Favorites:
Hobby:
Rohit began Running towards the backend of 2019, and has continued ever since. He says "It's really changed my life and is a source of joy"
Cuisine:
He loves the local food in Singapore, and Japanese and Indian cuisine.
Book:
The Hitchhiker's Guide to the Galaxy
Travel Destination:
Anywhere that is off the beaten track. "Life is to be explored", he puts it this way.
Awards & Recognition:
•President for the LKY School's Class of 2021 Masters in Public Administration cohort
•Dean's Leadership Award 2021
•McCann World group Award for Excellence in SEA
•Temporary Advisor, WHO Western Pacific for NCD Prevention & Control