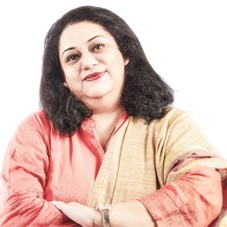 Elegant and cozy ambiance at the workspaces has turned out to be a crucial factor for enhancing mood settings and fuelling productivity. For employees who spend long days at the office, it is necessary to have a space that is functional, visually appealing, and comfortable. Moreover, for clients, the office settings are the first impression as it sets the tone for the brand that shows professionalism and success. All this has forged the corporate interior design industry to scale in terms of advancements and innovations. Observing the demands in the market and with the vision of overhauling and revamping the workspace market, Rashmi ParulkarMaiskarformulatedSanctum Design.
Founded in 2000, the company was formerly known as Rashmi Maiskar and Associates. The Proprietor and Principal Architect of Sanctum always believed that "Design must be grounded in a realistic reading of client requirements, budget and site conditions, and the quality in a service or product is a measure of what customer gets out of it." Therefore, with a deeply rooted passion and rich experience in architecture and a solution-oriented approach, she crafted her dream of creating spaces that are not only aesthetically pleasing but also extremely functional. To know more about Rashmi and Sanctum as a leading corporate interior design service provider, peruse the following excerpts of an exclusive interaction between her and CEO Insights.
Kindly throw some light on your educational and professional journey.
I did my Bachelor's in Architecture from the Visvesvaraya National Institute of Technology and M.Arch in Urban Design from CEPT in 1995. I was fortunate enough to be a gold medallist of my batch.
After my education, I shifted to Pune in quest of better exposure and worked with eminent architects liked Iqbal Chaney & Associates, Archivista, Ar Girish Doshi, and ArAmla Seth for a couple of years. My journey began with small
residential projects. I always dreamt of working on a corporate project. After working for two years, I got a chance to work for a small 500 sqftMegasoft company, a sister-concern of Satyam. I started working for a few startups and eventually grabbed a lifetime opportunity of designing a campus for Rapidigm India Pvt Ltd. Started from a small 2500 sqft work, I designed their Campus of 11 Acres, and Architectural design of 1.0 sqft space with Interiors, landscaping, and more.
It was my first project, and I had put all my time and energy into learning and executing it along with Company Project Team. The project came out amazingly well with 15 different units of different set-ups, and each of the design work to its usefulness. On completion of the project, my brand flooded with many IT and Manufacturing projects. With no God-father or no background, I must say that I always got very supportive clients who understood my basic desire, the strength of designing, and extract the best out of me. Initially, from 2000 to 2006, I was purely into Consultancy works, but Thermax insisted me to take up a turn-key project, which changed my life.
We have a team of qualified Designers, Site Supervisors, and Project Managers. With our diversified expertise, we strive to correlate the customer's vision with our elegant skill sets
What opportunities do you foresee in the current corporate interior designing industry and what do you think is important to stand ahead of the curve?
The scope and opportunities are wide in every domain be it Architecture, Corporate, or Residential. Being an expert in the field is very important. We must possess cutting-edge knowledge and the latest techniques for giving the best to the clients. We are flexible in making the client comfortable and giving them the best work output. We do not have any marketing or sales team. 100 percent of our clientele is formed with word of mouth and references. Moreover, we commit to provide a dynamic balance between cost, schedule, and quality.
How do you ensure to maintain the quality and authenticity of the project during the corporate interior designing process?
We follow quality control SOPs and have training sessions for
employees to learn new working techniques, quality control, documentation, client and site coordination, etc.

Brief us about your team of experts and their professional experiences & expertise in the industry.
We have a team of qualified Designers, Site Supervisors, and Project Managers. With our diversified expertise, we strive to correlate the customer's vision with our elegant skill sets. The interesting aspects of our architectural innovations are based on simple avenues that are omnipresent. As one of the leading architects in Pune, we derive our driving force from the integrated focus clubbed with the inspiration to seek pertinent solutions for aesthetic excellence and immaculate functionalities.

What is the future roadmap set for your company? How are you updating yourself with the latest technologies/industry trends to make Sanctum Design reach its future goals?
With over 25 years of experience backing our work, we have proven mettle in design and execution. We are specialized in the field of creating workplaces and fit-outs for corporate offices. Through the journey, we have completed more than 8.5 Lacs sqft of Corporate Interior office and more than 500 residences. We have successfully designed and executed many Architectural / Interior / Landscape as well as Campus Planning projects for IT, Biotech, and Manufacturing Industries. Our repetitive clientele is our strength and backbone. It reflects the trust and value our clients have in us. In the coming five years, we want to achieve a benchmark to complete ten lacs sqft of designed spaces, continue to have repetitive and happy clientele. We are now a small team of around eight employees and we would like to be 30 member stronger very soon.

Offerings:
• Architectural designs
• Corporate Interior designs
• Residential Interiors
• Modular Interior Solutions
• Architectural Planning and Designing, Corporate and Residential Interiors
• One window turnkey solution
• Ready to fit residential Modular furniture

Why Sanctum:
• Best designs
• Innovation
• Unique colour combination and ambience
• Work quality
•100 percent repeat clientele
• Flexibility in design to match clients' needs
• Understanding client's needs and give him the best suitable solution