Sanjay Jain: A Productive And Highly Experienced Leader With Over 30 Years Of International Business Experience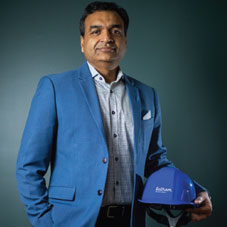 When it comes to forming and expressing new key strategies and engaging with and encouraging people to enhance commitment to corporate goals, leaders are crucial. Sanjay Jain is one such strategic expert with a track record of over three decades of leadership experience in a variety of sectors spanning three nations and cultures. He specializes in vision creation, strategy formulation, and providing leadership guidance to achieve longterm success and wealth maximization of an organization. Sanjay is well known as a corporate leader who excels in strategic planning and management with Integrity, strengthening connections, and successfully communicating, collaborating, and forging alliances with major stake holders of the company to ensure long term success and sustainability.
Sanjay Jain recently engaged in an exclusive interaction with CEO Insights magazine. The following is an excerpt from Sanjay's conversation with CEO Insights.
What inspired you to lead Latham the Pool Company's fibreglass segment in Canada, and what drives you today?
I have almost three decades of experience managing multisite manufacturingoperations and engineering functions. In addition, I am equipped with a strong track record managing supply chains, transportation, and product storage while keeping environmental, health, safety, and compliance requirements at the forefront. During these years, have been handling multi million dollar capital investments in operations to support business growth and development.
Furthermore, considering my strengths in vision formulation, strategy development, and providing leadership to cross functional teams for longterm organizational performance and financial development, I was given the opportunity to lead Latham's
fibre glass operations in Canada. And, when I first stepped into this role of Director, I was completely focused on establishing growth strategies to enhance sales. Along side directorial responsibilities, I also oversee Latham's fibre glass manufacturing unit, which began operations in January 2022. This 148-acre stretched manufacturing plant located in Loyalist Township, Ontario, is the company's largest production facility ever built and is also regarded as one of the most significant financial investments undertaken by Latham, the Pool Company.
Latham is a fast growing corporation working with a mission to offer customers quality products
As a leader, I am inspired by thinking outside the box while identifying and assessing new industry trends and technology as business opportunities. Adding to it, my insatiable desire to create value in business and society is what motivates me constantly.
How would you define Latham and its position in the market? What is the unique proposition that your organization offers to its client base?
Latham is the largest designer, manufacturer and marketer of in ground residential swimming pools in North America, Australia, and New Zealand. With 12 years of sales growth Latham is a fast growing corporation working with a mission to offer homeowners products that require less maintenance lower operating expenses, and enable them to enjoy the backyard lifestyle of their dreams. We live by our commitment to being 'easy to do business with' and the preferred manufacturer in the swimming pool industry. Latham works on a B2B2C (business to business to consumer)paradigm and is committed to maximizing the potential of its most valued asset: Its people.
What has been your response to the challenges posed by the Covid-affected market and the need for new operational strategies?
Swimming pool sales have been steadily increasing, and we're pleased to see that trend continue. Like all other industries, the swimming pool industry also experienced supplychain challenges for materials. However, later in 2021 and towards the start of 2022,
things have started to look better as the resin supply chain has vastly improved. Latham has equipped itself to with stand such situations in the future and thrive.

Latham has developed a unique four point growth formula: leverage leading brand and digital assets, accelerate fibre glass material conversion, enhance strategic relationships with key dealers, and strategic acquisitions to improve the Latham platform.

Going forward, what are the changes in market behaviour that you anticipate, and what are the opportunities that you foresee?
Consumers are increasingly looking for products that are simple and hassle free to use, and Latham's Fibreglass pools provide a stronger value proposition for the homeowner, with reduced upfront and total lifespan expenses, as well as favourable economics for the dealer. Latham will continue to drive this amazing growth with its unique product line-up, visionary management team, and proven track record of successful execution, and we are delighted for more consumers to experience what Latham has to offer.

As an experienced industry leader, what advice would you give to the budding professionals in this domain?
To stay relevant in an ever changing environment, keep evolving and innovating. Examine your options carefully and with a suitable risk taking mindset. Also, keep in mind that abilities are generally transferable, so if you want to try something new and challenge yourself, don't be hesitant to branch out into other sectors and market places.

Sanjay Jain, Fiberglass Operations Director, Latham the Pool Company
Sanjay started his career and worked for 6 years in India at Century Enka (a joint venture of AkzoNobel and the Birla Group) and Reliance Industries after he completed his B. Tech in Engineering and Master's in Management Sciences. He subsequently worked in Saudi Arabia for 7 years at SABIC on one of the companys largest projects at the time; a $2 billion poly ester and petrochemical complex. Sanjay then relocated to Canada in 2001 after accepting a position at a Koch Industries firm (INVISTA) and now calls Canada his home. Sanjay joined Latham, the Pool Company - as the Canadian Fiberglass Operations Director in 2020.