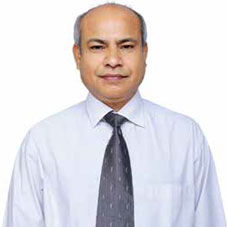 Polyester or PET film is a thermoplastic consisting of Purified Terephthalic Acid (PTA) and Mono Ethylene Glycol (MEG), which is a high performance thermoplastic. PET film is superior to typical plastic films in terms of tensile strength, dimensional stability, high-temperature resistance, thermal & electrical insulation, chemical resistance, moisture absorption, thermal stability, and physical property retention throughout a wide temperature range. Among the world's major producers of polyester film, Polyplex is ranked number six in terms of production capacity worldwide. A prominent PET film manufacturer, Polyplex has production and supply locations across the world, making it easy for the company to serve its customers.
PT Polyplex Films Indonesia, a Polyplex owned affiliate led by Sanjay Kumar Jha, was established in Indonesia in October, 2017. The Director of Operations for Polyplex's South East Asia Operations, Sanjay is a specialist in the production of polyester film and its unique product offerings. As a business leader, Sanjay has a widerange of expertise in developing efficient operating strategies.
What Is The Motivation That Fuels Your Business Routines?
Two reasons first and foremost, I've been working in the polyster film business from a long time, and today when people discuss this industry, especially in India, I suspect my contributions would surely feature in some of those. I am driven to make an impact in the industry & contribute to the growth of the industry with innovative ideas for products and services. Even with all the breakthroughs, I still feel as though the polyester sector has a lot more untapped potential, which keeps me inspired in my day-to-day work.
You possess over two decades of experience, how has your path to success been, and what is your success mantra?
The success mantra for me is customer satisfaction. This includes offering standard film in the most cost-efficient manner and provide
widest range of products to meet the current requirements, as well as developing new and promising applications. This has been the core behind all our actions.
We are proud of not only having the widest product portfolio in the industry, but also a preferred partner when it comes to any product development with customers, specially in PET film. We have the largest PET film capacity in SEA with world's highest productive assets in Indonesia. We are also well diversified globally and have a good understanding of political and economic situation across geographies which helps us in being pro-active to implement market and operational plans to effectively safeguard our top and bottom line.
As the country head of Polyplex, I have devised strategies that have yielded excellent results and profit for the firm
As the country head of Polyplex Indonesia, we have devised strategies that have yielded excellent results for the firm in challenging circumstances and I consider this to be a measure of my success. In addition, my mantra for success is to encourage and drive my team to achieve all goals that we commit to, no matter how difficult they may be.
Define Polyplex as an organization. What makes the company unique from the other competitors?
In 1984, Polyplex was founded in India. When the company was founded, it had a turnover of less than Rs.100 crores. Over the years, the once remotely located organization has expanded to become a worldwide enterprise with revenues of over $900 million. We are the first worldwide polyester corporation with manufacturing facilities in India, Thailand, Turkey, Indonesia, and the US.
The Company's global expansion plans with strategic manufacturing locations has enabled it to be on shore or near shore to serve customers more efficiently and affordably. A single source of supply for a wide range of films is a benefit to our clients because of our fully integrated green field film lines with upstream resin plants and downstream metallizers as well as other offline coating capabilities. To better serve our customers,we've developed an innovative business strategy based on a mix of onshore, offshore, and near shore locations.
Give a brief account of lean
innovation models. Could you elaborate on the latest technologies adopted by the company?
Despite the fierceness of the industry's competitiveness, the company's growth and profit curves have risen enormously in recent years. Polyplex's innovation methodology focuses not only on extending the company's volume or geographical reach, but also on developing new products and technology. In this approach, we may also acquire a large number of new consumers, keep our existing clientele, and drive operational efficiencies within the firm.

The Polyplex Innovation Center is currently working on developing new products & services to complement those already offered by the company. Many value enhancing technologies are continually being produced by our R&D Innovation Center in India. One of Polyplex's most recent innovations is direct melt casting on such a wide polyester film line, which allows the business to produce our products in environmentally friendly manner and at a lower cost. Furthermore, our products will also have lower carbon impact by investing in solar panels in different plant locations.

What are the future market opportunities that you look forward to investing your time to reach your goals?
We need to go towards a circular economy, which means developing products that can be used again and again. This is theoretically achievable, and it's the greatest option for our sector. BOPET films as a substrate stands out in this regard given that it can incorporate up to 100 percent PCR content for both food and non-food applications without any deterioration of properties or performance. Polyplex has invested in chemical recycling of post-consumer PET waste which ensures that PCR PET resin is same quality as virgin resin. As a company and I personally will be focusing on developing sustainable products which enable circular economy and also expanding our specialty film portfolio delivering better margins and becoming partner of choice for our customers for innovative solutions.

Sanjay Kumar Jha, Director of Operations, Polyplex Films Indonesia
Sanjay has a bachelor's degree in engineering from Nagpur University and is a specialist in the polyester film sector. Sanjay began his career in 1993 as a Graduate Engineer Trainee from Ester Industries Ltd., and he has since worked for many notable organizations, including Uflex, Jindal Poly Films and Ester Industries.