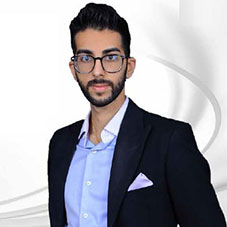 People are facing various minor or major problems in their day-to-day life and they always strive to find solutions either by themselves or from somebody else. Identifying problems in the business industry and finding a possible solution for them is what Neeraj Ramesh Bharwani and his family of entrepreneurs have been doing for decades. After his graduation, from Jakarta International School, he pursued a B.Sc in Business Management at the D'Amore-McKim School of Business in Northeastern University, Boston. With the vision of becoming the largest chemical supplier in Indonesia, Neeraj founded Kanmochem Royal Indo and since then his hard work and leadership have brought recognition to his company.
Neeraj engaged in an exclusive interaction with CEO Insights, here's the highlight from the same.
Tell us about your professional experience and what made you venture into the Dyestuffs & Chemicals segment?
Being from a family of entrepreneurs, I always had a passion to become one from a very young age and because of that, I used to spend my school vacations following my father to his office. As an entrepreneur, I realised the opportunity in the chemical industry many years ago which led to the establishment of Kanmochem Royal Indo which is a subsidiary of my family business Kanmochem Dyestuffs & Chemicals. The ability of my father to take risks, persevere, and identify opportunities where necessary is the driving force behind my journey as an entrepreneur.
Define Kanmochem Royal Indo as an organization and its position in the industry and what unique propositions it offers to its clients?
Kanmochem Royal Indo is founded as the subsidiary of Kanmochem Dyestuffs & Chemicals with a vision of becoming the best and largest supplier of Chemicals in Indonesia. The company enjoys the dedication and commitment of a very highly skilled workforce who strives to drive the company towards its vision. Quality service, efficiency, and good customer relations have always been our uniqueness and presently, Kanmochem has implemented some strategic marketing policies that have resulted in the company having a significant market share in the chemical industry.
Never allow the problems and fears of personal life to overshadow your professional career and vice versa
What are the challenges you face as a founder in your journey? How do you overcome those challenges and what have you learned from them?
Bridging the gap between dreams and reality has always been a major challenge to me as some of these dreams seem wild and unachievable. However, I have always taken inspiration from the words of my father who said "You may not know everything,but you owe it a responsibility to be able to bring together a formidable team that will solve even greater problems". This has taught me a very important lesson about the usefulness of teamwork, allowing people the freedom to think freely and incorporate their views with mine.
How do you maintain the perfect balance between your personal and professional life? What is your success mantra?
It does not matter how busy my schedule is, I always take out some time for my personal life and I never allow my personal problems, issues, and fear to affect me in my professional life. I always go to work with lots of happiness and enthusiasm in order to achieve the desired result and keep my staff aligned with me and my energy. My success mantra has always been discipline, teamwork, perseverance, and most importantly honesty.
What are the changes in the market and what opportunities do you
foresee in this changing market? Also, as a successful entrepreneur and industry leader, what advice would you give to the budding industry leaders?
Indonesia has a fast-growing economy with quite a huge population and therefore there is a high possibility that existing local companies in the industry will expand their reach while new players will also enter the industry. As a result, consumers would have a wide variety to choose from and this would put pressure on companies to change their strategies to attract customers or exit the market. On the other hand, it would also provide an opportunity for companies that are creative to take over the industry and increase their market share. This is one of the reasons Kanmochem invests heavily in research and development to ensure that we can easily adapt the strategies that suit existing consumer behaviour and market trends.

The chemical industry is one that requires creativity and a lot of investment due to the short lifespan of products and there fore it would be prudent and strategically advantageous that budding industry leaders focus on specialisation rather than going all out with different products.

Neeraj Ramesh Bharwani, Founder, Kanmochem Royal Indo
Coming from a family of entrepreneurs, Neeraj has completed his graduation from Jakarta International School with IB certification. He also pursued B.Sc in Business Management from D'Amore-McKim School of Business in Northeastern University, Boston.

Favorite Book
●RICH DAD POOR DAD by Robert T. Kiyosaki
●Think and Grow Rich by Napoleon Hill

Favorite Destination
●Tokyo, Japan

Favorite Cuisine:
●Indian food
●Thai food

Awards & Recognition
●Black Belt in Tae kwon do
●Dean's List in Northeastern University
●Best Specialty Dyes & Chemicals Supplier 2022-Indonesia(South East Asia Business Awards 2022 hosted by APAC Insider).