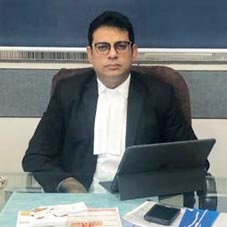 The Indian legal industry has been witnessing a paradigm shift in tune with the technological advancements and evolving policies, over the past few years. Besides in the light of changing capital market infrastructure, the infusion of investments through FDI and venture capitalist firms has brought-in new avenues and challenges. It is here the legal consultancy firms ought to safeguard their clients from such changing laws and practices and also offer them services in tune with their requirements.
Standing tall amidst this league of legal consultants in India is Sharma & Sharma (Advocates & Legal Consultants), a full-service law firm specializing in commercial litigation and alternate dispute resolutions mechanism. Unlike its peers in the industry, the company has grown to an incredible extent where clients acknowledge them for their array services being offered under one umbrella, within a time frame. Its sole mission is to promptly address and resolve all their concerns through dedicated, efficient, commercially sound, feasible and result-oriented solutions. No wonder, its clients are extremely satisfied with the value of fees that they pay for these solutions
To learn more about Sharma & Sharma and its excellence in legal space, read the following excerpts of an exclusive conversation between Sidhartha Sharma (Founder & Managing Partner) and CEO Insights.
Could you throw some light on your educational and professional journey so far?
Speaking of my educational background, I completed an integrated professional course (five-year) of Bachelors of Law from Calcutta University in 2000. In 2006, I laid the foundation for Sharma & Sharma which has acquired immense recognition in legal fraternity since then as well as expanded from its head office in Kolkata to New Delhi, Mumbai, Chandigarh and Cuttack. My practice started in Labour Laws, Industrial Relations and related fields of master-servant relationship, followed by appearing in different courts, tribunals like Provident Fund Appellate Tribunal and other forums
created to adjudicate master-servant disputes, and also handling various matters pertaining to labour laws/service law.
So far, I have successfully handled various notable cases independently and appeared before the Hon'ble Supreme Court of India, Hon'ble High Court at Calcutta, Hon'ble High Court at Delhi, Hon'ble High Court at Bilaspur, Hon'ble High Court at Guwahati, Hon'ble NCLAT, New Delhi, Hon'ble NCLT (Principal Bench), Bengaluru Bench, Guwahati Bench, Mumbai Bench, and Cuttack Bench. Moreover, I have also handled cases at different forums created under the SICA Act, 1985 like BIFR and AAIFR at Delhi, the Employee State Insurance Court, Employees Provident Fund Tribunal, and a lot more.
Our sole mission is to promptly address and resolve all our clients' concerns through dedicated, efficient, commercially sound, feasible and result-oriented solutions
Brief us on your services under legal consultancy.
We provide end-to-end services under diverse verticals while our members have demonstrated their expertise in handling disputes, providing legal opinions and consulting on various issues. Some of these verticals include Commercial Contracts, Insolvency & Bankruptcy Law, Corporate Debt Restructuring, Merger/Demerger & Amalgamations, Maritime Law, Mining Law, Electricity Law, Environmental Law, Company Law, and many others. Besides, we proactively offer legal assistance to business ventures, industries, State Government Corporation and startups.
So far, our members have successfully represented numerous financial creditors, resolution applicants, resolution professionals along with clients in commodity trading disputes before ICA, SIAC, ICC, LMAA, HKIAC and GAFTA. Besides, they have represented clients in Corporate Insolvency Resolution Process/Liquidation Proceedings of Bhushan Power & Steel, Gujarat NRE Coke, Adhunik Metaliks, Binani Cements, Monnet Ispat & Energy, and many other companies. Our clients' roster also includes one of the world's biggest shipping companies and China's biggest agricultural supply chain company.
How do you ensure to achieve utmost client trust and satisfaction?
For clients to be informed about the
status and developments in their matters, we adhere to a unique Intimation of Listing and Record of Proceedings mechanism. Post completion of hearing, a detailed record of proceeding entailing observations of our members is circulated to them on the very same day. Moreover, we endeavour to keep our clients updated with latest industrial practices and changes in law on a regular basis through in-house publication of newsletters and articles. We also advise them to follow updated international practices for commercial transactions and relationships with third parties.

Name a few of your recent cases.
Some of our recent cases include Liberty House Group v/s State Bank of India before Hon'ble National Company Law Appellate Tribunal – Appeared for Sumit Binani (Resolution Professional & Liquidator), and Orissa Metaliks v/s. Hind International Investment before Hon'ble Justice Ashok Kumar Ganguly(Former Judge of Supreme Court of India) under the Indian Council of Arbitration, to name a few.

Do you offer internship and training programs to your employees?
Absolutely! We offer internship programs to final year law students, select candidates based on their potential/merits, and accordingly offer them pre-placement offers. Our employees can attend in-house training programs to inculcate worklife discipline as well as stay abreast. They also regularly attend conferences and workshops as speakers and moderators.

What is your success mantra for enhancing revenue?
To incentivize and encourage the members of the firm, both economically and psychologically, to ensure that each member adds value to their work for getting favorable relief for the Client. There is no alternative for enhancing revenue than providing quality work in a time bound manner for the Client's benefit.

Sidhartha Sharma, Founder & Managing Partner
Sidhartha holds over 19 years of practice as an Advocate on Record in the Original Side and Appellate Side of the Hon'ble High Court at Kolkata. He has successfully handled cases related to Insolvency and Bankruptcy Code, Contracts, Tenders, Petroleum Dealership, Mining, Partnership, and many others.

Offices: Kolkata, New Delhi, Mumbai, Chandigarh & Cuttack

Services: Banking, Finance & Securities, Maritime Law, Commercial Disputes, Company Law, Dispute Resolution & Arbitration, FDI, Labour & Industrial Laws, Energy Laws & many more