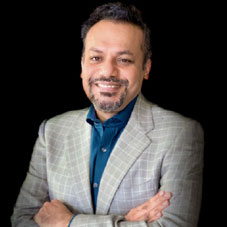 Founded in 1998, Global Vision Impex was incorporated as a modest trading concern with a primary focus on gambier and betel nuts. From there, how the firm became a leader in the industry, supplying more than 40 different products across 55 different countries, is a story worth telling. In the discussion below, Sidharth Tekriwal, Director of PT. Global Vision Impex spills the beans and walks us through the organization's vision and value proposition.
Below is an excerpt of Sidharth interview with CEO Insights.
Describe your journey that prompted you to draw a career path in the Import Export industry? What has kept you motivated?
Getting into the Import Export industry was just destined for me. From just a year of work experience requirement for my MBA program in the US, it grew into the career path of my choice. Having travelled extensively, the sphere of import export has always fascinated me. It's not simply its omnipresence that marvels me, it's the dynamism. This field demands practicing long established patterns while engineering creative strategies. It scrutinizes idiosyncrasies while considering the macro environment. And it's ubiquitous, yet embraces risk.
Something that always keeps me motivated is the fact that in this industry, you always need to be vigilant. I'm someone who is passionate about the agricultural industry and supply chain, so I need to be very updated about the slightest change in the market, whether it is with your suppliers, employees, consumers, competitors, even the government policies. Any such changes in the business environment can be full of opportunities or challenges something that, if left unnoticed, could be extremely detrimental.
You have more than two decades of experience in this industry, what has been your key ingredient that helped you achieve the position you hold today?
Quality is not an option. It is the very DNA of our business. Everything we do is driven by the fundamental desire to gain and maintain the
unwavering trust of our customers. We take pride in creating customers brimming with satisfaction from a partner well chosen in creating relationships that last and will continue to last for generations to come.
Define Global Vision Impex as an organization and could you talk about your sourcing process? How do you ensure the quality of your deliverables?
Nurtured by nature and inspired by passion we deliver only the very highest quality of products.
The key to providing the world's best materials is, essentially, in ensuring partnering with highly experienced farming communities who have helped us harvest the best materials for generations. This life long partnership, combined with the latest spice processing technologies is a major element in ensuring consistency in the quality of every single batch,allowing us to meet global supply chain quality standard and criteria.
Our legacy of trust has grown by staying true to what we believe say and do
We have used our two decades of experience to maintain this quality through every phase, from processing methods, storage facility management and the final pack aging of the materials.
With Fully Integrated processing plants right at the source comprising of ovens, polishing lines, conveyor belts, cutting and gravity machines, colour sorters and sulphur treatment chambers our processing plants are fully equipped with the state of art facilities
With accountability and active engagement of trained staff to adhere to micro management in the production process, at every stage we offer unparalleled trace ability and assurance. Moreover, our on the ground presence has helped us build strong supplier relationships and market insight, beneficial to both, us and our customers.
Today, through constant nurturing of our once supple sapling, we have been able to entrench our roots and unfurl our branches to be recognized as a leader in the industry, supplying more than 40 different products across 55 different countries.
What makes the company stand out from other competitors in the industry? What makes customers choose the company?
Our legacy of trust has grown by staying true to what we believe, say
and do. Over the past 20 years and counting, GVI with its clear vision, unwavering focus, and high standards, has created an invaluable and diverse product portfolio enriching the natural resins and food ingredients supply chain worldwide.

Moreover, while working directly with the growers and processing our products in proximity to where they're grown, we ensure only the highest quality of ingredients right from the source. Besides, highly skilled quality control inspection by a dedicated workforce gives us our distinguished aura.

In your professional journey so far, which are the milestones that have bestowed you with utmost satisfaction both as an individual and as an entrepreneur?
I think the fact that I've been able to provide lively hoods to hundreds of families, is something that gives me immense satisfaction. PT. Global Vision Impex also strives to better every local community that we have our presence in, by instituting programs to better the lives of their inhabitants. We make sure to only source materials sustainably, and are very adamant in the advancement of fair trade.

Other than that, the fact that the company has a working environment that has allowed us to still retain members that have been present since the inception of the company, over two decades ago is some thing that we pride ourselves on. This means that every employee within the firm has a very strong sense of belonging to the company which serves as a huge boost to their overall well being, happiness index and their ability to maximize their potential.

What is the reality check you consider when it comes to decision making during challenging circumstances?
We care for People, Products and Profits in that order Period.

What are the goals you are looking forward to achieving in the future? How do you plan to execute them?
There is no end to growing. We have been vertically integrating, value adding, diversifying our portfolio as well as increasing our global footprint and will continue to further capitalize on the same. Our brand is synonymous with quality. Only the finest. For only the finest.

Sidharth Tekriwal, Director- PT, Global Vision Impex
With close to 25 years of professional experience, Sidharth is a versatile leader with profound vision. He has been exemplary in terms of coordinating teamwork out of people with varied skills towards a specific goal.