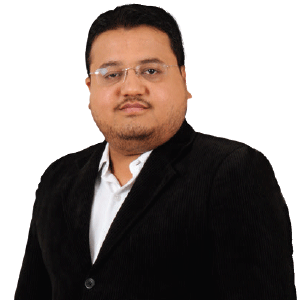 It was the obscurity in reading cricket scores in television what made Navin Kumar- an Android developer based out of Chennai - realize his blurry vision. His Optometrist called it Simple Myopia. When he got the prescription for lenses, the busy techie didn't think twice to take a walk down the streets of internet and find a convenient online eyewear store. He ordered a pair of prescription lenses with brown frame from a store that impressed him with its Augmented Reality powered online trial room. The product got delivered on the fifth day, but it only led the way to a huge disappointment for Navin. It was not only that the frame had an offbeat narrow border in blue color which he failed to notice on the website, but even the vision was obscured due to a typing error in the uploaded prescription.
Besides matchless convenience and attractive price tags of online stores, it's the lack of quality eyewear providers in the 'neighborhoods' what makes tech-savvy people like Navin think of online stores, which often end up in an act of trapeze over the fitting needs. Finding a solution to this predicament by reaching out to the neighborhoods of urban population has been the game changer for Specsmakers Opticians Pvt. Ltd. to emerge as South India's largest retail optical chain with 175 stores spread across Tamil Nadu and Karnataka.
"When we say neighborhood, we really mean it. With our branches spread across Chennai, Bangalore and Madurai, it's really hard to miss us in these cities. Also, as we source directly from our factories, we make buying extremely simple & transparent for our customers by providing high quality eye wears at affordable prices and with one-year unconditional warranty for all our glasses," asserts Pratik Shah, CEO, Specsmakers Opticians. This Young Turk is marshaling a silent revolution.
An Amazing Growth Story
Rewinding 14 years, the business management lessons from the Spears School of Business, Oklahoma State University(U.S.) had its impact on Pratik,and he envisioned starting his own business in the long run. He started his career with an investment bank. But life had set another, much bigger destiny for him, and he reluctantly on-boarded his business journey with well-devised blueprints. With the burgeoning usage of computers and other emerging electronic gadgets, Pratik recognized a huge service gap in the eye care market and foresaw an ever growing need for promoting eye care wellness in the rural & suburban towns.
" We always strive to reflect our customers' aspirations in our designs and services, wherein our customer service and feedback collected in that regard play an instrumental role"

After immense brainstorming, the entrepreneurial couple, Pratik and Sonal Shah humbly kick-started 'the Specsmakers journey' in 2007 with an outlet in Anna Nagar, Chennai. Proving his foresightedness, the company took the town by storm and spread like a wildfire to every nook and corner of the city initially, and many other cities in Tamil Nadu and Karnataka in the successive years. It opened 25 stores by the end of year 2015, and had no intention to slow down. Specsmakers marked an exceptional anecdote thereafter by doubling the number of stores every year! "Right from the beginning, we successfully operate with hightech boutique stores – each spanning across 300-500 sq. ft. built area," adds Pratik. Well, such stellar performances never fail to catch eyeballs. Alongside bringing several awards home, in 2017, Specsmakers raised $10 million in a funding round led by Eight Roads Ventures India and went further beyond its limits. No wonder the company aims to operate from 500 stores by 2020.

Placing Customer Experience at the Helm
Cut to the present, Specsmakers is a comprehensive, bricks and mortar optical retailer network which starts its services right from offering free eye-checkup under the aegis of qualified & experienced optometrists armed with state-of-the-art eye testing equipment. While catering to masses with spectacle frames, lenses and accessories of its own brand, by heavily leveraging the cutting-edge Japanese technology to cut the lenses & fix the frames in novel designs, it frequently gets into the shoes of a trendsetter. Indeed, this is where its research-driven CEO's knowledge-backed approach comes into play. A travel-lover by nature, Pratik ensures that he regularly visits world's optical manufacturing hubs like Japan and China to keep a tab on the global trends. Having indulged in a close-knit relationship with international entrepreneurs within the industry, Pratik manifests an exemplary way of sharing knowledge and keeping ahead of the trends.

"We always strive to reflect our customers' aspirations in our designs and services, where in our customer service and feedback collected in that regard play an instrumental role. We consider that data with utmost gravity while developing a new product," adjoins Pratik. This approach significantly helps Specsmakers in reflecting its customers'ethos tout de suite and thus catering to the need of the hour. A perfect example being the recent inclusion of 'Home Try On' service, wherein customers can book an appointment to undergo eye checkup, select glasses and try it on at their home. The rationale behind the multiple offers and discounts on specs frames, lenses and sunglasses that outshine even the online offers is no different. It also has joined hands with several corporate organizations to offer eye-wellness programs.
With a robust logistics & express delivery team taking the dynamics of services into a whole new level and having a dedicated customer support & services division in place, unconditional warranty is just the beginning of an overwhelming after-sale relationship with the customers. Firmly believing that eye care isn't only about finding the right pair of spectacles, Specsmakers offers alignments & adjustments, repairs, and nose pads replacements free of cost,in addition to providing free Ultrasonic cleaning of spectacles at all the stores.

By heavily leveraging the cutting-edge Japanese technology to cut the lenses & fix the frames in novel designs, Specsmakers frequently gets into the shoes of a trendsetter

More in the Pipeline
By flexing the creative muscles, Specsmakers incessantly travels in pursuit of anything and everything that could better the customer experience. It currently works on a lot of high-end technologies that can be embedded into the eyewear, alongside its endeavors to use technology as a platform to bestow faster turnaround time(TAT)to the tune of even 24 hours. This includes an e-Gallery, where in the customers will be enabled to browse and choose the products online before purchasing it from the retail store. This will significantly aid in TAT as well as customer satisfaction."We are upgrading ourselves to become an Omni-channel brand while expanding to more cities in South India. A fair amount of focus has also been applied on developing a prodigious network of employees, who are going to be our partners in this journey. We have also seen a keen interested in many people looking forward to take our franchisees in the south and we are also exploring the same," concludes Pratik. Specsmakers fosters a work environment that values and rewards integrity,respect and performance while contributing positively to the communities that it serves.

Key Management:
Pratik Shah, CEO
A strong business development professional with an MBA in Finance & Marketing from Spears School of Business, Oklahoma State University, Pratik boasts of 14 years of industry experience and know how. He is an expert in Negotiation, Customer Service, Coaching, Sales, and Retail. Having accomplished his UG in Electrical and Electronics Engineering from Sri Venkateswara College Of Engineering, Pratik has always been an aspirant entrepreneur, and that passion drives him today while taking Specsmakers to new heights.

Offices: 175 locations across Chennai (Headquarter), Coimbatore, Madurai, Kanchipuram, Thiruvallur & Bangalore

Offerings:
. Classic Designs
. Premium hand-crafted frames
. Nine gram frames from Air-Lite
. Sun Reflectors from Sun-On.