Srimathi Sundar Rajan: A Novel Industry Stalwart Implementing Her Professional Expertise To Catapult Excellent Industry-Specific Results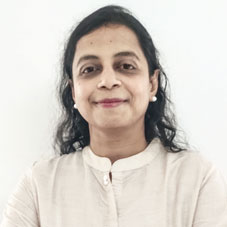 Engaging in an exclusive interaction with CEO Insights, Srimathi SundarRajan reflects on her vision and mission of improving business workflows and processes through technology.
What different roles have you been undertaking at SunSmart Global? How has your journey been at this organization so far?
Being passionate about digital transformation and automation, I was working on India's first-age CRM solution which was installed at one of the country's top three banks and had major clients throughout the BFSI vertical. My never ending quest for new ideas led me to create Herbie. AI, a unique and superior Conversational AI platform. I'm inspired by the continued support of prominent corporations from around the world in embracing SunSmart Solutions, which has fueled our excitement for developing new solutions.
In SunSmart, I have a variety of responsibilities, ranging from Founder to Technical Architect to
Developing HighEnd Coding for our team. Apart from being engaged in mentoring employees who come from villages, I transform them to reputable Software Engineers by playing a key role in their professional development.
What is your perspective towards women entrepreneurship? Share your experience of being a women business person.
Distinguished in society by their focus, dedication, and commitment, women entrepreneurs have a praiseworthy position when compared to their male counterparts because they have various avatars on a daily basis. My team's support is incredible, and my family's encouragement in helping me achieve my goals is crucial to my success.
My team's support is incredible, and my family's encouragement in helping me achieve my goals is crucial to my success
What's your success mantra in business? With your vast experience, how do you align your organization with your vision and mission and bring value to the company?
I'm more interested in creating applications that 'enhance customer experience, improve employee productivity, increase business profitability, and reduce operational cost.' Our Organization's Vision is based on this mantra and by virtue of this philosophy, SunSmart was able to create solutions that are easily adaptable because of this philosophy. We are committed to adding value to our clients as Technology Partners by delivering cutting-edge products of the highest quality and functionally superior.
Give a brief account of how the methods/strategies that you laid have transformed SunSmart Global'sentire work culture and client relationships.
Commencing our journey with a tiny team of three persons working out of a single terrace room of a relative in 2004, we have progressed much to this point. SunSmart's only criterion is talent, and we've never restricted ourselves to any particular preference.
Currently, we are planning to embark on a big transition from organic to accelerated growth, which will be backed by private equity. We have onboarded [Tier1] partners from over 13 countries, a vital initiative for SunSmart's multifold expansion. We're also instilling principles in our leaders and our stock-optioned staff.
Currently, we are planning to embark on a big transition from organic to accelerated growth, which will be backed by private equity. We have onboarded [Tier1] partners from over 13 countries, a vital initiative for SunSmart's multifold expansion. We're also instilling principles in our leaders and our stock-optioned staff.

Further, we increase our space by launching new products year or year. SunSmart's products adhere to a variety of requirements, ranging from security to functionality, that is updated on a regular basis. Not only do we operate in accordance with various tax systems and government guidelines at all times, but we follow all privacy and security standards, including GDPR, OWASP, NESA, NRAA, ISO, and other well-known principles.

In your professional journey so far, which are the milestones that bestowed you with utmost satisfaction? Please mention about the awards and recognition you have received in your journey till date.
Though I have many memories of our entrepreneurial journey so far, some of the key milestones that we will always remember include our first CRM implementation with HDFC Bank, multiple SAP-integrated solutions for Vedanta, our first international office in the United Kingdom, the launch of Herbie.AI, Stock Option to our Employees and now the launch of LinkUS. If we talk about awards and recognition, SunSmart has won numerous honors, including the NASSCOM Emerge 50, Microsoft's Royalty Partner Program and Gold Application Development Partner, Software Suggests Fastest AI Implementation, and others.

Srimathi Sundara Rajan, MD, SunSmart Global
Srimathi Rajamani has an Engineering degree with honors, as well as an MS in Software Design & Architecture from BITS Pilani with an 8.5 GPCA, apart from holding several certifications on technology. Happily married for the past 20 years, she is a proud parent of two daughters Priya and Harini. Srimathi is currently engaged in coaching a few bright minds with their technology ambitions, as well as sharing her experiences with other entrepreneurs to help them succeed.

QUICK FACTS:
Hobby: Watching motivation videos by Elon Musk and Simen Sinek
Favourite Cuisine:Asian
Favourite Book:
Steve Jobs:The Biography by Walter Isaacson
Travel Destination:United States