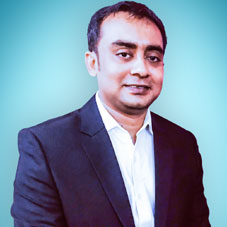 Over the years Bangladesh has not just evolved has a country but it has also made its mark as a place that offers entrepreneurs the opportunity to explore their knack of pursuing business. The country has over the years been very popular when it comes to offering good opportunity to have business specially in IT industry in coming years. With cheap production costing and good quality developers that are also available in the country, it's really great to start a new business or expand your business in Bangladesh now definitely with proper ambition and inspiration with planning.
With over five years of strong expertise in understanding what clients' needs are and how to exceed their expectations, Tahsinul Alam Sarkerwas quick enough to cash on the growing opportunities offered by Bangladesh. Today, a successful business leader and Founder & CEO of Workspace InfoTech, Tahsinul Alam Sarker leads overall client service and is passionate in making sure that the client's vision is met, they are well-informed throughout the process, and that the client gets the results they deserve. Being a results oriented and analytical management professional with a strong background in web project management, Tahsinul's excellent management and decision-making skills have been his strength in achieving his corporate and personal goals.
In this one-on-one interaction with CEO Insights, Tahsinul shares brief insights into his professional journey and the growth of his career and Workspace InfoTech.
Give Us Brief Details About Your Educational And Professional Background. How Do You Leverage Those Learning To Lead Your Organization?
I have pursued my B.Sc. in Software Engineering from American International University-Bangladesh, post which I also did my Masters in Software Engineering from the same institution. While pursuing my graduation from reputed institution, during the same time, around 2007, I started my career with a German company named 'frentle' as a part timeore software developer.
Having completed my B.Sc., I moved to Nekan Engineering's where I worked as a software engineer and, around within one year, I moved up asTech Lead for 3 major projects. Having accomplished my initial corporate experience, I used up my knowledge and skills and established Workspace InfoTech in the year of 2009 and then moved ahead step by step.
Starting as a core software developer, then I worked as a software engineer and senior software engineer and then tech lead and Project manager, now clubbing all my experiences together, I am now working as the CEO of Workspace InfoTech. While the initial years had me managing multiple hats and managing multiple roles in the same organization but today we have a team of skilled professionals who strive to see clients' expectations.
What Are The Major Challenges Faced By You In Your Professional Journey So Far And How Did Overcome Those To Evolve As A Successful Business Leader?
Any profession is filled with numerous challenges no matter how young or old the setup is. During my corporate work, I did not face too many stumbling blocks, as it was something good though I worked for 'frentle'(remotely) and for 'Neken', I worked for only one year, and both the work environments were good and quite motivating for the professionals. I understand that if you pressure people to work in the software development business, then the output will be less instead, the focus should be on what's not happening and why they are not working. It is essential to make the employees
comfortable in their office or workplaces so that he/she loves to do their job and this also reflects in their performance.
So to adopt this ideology at Workspace InfoTech was a challenge initially. Also, with no workforce, I can remember I worked on a $30 project on my EID day night. I initially lost a lot of money with the fake clients as you know, initially we are only focusing on the out sourcing platforms.
There Is A Massive Space For It Growth In Bangladesh. So, To Do Business Here In Bangladesh, I Think A Joint Venture Can Be Something Good
However, to overcome those, I always believed that if you are working hard and trying different ways to find the solution, you will find a way. If there is a will, there is a way that's the main issue. Like initially, we worked only as friends, and we are just come out from universities, so there was less time to spend on gossiping instead of focusing on work. As I already mentioned, I always try to focus on the job and create an environment where all love to work. That's the only and most straightforward way to move further.
Tell Us About The Journey So Far At Work space Infotech. As The Founder And Ceo Of The Firm, Highlight The Current Roles And Responsibilities Undertaken By You At Workspace Infotech. Also, How Does Your Experience Help You Chalk Out Business Operations For Workspace Infotech?
Since I started my carrier at a German company called 'frentle' while I was a student in Bachelor, we are supposed to have a joint venture with them. We mean, we and my four friends who initially worked for them. However, after that, in 2009, when we completed our B.Sc., there were some issues, and we don't move with the business and couldn't move forward with the joint venture with 'frentle'. I then finished my job for a 1-year, and from there, I had a feeling that I can do much better if I do my own business, so, by the end of 2010,we started the business formally. Today, my current role at Work space InfotTech mainly focuses on the company's marketing strategies, financial estimations, client handling, attending meetings, and organization goals.
While more and more people may think that there is less need for educational qualification in business, but that's not right. To excel as a business leader, what you need is leadership skills. You need management skills, and most importantly, you need the expertise you have in engineering. For example, suppose I am not a software engineer; in that case, it might be tough for me to understand the project scope and project budgeting and that won't be possible to make sure of the quality software developed by my company. So, technical education is a must before you start with any business. I believe it's good if an entrepreneur knows and has any degree on his business skills, then it will just be more beneficial for them and for his company.
Kindly Throw Some Light On These Services Offered By Workspace Infotech. What Amongst These Would You Regard As Your Flagship Offering? How Are You Adapting New Tool/ Technologies To Revolutionize Your Services To Be At Par With Current Industry Standards?
At Workspace InfotTech, we always believe in quality over quantity. Some of our best services is always trying to give quality services and not just offering anything like cheap rate because my best plan is I always say to my clients to hire a team and trail my team for one month; if you satisfy then, we will have the contract otherwise no need to pay. This clearly implies that we are entirely focused on quality offerings which includes Software team outsource, Server maintenance, Quality assurance, and Pure software sell as cloud-based. Among all of this definitely, I think different offers in software sell will be best, like in any international day we offer a discount in different ways. So, that's the best among the best.
About adopting newer technologies, we are now more focused on mobile or serverless technologies. So, over the years we have worked on Java and Python, and NodeJS mainly and for the frontend, we use different JS frameworks like ReactJS or AngularJS or VueJS. Adding to this, the tools that we used for software management software include Jira, Trello, for communication, we used Slack and Skype, and we used GITHUB, GITLAB and SVN for code versioning.

If there is any new technology that is introduced, we first create a team initially who wants to learn this, then give them time to study. After this, we usually try to hire someone who is an expert on this particular to create a seminar, and the team also knows about it. So, from there, we can move on and then we can impose that.

What Is The Growth Scope The Bangladesh Market And How Can Opportunists Tap On This Market?
There is a massive space for IT growth in Bangladesh. So, to do business here in Bangladesh, I think a Joint venture can be something good. Because there is a vast market that can create good software for the world market and the costing will be cheap compare to the world market.

Today, since the IT market is a dynamic segment in itself. So we always need to move or attempt dynamically in this market, and as you know that we are only focusing on the services on the world market like remote team sharing or this kind of services. However, in the last couple of years, we are directly creating our products and selling that in the Bangladesh market and the international market. And to make it more dynamic, we created another office in Melbourne, Australia, in 2016 to sell or open a new marketplace. And since the last three years, we are working on different projects with Bangladesh Government too. So now we have four aspects on business - Service/Resource/Team Sharing in Bangladesh and internationally, Local/ Bangladeshi client, Government projects and Australian clients.

And like I always say, the one thing that is very important is dynamicity and it is the best way to move on. So, we constantly introduce new ways to the business like introducing new business expansions, and regarding that recently we opened a new business called GPS tracking solution, and that's named RadiantGPS. So, dynamicity has always been the best way for us to stay in business.

What Are Innovations And Up Gradation Currently Happening In The Company? What Is The Future Roadmap Of Your Company?
At Workspace InfotTech, innovation and up-gradation have been a constant affair. At present, we are trying to impose the complete software development life cycle. After that, we will try to achieve the CMMI levels and other certifications. So, our focus is more on organizing the projects more accurately and in a proper way while we improve the production hours. For the rules and regulations and certification, we always follow the complete rules of the Bangladesh government. Over the last three years, we have achieved the most significant growth, and even we have had an excellent response in this covid situation. With our main clients belonging to Australia, Germany, US, Sweden means in general US, Australia and Europe, the future roadmap of Work space InfotTech is now entirely focused on organizing our company more profoundly and also expanding business by joint venturing with venture capitalists. We are vesting our focus on own products as we can easily understand that consumer base support might be good in coming business. We are also set to move with new technologies like AR/VR and mobile games that might impact our daily life in the years to come.

At Workspace InfoTech Limited, we always try to value our clients and believe that a quality software is not only just our product it's a dream for a loT of people who will use it. It will help them to work on their day today life to make it easier and more successful. Our is not only a business, it's a dream to achieve for couple of young enterprises with motivation and inspirations talented teams.