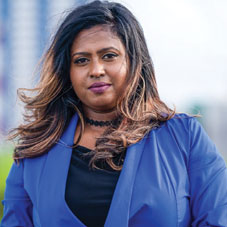 A few brows raised and glances thrown a successful woman gets her share of praises and appreciation often draped in doubts, disbelief, and questions. A prolific woman leader who hails from the Maldives, Nisha Mohamed has armored herself as a new age leader to dodge the patriarchal norms almost every day to advance towards her goals. Just like other members of her family who had to get back on their feet right after the O-levels and earn for themselves, Nisha refused to succumb to the circumstances and went ahead to complete a few computer courses after her formal education. While exploring her options and abilities, she landed herself in marketing and instantly knew she could go somewhere with this. After working with BBM for almost seven years, Nisha has taken a step ahead to join the team of Villa Trading at present, which happens to be one of the largest business groups in the island. Owing to her decade long expertise across the hospitality industry, Nisha's role as a competent business executive has molded her into an amicable phenomenon and distinctive industry stalwart. Nisha shares her story with CEO Insights.
What is the most crucial leadership skill that you've learned in the business? According to you, what are the key elements needed for successful business strategy planning?
I believe that a leader should be someone who covers the extra mile not only to reach the goal themselves, but to make sure the whole team does. Therefore, I initiate teamwork and drive each one to reach one goal along with the whole team.
For me, the morning briefings with the team are important, where we can discuss the hurdles and how to tackle them. Contemplating on the individual issues of each member, I ensure that the whole team is ready to face the same kind of issues in the future as well. Every day, there will be some hurdles, but we need to be prepared to rectify the problems. To achieve success in the business, it is necessary to know your competitors as well as your clients.
As a woman leader, how did you learn to over come setbacks? What are the strategies/methods you put forward to align your vision with the organization?
There will always be people to let you down, but you need to gain confidence and pull yourself up even stronger
Being a woman is hard enough to be in a senior position in this industry, where we get to meet people belonging to different cultures and the opposite sex. There will always be people to let you down, but you need to gain confidence and pull yourself up even stronger. Put your heart into what you do, not to what people say.
I believe that failure is a huge part of success and that's how we learn. If you fail today try a new approach tomorrow. Envisioning myself to be in a position of leading a hugely successful team one day, my mission is to reach and go beyond the company goals along with my team. Like some people say, 'Always shoot for the moon, even if you miss it, you will be among the stars'.
In your professional journey so far, which are the milestones that bestowed you with utmost satisfaction both as an individual and as a woman leader?
My accomplishments lie in my work being recognized not only by my coworkers or bosses, but also by my clients. Also, getting to know people around the world with different cultures and mentalities is a
beautiful experience. With all these amazing stories I have to share, I consider each one of them as my discrete milestones.

Being a family person, how do you maintain your work-life balance? From whom do you draw your inspiration?
Maintaining work life balance is very hard and extremely stressful, especially when you are a single mother. At first, I had to go through major depression and anxiety which led to medication. But gradually, I am learning to overcome it and live with it. I believe that we all need to have that drive in ourselves to do what we love. If we lose your passion, we may also end up losing our minds.

My inspiration is my former boss, Assan Mazloom, who also happens to be the former CEO of BBM. His road from sales executive to CEO, and his contribution in making BBM one of the best resort supply businesses in the Maldives within just a few years of his tenure is certainly impressive. The struggles he went through working at the company and how he never gave up despite the challenges he had to face, motivated me a lot.

Nisha Mohamed, Strategic Account Sales Manager, Villa Trading
Born and raised in the Maldives, Nisha is a single mother of a 4-year-old daughter, who is pragmatically engaged to maintain the absolute equilibrium between her work and life. Having more than 10 years of experience in sales and marketing across the hospitality domain, Nisha is quite passionate about her work and loves meeting new people every day. She admits herself as a bit of a workaholic, but simultaneously holds the reputation of being a super friendly, cheerful and outgoing persona.

QUICK FACTS
Hobbies:Listening to music, dancing, doodling and creating patterns
Favorite cuisine:Maldivian, Thai, and Moroccan
Favorite Travel destinations:India, Sri Lanka and Malaysia Success
Mantra:Learn every day, and be better than yesterday. You are your biggest competitor and you are your own successor