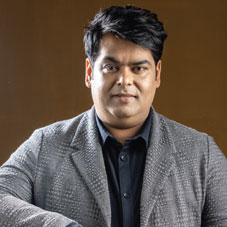 FinTech makes financial services more accessible to the general public and improves the financial system of an economy. Keeping this view in mind, Tanvir A Mishuk founded Nagad which is not only a financial service provider but also an enabling platform for Bangladesh's unbanked and under banked people.
Before founding Nagad, Tanvir was the founder and group chairman of the T-Asia group and the board member of Sigma Group. He has completed his graduation in Business Administration from North South University and his innovations in FinTech consist of Digital KYC, 360-degree fintech solutions, microsavings and so on.
Tanvir engages in an exclusive interaction with CEO Insight.
Tell us about your professional background and what inspired you to foray into the FinTech segment?
I would say my academic path and practical concepts shaped who I am today where I can bring positive changes to the country, society, and my dream. I have long years of experience working in the digitization process and I have helped Bangladesh's government make huge revenue by using cutting-edge technology. Later on, in 2011, I went to Singapore and started a telecom enterprise called Telecom Asia.
During my tenure in Singapore, I predicted that FinTech could help Bangladesh to move into a digital country because as of 2018 almost 60 percent of Bangladesh's population remained unbanked or used antiquated traditional banking services. Internet banking was relatively novel in Bangladesh and at the same time, Mobile Financial Services (MFS) were expanding quickly all over the world and that is when I decided to start Nagad. The fast transition and progress towards the objective of Bangladesh's government to make the country digital are what inspired me the most.
Define Nagad as an organization and its position in the industry? What is its USP?
There were many competitors in the market before our establishment but by pioneering various new services since the start, I believe Nagad became the most disruptive mobile money service carrier in the country. Introducing electronic 'Know Your Customer' (e-KYC) in the financial sector was an unthinkable innovation for the Bangladesh market and through this process opening accounts using smartphones has emerged as a role model which was later adopted by various government banks as well.
Never become complacent because it kills your dreams
Besides, among all the other MFS carriers in Bangladesh, we are providing the lowest cashout charges, which tremendously accelerated the financial inclusion in the country.
And what distinguishes us is that, within only three years of operation, Nagad amassed a client base of over 65 million and a daily transaction volume of over BDT 750 crore which is a very rare example for a private-public partnership company in Bangladesh.
But still, there were challenges as only 30 percent of mobile users were having smartphones, therefore, we went for a huge RND and bring a new kind of customer authentication process called digital KYC. This is the single innovation that has changed the dynamics of financial inclusion in Bangladesh and it became our USP in the market.
What are the challenges you have experienced in your journey so far and how have you overcome those challenges?
After the official launch of Nagad, I discovered that all of our banners, festoons, and other decorations vanished and we incurred a loss of BDT 8.7 million. But my determination and confidence that we can succeed in the market helped me overcome this challenge.
Lack of digital literacy amongst the majority of people was another challenge and to speed up the whole process of financial inclusion, I believe this readiness and digital literacy must be enhanced. Bangladesh Government has made several significant steps to boost the progress such as the use of MFS in disbursing the social safety net has greatly narrowed the digital divide. It fills me with pride that, Nagad is taking an active part in
bridging this gap, approximately 75 percent of the funds for the social safety net are disbursed through Nagad.

How do you maintain the perfect balance between your personal and professional life? What is your success mantra?
Regardless of how busy I am, I strive to spend as much time as possible with my family to make a healthy work-family balance. Narayanganj, close to the capital, is my home town and no matter how busy I am, I go there with my family to help the locals with education and employment, or in any other manner feasible, and nurture them.

My success mantra if I elaborate is there is no room for being complacent and all of my efforts and successes are the result of my family's unwavering support. When I say family, I don't only mean my own, but also my hardworking co-workers, friends, and partners.

What are the changes in market behavior that you anticipate and what are the opportunities that you foresee? As a successful entrepreneur and business leader, what advice would you give to the budding entrepreneurs?
We are witnessing encouraging developments in FinTech and people are becoming more accepting of digital lifestyles. But, to maintain it, we need more innovative and simplified services, such as e-KYC and D-KYC. We can also observe that the country is progressively moving toward being a cashless society, especially after the COVID-19 outbreak. As millions of new clients join digital financial services each year, there is tremendous potential to use technology to reinvent the role of money in their everyday lives and at Nagad we intend to introduce comparable but more customer-centric developments in the future.

My advice for the budding entrepreneurs in FinTech is that, given the impressive and long-term effects of financial inclusion, we need to improve the readiness of the market and increase awareness among the general people, especially in the remote parts of the country and one important area to address in the country's current context can be increasing digital literacy.

Tanvir A Mishuk, Founder & Managing Director, Nagad
Tanvir believes financial inclusion is a right for all individuals and that is the reason he founded Nagad to make the most accessible financial services available to everyone.