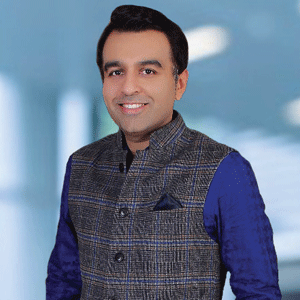 Just like Christopher Columbus sailed across the globe exploring numerous native-centric artefacts, Vikas Punjabi voyaged from Australia to India to unbox the authentic, rich taste of chocolate drinks and desserts. Hot chocolate is fancied as a usual mix of milk and chocolate but he challenged this conception by introducing the franchise of first-of-its-kind chocolate café brand, The Chocolate Room (TCR), in the Indian café industry. Along with Chaitanya Kumar(Co-Founder) on board, Vikas(Co-Founder & MD) has set the trend for serving a plethora of fresh sumptuous chocolate desserts and beverages with a live kitchen concept.
Established in 2007, Ahmedabad-based TCR has PAN India presence with 275 outlets in over 20 states and 60 cities along with extended footprints in nearly eight countries. An eccentric hub for chocoholics, it offers high-quality cocoa-experience with its uniquely carved menu including 20 flavours of Italian hot chocolate, chocolate fondues, chocolate melting pots, chocolate cakes, waffles with strawberries and hot chocolate sauce and a special hand-made chocolate dessert prepared with the finest Belgian Chocolate.
Vikas with his entrepreneurial skills & effective marketing strategies is creating brand awareness, cross-promotional offers with MNCs, collaborative branding with companies, appealing food products to gain global recognition, growing faith & support, and spreading an unheard chocolate culture nationally. Sharing this rich experience with CEO Insights, Vikas roadmaps TCR's unequivocal acceptance amongst diverse audience and the evolution of entrepreneurial wings that are taking him to the skies of success.
What is the story behind The Chocolate Room's inception & your strategies for delivering delicious offerings?
I was 16 when entrepreneurial bug bit me. Merchandising old cell phones to recyclers proved to be a profitable business model, but I always believed that something unconventional yet global was waiting for me. Post PhD in enterprise resource planning, the idea of establishing TCR propelled my entrepreneurial instincts. Since the market was dominated by coffee-cafes, introducing a chocolate cafe concept only invited negative vibes; yet TCR carved a niche in the F&B industry and hit the customer's taste buds with exotic chocolaty experience. This not only boosted our confidence but also enabled the launch of new chocolate culture in the national vicinity. Today, TCR has a good market area of over 1,000 sq. ft. with excellent footfall possibility.

" All our products are test -marketed to gauge their appeal to public; only after passing stringent quality tests and procedures are they included in TCR's menu"

From sizzling hot chocolate and chilled Slurpee to an array of sweet and savoury snacks, there is something for every mood and taste bud. While the raw material is outsourced from Belgium & Italy, the scrumptious menu is carefully curated and innovated as per seasonal changes and festivities to deliver customers the uniqueness in taste that lasts forever. As presentation speaks right before taste, TCR's tableware is strategically hand-picked to provide comfort receptacles. The sinful delicacies are served in signature 'cuddle cups' that gets cradled in hands easily and 'melting pots' that allows customers to mix milk and chocolate over a burning candle. While 'Aussie cup' porcelain ceramic pouch houses chocolate pieces warming next to steamy coffee drinks, 'drink me cup' with a metal straw poking out from a frozen chocolate frappe proves to be a sensational marvel.

How are you preserving the uniqueness of every savoury served & simultaneously creating new room for innovation?
For us, Quality is Sustainability. All our products are test-marketed to gauge their appeal to public; only after passing stringent quality tests and procedures are they included in TCR's menu. Being an ISO 9001:2008 certified company, we always focus on high quality and international standards and kingpin excellent qualities like reliable background, financial credibility, favourable retail background and motivation to our servicing model. Such stratagem not only helps in
running profitable operations but also enhances our customer service skills to create brand awareness among customers.

Providing assistance to prospective franchisee such as equipment, staff selection, staff training and on-going support is the key to maintain and maximize impeccable value of our chocolate products and deliver complete customer satisfaction. Besides, we have launched 'Trench' by The Chocolate Room at Mumbai's two prime locations – Andheri and Bandra. The phenomenal space comprises of multi level lounges amongst which ground level area is a patisserie while upper level lounges are apt for unique dining experience. We always desire being a step ahead in giving customers a unique chocolate and dining experience.

What is your roadmap to sustain profitable prospects in your future endeavours?
Realising a high percentage of merchandising opportunities inclusive of selling chocolates to corporate houses and customers who visit our outlets, we are planning to enter chocolate retail segment and take TCR's presence to the next level. Besides extending our presence nationally and internationally including Australia, US, UK, Canada, Oman and China, we are presently moving towards raising equity and aiming to set a milestone of owning 500 outlets with a turnover of Rs.300 crore by 2020. Excellence in the freshness and quality of our products and services along with hygiene maintenance at all our outlets is what we strive for. Alongside, innovation based observation of local appeal, tastes and packaging is our key mantra for delivering utmost customer satisfaction.

Key Management:
Vikas Punjabi,Co-Founder& MD
An iron-willed entrepreneur, Vikas with his astute entrepreneurial skills carves out effective business strategies to escalate TCR's growth graph. He is determined to maintain excellent quality while delivering innovative savouries.

Locations: Ahmedabad (HQ), Mumbai, Hyderabad, Bangalore, Bhopal, Chennai, Gurgaon, Lucknow & New Delhi, to name a few

Offerings: Chocolate Café, Bistro, Chocolates & Desserts