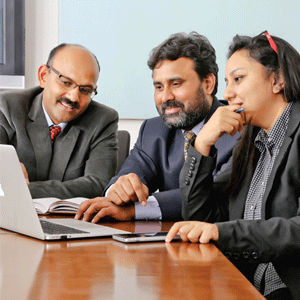 According to World Economic Forum report, 40 percent of India's food production never reaches consumers and flows down the wastage drain, leading to increased food pricing that hinders entire food ecosystem.Non-availability of natural nutrition has further lead to an evolutionary favouritism towards high calorie food, which is making nutrition expensive, calorie cheaper and inviting numerous health issues simultaneously. As a panacea, several companies have started manufacturing ready-to-eat and ready-to-cook healthy products that deliver immense benefits and wholesome nourishment; a key player amongst few panjandrums is Bengaluru-based YCook India.
Under the ace leadership of Janardhan Linga Swahar (Founder & CEO), Vijay Reddy(Co-Founder & COO)& Dr. Gayathri Swahar (Co-Founder & Director Marketing), 2010-established YCook has a strong integration with farmers and innovative ideas to create a new category in the food space– 'Ta-daa!' steamed and ready products, with their naturally boiled vegetables, lentils and fruits in both ready-to-eat and ready-to-cook formats. The company offers ultimate cooking convenience and an array of naturally boiled food range for ready-to-health, nutritional experience. In an exclusive conversation with CEO Insights, the stellar trio elucidates on how YCook is bringing on table farm fresh food products with an innovative integration with technology.
What is YCook's key essence that enables Ta-daa! steamed and ready products outshine its competitors?
YCook is a food technology startup that has developed and mastered the art of extending shelf life of fresh produce to one year without any additives or preservatives under the brand name 'Ta-daa!', which offers wide-ranging products that are steamed and ready including corn on cob, hand-podded sweet
corn kernels, tuvar dal, kabuli chana, rajma, baby corn, sweet potato, baby potato and tapioca. To retain the goodness of food, fruits and vegetables are harvested at peak freshness and steamed naturally to give consumers the much needed convenience in the kitchen to toss out a healthy home made meal in minutes. Tadaa steamed and ready products are available at all modern retail chains across India. Our core strategy is to give wholesome, nourishing, natural and truly healthy food at affordable costs. We believe that when you are true to yourself, your product shows that and consumers welcome it.

"All fresh produce is packed within 19 hours of harvest to ensure that it retains peak harvest freshness, colour, taste, texture and nutrition"

How are you integrating advanced technologies in farm production while maintaining quality standards of product deliverables?
At YCook, quality is not a choice but the way of working. Apart from mastering food technology, we work towards building a full-fledged and effective backward integration with farmers. Growing farms ourselves with partner farmers' support and 100 percent Global GAP compliant crops ensures the delivery of quality products with zero-pesticide residue. In-house agricultural experts assess soil aptness for different crops and counsel farmers on soil nutrient requirement and suitable crops for better yield. After multiple rounds of R&D, chosen seeds are germinated in centralized nurseries in various locations from where the saplings are given to the farmer free of cost. Hence, YCook is both a farmer-friendly and consumer-oriented company. We currently work with nearly 1000 farmers across four states and are registered with BRC (grade A), HACCP, FSSC22000, USFDA and Kosher certified. We are also now fairtrade certified.

All fresh produce is packed within 19 hours of harvest to ensure that it retains peak harvest freshness, colour, taste, texture and nutrition. While controlling air & microbes (catalyst in food spoilage) helps in retaining food freshness, integration of food processing technology, vacuum packaging and thermal sterilization removes air inside the package and removes microbial load extensively. This steaming process also locks in the nutrition in the packs. Additionally, we have developed unique retort processing technology that allows cooking food at desired consistency (well-cooked to just poach) for natural crispness. The technology proves to a boon for relief measures in calamity struck areas as the products can be
stored in ambient temperature for one year.

What is your roadmap for creating sustainable ecosystem for complete food generation cycle & YCook's growth prospects?
While working towards a sustainable food ecosystem for upcoming generations, YCook focuses on food creation cycle starting with quality seed identification, farming method innovation, preserving harvest and innovating everyday to get perfect steamed produce to consumers. With 21 Stock Keeping Units (SKUs) in pipeline to be added to the range, the new category is all set to expand. Along with concentrating on modern trade formats for sustainable growth and occupying white space in all categories, we envisage spreading Tadaa! story to consumers extensively in 2019 and become every kitchen's ready-to-health food brand in a least time frame. Our vision is to create technologies to make natural healthy and nutritious food affordable to all. With more and more people looking for convenient and healthy option, the opportunity for the category is humungous.

We are also working towards becoming a full-fledged complete cycle company where the green factory waste is given as fodder to the cattle to farmers at free of cost, the cow dung are collected for vermicompost unit and the manure thus created is given back to the farmers ensuring a complete cycle.

Key Management:
Janardhan Linga Swahar, Founder & CEO
With two decades of rich experience, Janardhan integrates inherent innovative mindset & research acumen to drive strategic business modelsfor YCook sustainable growth.

Vijay Reddy, Co-Founder& COO
Owning expertise in project management skills, Vijay is instrumental in accentuating production facility along with building a strong backward integration with farmers.

Dr. Gayathri Swahar, Co-Founder & Director Marketing
A PhD holder in organization behaviour, Gayathri brings on board decade old expertise in consumer behaviour and brand building strategies for various leadership roles.

Headquarter: Bengaluru
Offerings: Ta-daa! Steamed and ready food products including Corn on Cob, Hand-Podded Sweet Corn Kernels, Tuvar Dal, Kabuli Chana, Rajma, Baby Corn, Sweet Potato, Baby Potato & Tapioca