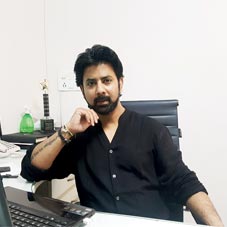 Cities around the globe are faced with the challenge poised by the evergrowing numbers of urban citizens in order to ensure sustainable urban development. Modeling cities and other urban spaces might sound like a complex task for computer graphics, computer vision, and visualization. However, the real challenge lies in understanding, describing, and modeling the geometry and behavior of cities that ultimately benefit urban planning, mapping and visualization, emergency response, etc. Leveraging interactive modeling to assist in the design and visualization of complex 3D city models is vital. This strategy is a pivotal part of BIM and Smart city practices.
BIM and the smart city are intertwined: BIM can be seen as one smart city 'tool', offering huge potential to help cities deal with the challenges that growing urbanization poses through improving their operational efficiency, facilitating multi-stakeholder cooperation and cutting costs. Over a cup of chai, Arindam and his colleague resolved to set foot in this domain to make the best use of their industry exposure & experience and set benchmarks in city designs. Thus, TreisTek was born. Not sure how the business would turn out, the duo registered nevertheless. Preceded by 1 year of good work experience in the current field, TreisTek slowly started to grow with more members joining the TreisTek family. Incepted with 2 people in 2018 April, today, TreisTek has 100 employees.
Most of TreisTek's projects are in line with BIM which is a world-wide mandate along with strong expertise in GIS (photogrammetry) and LiDAR. Smart city modeling, however, is the USP for TreisTek. More so, the firm never steps away from any challenge thrown at it. If the firm does not have expertise in any domain, it takes a time out from the client, performs R&D, understands and then takes up the project. BIM (Architectural, Structural, Mechanical, Electrical, Plumbing), Infrastructure, 4D simulation are part of TreisTek's major offerings under engineering services. TreisTek offers GIS Services like LiDAR data processing, Photogrammetry, UAV image processing, Cadastral Mapping, Topographical Mapping, and Orthophoto services. 3D City modeling like LOD 200, LOD 300, LOD 400, 3D Rending services like 3D Architectural rendering, 3D product design and animationand surveying are offered under a single umbrella.
The biggest project that TreisTek undertook and completed was on smart city modeling. The client approached various service providers only to be disappointed. When the client approached TreisTek, the company took time from client to conduct R&D.
This R&D was done rigorously by all the technical heads. After losing several nights of sleeps, the project was executed. Through this project, TreisTek acquired immense amount of confidence and ideas on how a smart city project is done. This gave the firm the confidence to now undertake anything and everything on smart city modeling.
Beyond the Call- Extended Service Lines
TreisTek combines engineering data, survey data, point clouds and digital imagery to create and update highly detailed 3D city information and CityGML models. TreisTek represents 3D City Models in 2 kinds, Photo realistic representation and Symbolic representation.
Photo-realistic 3D City Model is a computerized model of a city. TreisTek uses these models to give the user a picture of the world as it appears. In a photorealistic environment, the user may take a virtual city tour to find out where to find attractions. In symbolic 3D City Model, groups of features by colors or patterns are symbolized and are
stored in GIS database. In regular 2D GIS systems, symbolic data is often mapped onto the 2D layers showing land use, traffic or population. To create the third dimension, TreisTek team of experts adds the object elevation as an attribute to each 2D form (building footprint or other multicornered object).
TreisTek has already completed more than 5000 km² 3D city models in the LOD2 and LOD3 with measured wall and roof colours for over 20 cities globally. The firm's 3D models are used for traditional applications such as urban planning, environmental modelling, navigation and location-based services.
Treistek combines engineering data, survey data, point clouds and digital imagery to create and update highly detailed 3d city information and citygml models
An Exceptional Journey of the Founder
Arindam did his schooling in 'The Frank Anthony Public School', and graduated from Calcutta University. From selling pizzas in the pizza joints, he moved into a different domain like BPOs. Later, he got an opportunity to work with giants like IBM, Oracle, McAfee, and Intel. In these positions, Arindam learnt a lot from them on technology perspective, but completely in lines with sales (business development). He got an exposure in managing teams with smaller companies like HFN-INC Nanoheal. Arindam also worked with GPS companies like Azuga and Magnasoft. These companies not only taught him how to manage teams but to manage every aspect of his life. 20 years of experience has made him what he is today.
On the way up, he was met with several push-backs. Leaving his 20 years of corporate life and starting a startup from scratch was challenging. Nevertheless, he took the risk, and followed his passion. He says, "In life, learning is a continuous process. I learn even today from everyone around me. The previous experiences help me to stand in the shoes of my employees. Since I have experienced both being an employee and being a leader, I am able to form better strategies. Every person wants to be heard and feel belonged. So, I make sure that my employees have equal voice irrespective of their designation".
An Employee Friendly Organization
TreisTek holds a special place in its employee's heart and its vice versa. Transparency, cultural fits, belongingness, are part of TreisTek's work culture. The company encourages its employees to look at people's strengths as well as areas to improve, focus on the future as opposed to the past, focus on asking questions versus giving answers/advice, reflective thinking, really listening, asking open ended questions, creating passion, and building trust.
• Transparency:
Employees that feel included and in the loop on important decisions are motivated, engaged and do their best work. So, TreisTek communicates the relevant details with its workforce before implementing to foster a culture of trust and inclusion.
• Cultural fits:
Strong cultural fit means greater job satisfaction, stronger identification with a company, longer tenure, more commitment, and superior performance. The firm starts by defining the key tenets of client's organizational culture. Then integrate these criteria into TreisTek's employer brand messaging, job content and interview processes.
• Belongingness:
Feeling of safety, belonging and mattering in employees improve communication, collaboration and alignment. So, TreisTek always encourages the people within to be themselves, follow their instincts and get involved with the rest of their tribe.
• Look at people's strengths as well as areas to improve:
While focusing on areas to improve is TreisTek's first inclination. TreisTek also brings attention to what people are good at.
• Focus on the future as opposed to the past:
The organization always focuses on the conversations that will be on the lessons learned in the past and how different the future is going to be.
• Focus on asking questions versus giving answers or advice:
Every employee at TreisTek gets the opportunity to think out of the box by allowing them to come up with solutions rather than advising which helps the firm to bring out the most innovative ideas.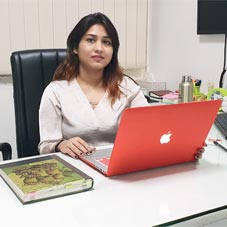 Jayita, Co-Founder & Director
• Encourage reflective thinking:
Special focus is laid on 'educate yourself' policy as educating themselves is the most powerful way to have knowledge stuck with them.
• Really listen:
In TreisTek, every employee including freshers are given undivided attention during the conversations which is a 'feel good' factor.
• Ask open-ended questions:
TreisTek asks: 'How could you solve that problem?' instead of asking 'Do you have ideas on how you could solve that problem?' which gives an opportunity to the other person to come up with the solutions.
• Create passion:
TreisTek believes that employees who fall in love with their work, experience higher productivity and engagement. So, the firm always ensures that its people are passionate about what they do.
• Trust:
Organizations that are high on trust are 2.5 times more likely to function as a high-performance organization with revenue growth than lower performance organizations.
Arindam speaks about employees - "Everyone say customer is the king. Well, my question is who is a customer? No doubt that our clients are our external customers. But the internal customers are our employees. End of the day, if their requirements are fulfilled, the company will be successful. When we don't differentiate between employer and employee a different kind of work environment is built up. For example, as a start-up company, we are prone to face challenges day in and day out. The only way to solve it is be transparent, let the employees know about it and ask for their support. When the situation comes, they will be with us when we do good to them. Employees are our first preference. When we say, 'think big', we mean, 'we think big' together and grow together. We are looking for young people with vibrant approach plus out-of-the-box-thinking. Real kings and real queens are employees and we are successful because we grow together. As an organization we have treated our employees as real kings and queens and the outcome was out-of-the-box results and when we stand with them, they will be there when you need them the most."
"Treistek offers gis services like lidar data processing, photogrammetry, UAV image processing, cadastral mapping, topographical mapping, and orthophoto services. 3d city modelling"
The Employee development program facilitated by TreisTek includes innovative learning experiences, employee personal development, 'one size fits one' policy, informal training, culture of learning, mentors (not managers), cross departmental training, and succession planning.
In the near future, TreisTek is aiming to penetrate the engineering market with more knowledge, build a stronger R&D team and to have better understanding of new technologies in lines with BIM.
Arindam's motto is "When an individual grows, the company grows". Given TreisTek's efforts to uplift its employees, the company is on its sure shot trajectory to reach soaring heights in the future.