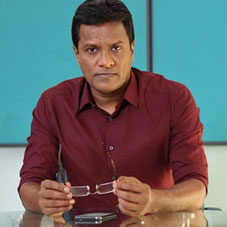 Regarded as one of the finest tourist destinations in the world, Maldives is known for its scenic beauty and crystal-clear water bodies which promise the travelers tons of enjoyment and memories. But if you don't want to dive into the deep blue sea, how do you explore the mind-blowing infinity feeling that lies in the lap of the seabed? Umar Naseer, a sealoving entrepreneur is providing an exceptional opportunity, especially to the non-divers, to visit the mysterious depths of the ocean and explore the underwater world. Umar's brainchild, Whale Submarine is the world's largest deep diving passenger submarine currently operating in the Maldives. As a unique initiative by Umar, Whale Submarine is certified to dive up to 150 meters and will take the tourists below the unexplored waters of the Maldives, where they can experience the true underwater world of Tear Drop Reef, previously reserved exclusively for divers. Below is an excerpt of Umar Naseer's interview with CEO Insights.
What was the gap that you foresaw in the industry that inspired you to start this venture?
In the year 2000, we decided to introduce tourist submarine technology across the Maldives to give nondivers the opportunity to visit the underwater world. 99 percent of Maldives is water and famous for its underwater beauty but only the scuba divers get the opportunity to visit this world. There was a vacuum and we stepped in to fillit. Underwater technology was very new to the Maldives and I had to learn both the technology and the business before starting the venture. Mr.& Mrs. Google were my teachers and I spent over one year studying the technology and
understanding the business of operating such a craft.
I managed to convince Mr. Qasim Ibrahim, a self made millionaire who operates Villa Resorts, to invest in the submarine. Together we purchased the world's deepest diving, largest submarine and started WHALE SUBMARINE in the Maldives in 2000.
So far, my greatest achievement is that I have created a team of professionals, who are much more knowledge able than me in this field
How would you define Whale Submarine as an organization and its position in the market?
We still hold a monopoly in this niche segment of the tourism industry carrying non scuba divers to the bottom of the ocean. Recently semi submarines, a surface vessel that doesn't go down but stays on the surface, have entered the market and taken some market shares. Therefore, we are still the only company in the Maldives and the whole southeast Asia to offer underwater tours on a real underwater submarine. All of our pilots, engineers and crew are Maldivians and are inter nationally certified.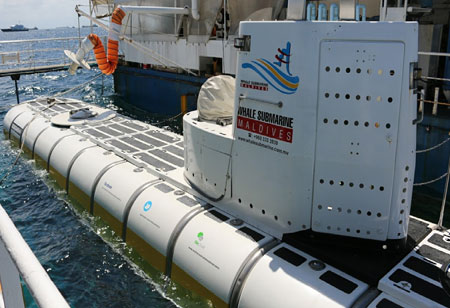 How has been your response to the challenges posed by the covid affected market and the need for new strategies, especially pertaining to emphasis on customer safety? How would you describe your role in tackling those challenges?
Covid-19 has been the biggest challenge so far and we survived.Thanks to my excellent staff who agreed to work without pay for many months. One of the other biggest challenges is to
maintain this craft together with its supporting vessels on high seas.We are classified by inter national organizations and maintain the highest safety standards. So far, we have seamlessly assured and maintained a 100% safety record for our customers.

In your professional journey so far, which are the milestones that bestowed you with utmost satisfaction both as an individual and as an entrepreneur? And what are your plans for the future?
In the past 20 years, we performed over 10,000 dives and carried over 300,000 passengers to the bottom of the ocean. So far, my greatest achievement is that I have created a team of professionals, who are much more knowledgeable than me in this field.This year we are going inter national and hoping to start a submarine operation in Saudi Arabia next year.

In the light of your strong experience in the technology industry, what advice would you give to the budding CEOs?
While running both of my companies, I completed my MBA in Singapore. My advice to budding CEOs is that to stay in the business you have to keep learning and continuously changing the direction. It's always like driving through traffic. You cannot relax. Stay focused and continue to look for new openings or soon you will find yourself out of business.

Umar Naseer, CEO, Whale Submarine
After leaving the Police service, Umar decided to start a private security and fire safety company in 1995. Since private security was a new concept, he soon ran into trouble and was imprisoned for 9 days. As a result of the hunger strike, he was transferred to house arrest where he spent a total of 45 days. In 1996, the government issued its first fire safety and security private license to his company, ALARMS PTE LTD. Celebrating 25 years in the private security and fire safety service business, Umar, in addition to his tourism venture, is currently looking after the major banks and offices using security systems that work online by replacing security guards with technology. He is also an active politician.