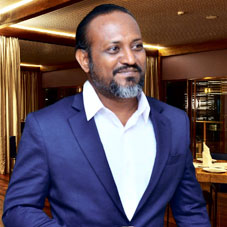 Empowering the next generation of frame works to improve quality as well as flexibility of the products and addressing the ever changing market needs, Artificial Intelligence (AI) has emerged as a pivotal force for the industry 4.0. Providing personalized recommendations and insights through his AI platform UtotoAI, Yusuf Shunan is emerging as an unparalleled industry leader.His impeccably trans cending growth graph speaks for the new age leader himself. A leading digital business analyst with more than 20 years of working experience in senior positions for large firms, including UN & UNDP, locally Dhiraagu & Villa Group of Companies, Yusuf has been able to portray himself as an outstanding industry stalwart of Maldivian markets. With a Master's degree in Big Data, his experiences span across everything from marketing to psychology, engineering, IT, HR and training. As the Founder and CEO of UtotoAI, Yusuf has played a major role in developing theClue an AI-based Personality Prediction algorithm and recommendation engine.
Yusuf engages in an exclusive interaction with the team of CEO Insights.
Tell us the inception story of UtotoAI. Also what motivates &drives you today?
Our team met in 2019 through R&D AI Accelerator and our idea Clue, was conceived to showcase at Ukulhas Techfair 2019, a part of the International Workshop on Applied Artificial Intelligence at Ukulhas Island, Maldives, August 26th to 28th 2019. We first started as a startup named Data.mv, and later on rebranded to be registered as a C-Corporation in Delaware, US named UtotoAI, Inc.
Our long term goal is to create an office where you don't have to enter any data and the Clue is a small but important require ment of that dream. Today I am driven by the fact how much understanding and harmony we can bring to the world at large with a host of products based on our technology. I am motivated by the fact that people find the Awesome Clue as interesting as our vision!
To achieve truly miraculous things, we need to be driven by curiosity, enthusiasm and a desire to learn and grow rather than a desire to succeed in what we are doing
UtotoAI is the Personality AI, leveraging deep learning to connect and predict personalities and preferences of those personalities across multiple domains. Where does it really fit in?
After pivoting from multiple approaches and services, today UtotoAI is focusing only on creating recommendation engines based on Clue. From Netflix to Spotify, Amazon, and Google, today's e-Commerce utilizes and strives upon personalized recommendations. UtotoAI's technology is so unique that our AI understands the user's personality first and then makes recommendations based on that knowledge.
Today by exploring several pilot projects we have standardized our AI implementation process and that has reduced the time to market and the complexity. Launching a minimum viable product based on Clue to any client in any domain in just eight weeks.
In your professional journey so far, which are the milestones that bestowed you with utmost satisfaction­ both as an individual and as an entrepreneur?
Both personally and as an entrepreneur, bringing clarity to the table, to motivate the team is the biggest milestone and most satisfying thing.
We experimented with over 12 inno
vative ideas before we settled down for the concept of Clue and when the AI started predicting personalities at an accuracy of 60percent it was celebrative. Today, Clue has improved several folds and to multiple products. To name a few, we have proof of concept AI recommendations for travel destinations, movies, products, career guidance, mental health tendencies and mindfulness activities.

What are your future plans as an entrepreneur?Also what are the opportunities that you foresee in the market and what's the blueprint set by UtotoAI?
To ensure the public of the continued quality of our brand, UtotoAI has passed the quality in Business Certification, a stringent and comprehensive audit by the International Trade Council covering 16 key sectors, 96 core criteria and 249 compliance indicators.

My exit plan vision is to take UtotoAI, Inc to public one day, and announce our IPO by ringing the bell at the stock exchange and celebrating at an extravagant closing dinner with the founders & team.

Our technology is exciting and solid enough that it can cater to multiple domains withseveral products and services. Our initial target is financial stability through customized B2B solutions and to grow globally using B2C products and services. To achieve truly miraculous things, we need to be driven by curiosity, enthusiasm and a desire to learn and grow rather than a desire to succeed in what we are doing.

Yusuf Shunan,Founder & CEO, UtotoAI
Yusuf has founded multiple companies, including one of the well known IT service based companies in Maldives Maldicore Group Tendon Consulting and services, a wave energy company to bring electricity from ocean waves to Maldives, and most recently an AI company UtotoAI, Inc. Apart from establishing two NGOs in Maldives, Maldivian Open Source Society and Maldivian Blood Donors Yusuf is also a Member of Grand Jury and National Expert for Maldives World Summit Awards, a body contributing to the UN Sustainable Development Goals.