Unnikrishnan Ramachandran Unnithan: Bridging The Broken Value Chains Of The Palm Oil Industry With Blockchain Technology That Assures Sustainability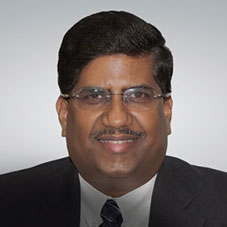 Breaking the boundaries and shackles of jobs, Indians are now the torchbearers of the new-age business world. From Sundar Pichai to Satya Nadella, Leena Nair, and Parag Agrawal, today, several Indian-origin leaders are marching ahead and making in roads to global careers that they have dreamt of! A few go-getters have already donned the cap of being entrepreneurs in several countries, and we take huge pride in appreciating the efforts of those trendsetters in leading global revolutions. Unnikrishnan Ramachandran Unnithan is one such leader who deserves recognition for his illustrious journey as an entrepreneur in Malaysia.
Carrying close to four decades of experience in FMCG, Oils & Fats, Oleo-chemicals, Nutraceuticals and Biofuels, Unnikrishnan is bringing breakthroughs in the Palm Oil Industry. Through his business ­ DIBIZ, he is bringing trust and transparency to all stakeholders in sustainable Palm Oil supply chains through an online trading platform that offers a new way to search and identify authenticated suppliers and source the best grade products globally.
In an exclusive interview with CEO Insights, the Founder of DIBIZ and SUMWIN Group, Unnikrishnan shares insightful aspects of his career as a leader. Below are the excerpts from the interview.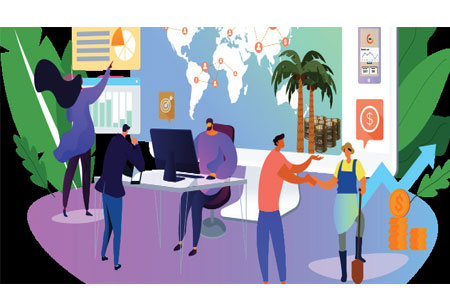 Take us through your educational & professional background?
My educational grounds are in chemical engineering. I pursued both my undergraduate and graduate degrees from the Institute of Chemical Technology (ICT). My career journey began with Unilever, India. After that, I decided to do an MBA and went to the National University of Singapore, and passed out with a gold medal.Never letting go ofopportunities to learn, I pursued an Advanced Management Program in Business Administration from Harvard Business School. Meanwhile, I have had some challenging and exciting bouts in leadership roles with reputed brands in FMCG, Oils, Chemicals, Biofuels, and more.
After three decades of Professional & Corporate roles, I started my own venture Sumwin which is into sustainable products & services, embedded with technological innovation to deliver outstanding value propositions to the Global Food, Feed, Oleo-chemicals & Renewable Energy Sectors. In 2019, I launched Dibiz, a Cloud-based Blockchain powered Collaborative Supply Chain Platform operating from Malaysia, Bangalore & Singapore.
What led to the establishment of Dibiz Global?
Prior to starting my own venture, I was heading Carotino, a Palm Oil downstream business for 22 years. In my overall 37 years in the oil industry, I have been seeing that the Palm oil industry is being outlawed for decades because people think it is not a sustainable crop. The crop is maligned by stigmatizing
deforestation and wildlife, women & children exploitation,and other baseless allegations. However, there has never been a system to prove this.
The industry has spent billions of dollars on sustainability certification schemes over 18 years. Yet, the industry is being accused of green washing. Three years ago, my Co-Founder Srinivasan and I conceived an idea to solve this using technology. The idea to transform global supply chain systems with end-to-end transparency & traceability to meet sustainability targets led to the formation of Dibiz. We built a Blockchain-based platform through which we are providing granular, realtime data of supply chain transactions within the palm oil supply chain starting from smallholders to multinationals buying palm oil. This indeed provides the most robust sustainability authentication available in the world.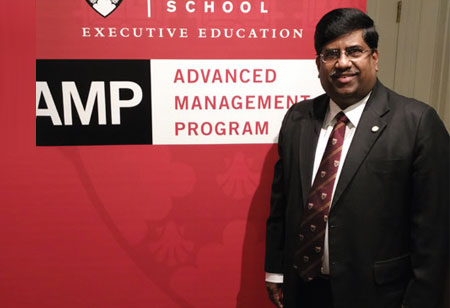 What was the objective behind building a Block Chain powered Collaborative Supply Chain Platform?
My motivation was threefold. The first was to create a technology tool that can perform sustainability authentication for the palm oil industry and help the stake holders in it. The second aspect was to solve the environmental problems of deforestation and conserve wildlife. The third and the biggest motivation was to help the small holders who contribute to 40 percent of the palm oil output. Today, they are not visible in the industry and are not compensated well too. Our idea was to empower the smallholders by bringing them onto the sustainability supply chain so that they get a fair share of the market.
Define Dibiz Global as an organization &its current position in the industry?
Our unique position as a Blockchain based tech startup is that we have launched an online marketplace for sustainable palm oil. It is the world's first-of-its-kind marketplace called 'Trust parent Market place' fostering sustainability. Unlike B2B and B2C marketplace, it is where buyers and sellers can responsibly buy or sell sustainable palm oil authenticated by our Blockchain platform and our partners as well. We have joined hands with a Silicon Valley based satellite imaging company Descartes Labs that provides realtime information on deforestation for the supply chain that goes through our marketplace.
In association with Control Union world's leading certification body, and other smallholder partnerships with NGOs like Wild Asia who ensure sustainable practices, we are able to democratize the value in a palm oil supply chain.
How did you apply your exceptional experience in starting your business?
In the past, I was the CEO of a palm oil downstream company in Malaysia called Carotino, leading complete P& L, Administrative and Operational responsibility for the company. We have built this company from scratch to $200 Million turnover. I have also led the Malaysian Biodiesel Association since its inception. For over 14 years, I've been instrumental in getting it to work with several agencies including the government in rolling out a national mandate for biodiesel in Malaysia.
My entire career has been about R&D commercialization, developing new technologies to find solutions to industrial problems. I always identify gaps in the market where there are no solutions and I strongly
believe that technology is a good way to solve many problems faced by the industry. My learnings in the industry and interest to make a change using technology gave birth to Sumwin a process technology company that has developed very novel technologies to improve the value of downstream palm oil processing. Further, we ideated DiBIZ as well.

Being the CEO, your strategies for Dibiz Global & taking it to the next level?
My whole life has been centered around a few core values. When I build a team, the first thing that I look for is Integrity, it's a value that I don't compromise at all. I expect every team member to come-up with solutions where integrity is not in question. I strongly believe in nurturing everybody in the organization, even if he/she is at the lowest rung of the ladder, because every human has potential, sometimes it is hidden and the leaders have to unravel it. Throughout my career, I have loved training people, motivating, guiding, and empowering them to grow in their careers. The third and inevitable factor is to be empathetic. A leader becomes a good leader only when his empathy is not artificial.

Based on your strong professional experience, what advice would you give to the upcoming entrepreneurs in the same industry?
When you think of starting something, look at your core competency and also have deep domain knowledge where you can deploy that competency. After you have figured-out your core skills and understood the domain well, identify a problem that is globally scalable. Now, not only you can offer a solution to the problem, but also scale across verticals and geographies. For instance,we have built the Dibiz platform, and launched it for the oil industry, which is quite big enough, valued in billions. But the beauty of this tech architecture is that it is industry agnostic. We can adapt this to any commodity,be it pharmaceuticals, minerals, or more and it can be scaled-up across geographies as well. My suggestion to the youngsters is to come-up with ideas that are scalable and built on something that cannot be easily copied.

Unnikrishnan Ramachandran Unnithan, Co-Founder, Dibiz
A go-getter and avid public speaker, Unnikrishnan believes that his biggest strength is his tech prowess, industry knowledge, and the global network he acquired over the years.

Awards & Recognition:
.Distinguished Alumnus of ICT (India's Premier Chemical Technology Institute)
.Fellow of the Institution of Chemical Engineers, UK(FIChemE)
.Fellow of the Malaysian Institute of Management(FMIM)
.Gold Medal in the MBA Program from the National University of Singapore
.Has been a member of MPOBs PAC(2010-16)
Member of MPOB's Technical & Marketing
Promotion Sub-committee for America
.He has five Patents in the field of Oils & Fats with a few more that are Patent Pending
.Awarded the Distinguished Toastmaster Title in 2017(DTM)
Awarded for the best, palm oil technology for SUMWIN'S 3MCPDE & GE Mitigation Patented process by IChemE in 2020.
.DIBIZ has been a finalist in several Tech challenges including Oracle StartUp Idol and the Harvard Business School New Venture Competition.

Favorite Book:Mother Maxim Gorky
Favorite Travel Destination: Travelled to over 65 countries and one of my favourites is the British Columbia Region of Vancouver