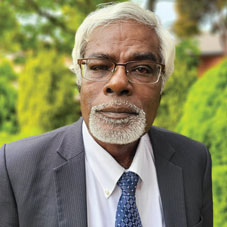 Australia has been one of the most sought after countries by immigrants in recent times. In September 2022, the Australian government announced that it will increase its permanent immigration intake by 35,000 to 195,000 in the current fiscal year. Indians too are not an exception in this regard.Accordingly Australian government's Home Affairs departments, after the UK, the Indian-born population is the second largest migrant community in Australia, equivalent to 9.4 percent of Australia's overseas born population and 2.8 percent of Australia's total population.
The massive education and employment opportunities in Australia makes it one of the most preferred locations to operate a business. Venket Naidu (Managing Director, P&M Consultants) is one such Fiji-born Indian business leader who has earned a name for himself in the Australian region through his profound industry expertise and innate business ethics & values. CEO Insights team recently got the opportunity to interact with Venket about his journey so far, his company P&M Consultants and various other aspects. Below are excerpts of the exclusive interview –
Enlighten us about your educational and professional background. Also, what is your daily dose of motivation?
I am an IIT Madras graduate and have completed my MBA in Technology Management from the Deakin University in Melbourne. I am a Chartered Professional Engineer, a fellow at Engineers Australia and a member of PIANC working group WG213. I have 40+ years of experience in the design and management of port projects of various sizes in Australia, New Zealand, Middle East and APAC regions, wherein I took care of the entire process cycle, right from planning and design to documentation, construction supervision and management.
I am one of the founding directors and the current Managing Director of P&M Consultants, prior to which I held the role of Industry Director Ports & Maritime at AECOM for a decade. I have also worked as the Principal Engineer and Industry Director, Ports & Marine for two decades with KBR and Port Engineer and Act Director Engineering with Ports Authority of Fiji. I am
passionate about planning and designing futuristic ports and improve the port development sector in developing countries in Southeast Asia, Pacific and Australia.
What has been your success mantra as a prominent business leader?
For any person who is migrating to a new country, developing a successful career is very challenging, and same was the case with me. However, through quality, dedication, commitment personal integrity and reliability, I was able to better understand the industry and the clients diverse requirements, thus enabling me to be the successful leader I am today. My desire to be abreast of the latest technologies & industry trends and support from my team members also helped me immensely.
I urge my team to have an ethical and civic minded approach towards all projects and focus extensively on goals, vision and mission of the company
Tell us about P&M Consultants and the factors that differentiate it from its competitor companies in the market.
We are an end-to-end port & maritime infrastructure solutions provider facilitating efficient maritime trade. Leveraging our years of local and international experience, we plan, design, engineer & manage freight, export and import related infrastructure ensuring maximum connectivity and efficiency. Inter modal connectivity, energy, Environmental, government and private sectors are our main core areas of expertise. We ensure to balance the economic and commercial interests of our clients by implementing our simulation and emulation capabilities and analyzing the impact a project might have on the surrounding environment and local communities.
The major types of services and facilities we offer include bulk liquid terminals, dry bulk terminals, container terminals, multipurpose & general cargo terminals, Ro-Ro terminals, material offloading facilities, ship building & repair, and naval birth facilities, to name a few. However, what mainly differentiates us from other companies in the industry is that we treat our relationship with our clients more like a partnership or collaboration rather than just business entities, thus offering them customized solutions to meet every requirements,
What are the ethics, values and principles that you abide by as a
business leader?
I strongly believe that a true leader is one who puts his team's growth ahead of his own. Thus, I strive to create a conducive work atmosphere for all employees where they can be open, honest and productive. Following a client centric approach, I always encourage strategic thinking and innovative mindset throughout our organization. Most importantly, I urge my team to have an ethical and civic minded approach towards all projects and focus extensively on goals, vision and mission of the company. Lastly, I lead by example and try to be an inspiration to other people in the organization and in the industry.

In your opinion, how will the industry evolve in the days to come?
Given the massive disruptions the Covid pandemic has brought about in terms of market behavior, customer expectation and workplace demands, the industry will have to embrace agile working methodologies and innovative approach to every project being handled. Going forward, companies must either have an inhouse expert or take opinion from an outside industry expert in matters concerning the effects of natural disasters on port assets & activities and impact of climate change on the industry. Thus, strategic partnerships with specialists will not only enable the industry to be more efficient, but also offer hassle-free customer experience to the clients.

What is your advice to youngsters and upcoming entrepreneurs wanting to be future business leaders?
Set realistic goals, but try to stretch them as much as possible. Focus on the big picture set boundaries and gather feedback from customers to enable continued service delivery improvement. Lastly, understand the client & project risks carefully, anticipate difficult & challenging situations and be ready to tackle them head-on.

Venket Naidu, Managing Director, P&M Consultants
Venket Naidu is the Managing Director of P&M Consultants. Prior to this role, Venket worked as an Industry Director for AECOM Australia and KBR. He has extensive experience in the ports and maritime industry, including as a Port Planning Lead and Coordinator for the Asia Pacific region. Venket holds a Bachelor of Technology in Civil Engineering from the Indian Institute of Technology, Madras, and an MBA in Technology Management from Deak in University.

Quick Facts
•Hobbies:Fishing, boating and soccer
•Favorite Cuisine:Curry and sichuan food
•Favorite Book:Voss by Patrick White
•Favorite Travel Destination:Asia