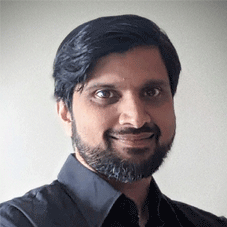 The world is confronting tantrums and gremlins thrown by the pandemic. At this point, companies are reengineering their strategies right from product development, marketing, sales, to finance. With the global scenario being as fluid as it is, the rules for the games are being rewritten and hence companies are trying to tune their products to fit the changing need and demands of the market and consumer taste. While companies are looking at other aspects of business, many of them are turning towards innovating their product to perfectly address needs of their customer. Especially during the Covid crises, unemployment and job loss have become a significant problem in the country. To mitigate this, GoodWorker is tremendously innovating its blue-collar job-matching platform to remove inefficiencies and enable better discovery in the blue-collar employment market. The Chief Product Officer of the company, Vikram Bhat is playing an important role in growing and maturing their product to ensure Goodworker stands out as a trusted leader in the blue collar employment market.
In the current times, he as a product leader is responding fast to the changing market situation. Appreciating his leadership attributes, successful ideation, and implementation of practical ideas, CEO Insights engages an exclusive conversation with Vikram Bhat. Kindly peruse the following snippet to know more about GoodWorker and his journey.
Brief us on your educational and professional background
I did my schooling at Bishop Cotton Boys' School and then attained a bachelor's degree in Computer Engineering from the National Institute of Technology, Karnataka. I then graduated with an MBA from IIM Ahmedabad in 2000.
My professional journey began in 1997. Since then, I have worked with leading software companies and startups such as Myntra, Oracle, Cisco Systems, Myntra, abof.com, EkStep Foundation and Capillary Technologies. I'm currently the chief product officer for GoodWorker.
Vikram is a seasoned professional and thought leader, who is deeply passionate about structuring and solving complex problems, evolving strategic frameworks, and simplifying everyday experiences for end-users.
I started my product management career with Oracle in 2004 after realizing that my passion was in understanding users and markets and in delivering delightful and valuable experiences for users basis that understanding. My product management experience spans b2b and b2c products. I spent the first decade of my career in the California bay area before moving back to India in 2010. Highlights of my career include scaling Myntra's infrastructure to become a clear leader in fashion ecommerce, having abof.com cited as having one of best ecommerce UX globally, contributing to creating Diksha – the national government school educational platform – which is now being used by tens of millions of users daily.
I also love mentoring young PMs and folks who want to develop product thinking. These interactions also keep my perspectives fresh and updated.

Beyond work, I enjoy spending time with my wife and two daughters Diya and Maya & dabbling with guitar, body boarding and golf during my free time.

Throw some light on GoodWorker.
GoodWorker is a blue collar worker job-matching platform that connects blue-collar workers and potential employers in India with one another. We provide blue-collar workers with a digital, verifiable profile to empower them to more efficiently seek employment as well as other value-added services in future. In short, it seeks to increase the overall trust in the blue collar worker environment thus ensuring access to services that were otherwise unavailable to blue collar workers.

Goodworker was formerly known as Pravasi Rojgar- a job portal launched by SonuSood and Schoolnet in July 2020 to support migrant workers and has onboarded nearly 10 lakh job seekers. During the upsurge of the COVID-19, we observed the urgent need to address the issues faced by the blue-collar worker community in the areas of employment and empowerment. To bridge this gap, GoodWorker, a renowned actor SonuSood and Schoolnet, a leading education and vocational skills provider to form this joint venture.

What is your short-term roadmap with this revolutionary product?
We aim to reach 10 crore Indians by providing access to good jobs and career progression through upskilling services, followed by financial, healthcare, and social security services. This partnership is expected to complement the Government's initiatives to spur economic growth, create employment opportunities and support inclusive development through the use of technology at scale.