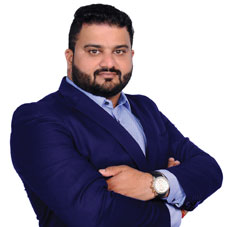 Accommodation plays a vital role in a traveller's overall experience of visiting a place. To make this experience even better, hotel businesses are using a wide range of technology. It has transformed the way hotels operate and interact with customers. The advancement in technology has accelerated in the past few years due to COVID-19, particularly in the hotel industry.
At the forefront of this technological revolution in the hospitality industry is Vipin Vasudevan, Group Director of Revenue, E-Commerce, and Digital Marketing at Shivas Galaxy. Vipin is on a mission to fill the voids in the hotel industry using technology. He has been instrumental in improving the operations and performance of Shivas Galaxy.
Shivas Galaxy is built to meet the latest lifestyle trends. The hotel's 87 rooms offer free high-speed, wireless internet, and a runaway view provides the perfect retreat after a busy day. Taste the most delicious food at Shivas Galaxy's multi-cuisine restaurant Cafe Nisa. The hotel also offers a Ballroom that can host a grand event of up to 150 guests. Boasting a fitness centre and views of the city, Shivas Galaxy Hotel is located in Devanahalli, Bangalore, 6.2 miles from Devanahalli Fort. To ensure a good traveller experience it is important for hotels to have well set quality standards for operations and safety, hygiene, and health policies. With an ideal location less than eight kilometres (10 minutes) from Kempegowda International Airport, Bangalore; Shivas Galaxy provides upper upscale accommodations and convenient city access. The hotel has combined innovation and luxury along with an unparalleled level of service and uncompromising standards. Since it is closer to the Bengaluru airport, Shivas Galaxy has improved the transit travel experience.
Could you give a brief about your professional background and experiences?
It all began in the year 2005. I completed my BSC in hotel management from Bharathiar University in Coimbatore, Tamil
Nadu. My professional journey started at Le Méridien Kochi. After gaining some experience, I shifted to Dubai in search of better opportunities. I joined Le Meridien Dubai as Guest Relations Officer. This is where my career started. Having worked with several other companies in different roles, I finally settled in at Shivas Galaxy as the Group Director of Revenue, E-Commerce, and Digital Marketing. I have a sea of experience in many different markets.
Artificial Intelligence and Machine Learning are being integrated into business intelligence systems to enhance data analysis and provide more accurate predictions
My current goal is to offer visitors timely, effective, and responsive service in all hotel operating areas in order to increase both organizational and departmental profitability and client happiness. This is done by incorporating operational objectives, promoting high individual morale, and continuously enhancing product quality through customer satisfaction monitoring. I have automated the hotel experience with direct booking and enhanced guest experience tools. Artificial Intelligence and Machine Learning are being integrated into business intelligence systems to enhance data analysis and provide more accurate predictions. We use the latest technologies and are updated with the current trends and use various rate strategies for business optimization.
Could you share some of the major learning experiences from the University of Texas?
I joined the course to increase my knowledge of algorithms and machine learning. There fore, the most appealing aspect of Texas University was the exposure. The esteemed faculty members, incomparable campus resources, state-of-the-art facilities, an emphasis on diverse perspectives, and several special initiatives helped me to accelerate my academic success.
In a few lines, please explain how have you streamlined hotel operations as the head of revenue.
By implementing robust technology, we were able to revolutionize the room booking process of Shivas Galaxy by taking it online and streamlining the front desk operations. Technology makes room services and billing seamless. When the hotel management system was
automated, we found a significant improvement in our hotel's performance and received a positive response from customers. By leveraging smart devices like smartphones and tablets, it has greatly increased the involvement of hotel guests as they have become more self-reliant. With the use of technology, customers are considering the use of automated check-in at hotels over waiting in the queue for check-in by the hotel front desk executives as it is much swifter and more convenient. By analyzing sales data and market shares thoroughly, I was able to successfully forecast and make recommendations. I also assist in setting monthly and annual financial goals. I communicate revenue cycle issues and strategies throughout the organization.

As the group director, what are the measures that you have implemented in order to help Shivas Galaxy maintain its competitive edge in the market?
I have implemented several technologies that facilitate easy connection and communication across borders and continents. This has enabled the fast transfer of information helping us in terms of a higher number of bookings, easier communication with the customers and more. With technology today, consumers are able to do their own research on destinations, accommodation facilities, schedules, or the money needed for a tour. These are available on the Internet and it has become essential for budget and decision-making. We are able to calculate RGI or a hotel's RevPAR easily using advanced applications. We also use ERP systems to handle all the vital functions ensuring our business performs at its full capacity, allowing managers to consistently review crucial business information and reports. For example, by using ERP we are able to compare financial data, billing schedules, and other types of analytics.

Overall,technology has completely reinvented the way hotel businesses operate. On a deeper note, technologies such as AI chatbots, Contactless technology, SEO strategy, and PMS mixed together are creating a seamless experience for our guests. More than anything, we have cut our operational costs, eliminated friction points, and improved operational efficiency and guest experience.

Vipin Vasudevan, Group Director of Revenue, E-Commerce & Digital Marketing , Shivas Galaxy
Vipin is a proven remote revenue management professional with experience and knowledge in multiple markets. He is also a specialist in developing and implementing rate strategies using AI, Machine Learning algorithms & Revenue Insights.