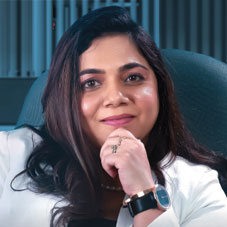 The fast paced changes in the business world today necessitate an end-to-end advanced and intelligent automated solution for organizations to enhance agility, improve customer experience, and boost productivity. Reema Shah established LA Esfera with the identical goal of transforming business operations and inspiring mid sized, indigenous and entrepreneurial enterprises to go globally.
Reema is an organized and methodical individual with great interpersonal and analytical skills exhibiting innovative and entrepreneurial leadership traits. She is experienced in aspects of Strategy, business formation, operations, Revenue-P&L and technology. A candor and synergist, Reema connects Top-down and across to design business models and systems conversions that actualize the value. Maximizing management by walking around, she champions, energizes, and unifies all stakeholders. Her strength lies in generating the maximum ROI while relying on the most advantageous cost base.
" Our vision is to expand our technological solutions to various verticals and domains across geographies"
Reema's career has been defined by her passion for innovation and technology, which has driven her to launch cutting-edge Desktop & Infra Automation tools in India & South Asia, spearhead successful Datacentre, Cloud & Automation projects, and partner with Global Services Organizations to deploy Green and Grey field projects worldwide. Her leadership has resulted in 100 percent growth year-over year. In addition, Reema has collaborated closely with Regulatory & Governing bodies and consulting firms, demonstrating her expertise in navigating complex regulatory environments and industry landscapes.
Let's hear it from her.
How has been your experience while being associated with different organizations prior to finding LA Esfera?
Prior to LA Esfera, I held leadership positions at BMC Software, HCL Technologies, and BIGFIX Inc. In each of these roles, I successfully implemented P&L/financial/fiscal planning and control measures that resulted in reduced total costs of operations year-over-year, increased quality and productivity, and established meaningful fiscal metrics. My experience as a Program Lead for global delivery was particularly fulfilling as we executed Green Field and Grey Field assignments for the Insurance & Banking domain, working closely with technical teams and Board Members. I also played a vital role in turning around failing operations and introducing Change Management, resulting in unprecedented growth and improved customer service quality. As part of an Operations Centre of Excellence team, we built a foundation based on ethics, people, process, and value, with a focus on knowledge, accuracy, responsiveness, attitude, time liness, and ease of doing business.
How would you define LA Esfera as an organization and its current position in the market?
LA Esfera is a leading provider of technology consulting services, with a six year track record of excellence in the intelligent automation space across industries. Head quartered in Mumbai, India, the company has
expanded its operations to the Middle East, GCC, Africa, and Georgia in the US.
Our expertise includes Conversational AI, Intelligent Automation (using Intelligent Document Processing, RPA, AIML), Data Analysis, and Data Modernization (for both new-age and legacy applications). Our platform is designed to handle it all.
LA Esfera's automation ecosystem BAAR (Build & Automate with AI and Robotics) has helped organizations significantly reduce operating expenses by up to 75 percent, achieve multifold acceleration of processing speed (up to 40x faster in certain cases), and achieve 100 percent efficacy and accuracy. Our solutions improve agility, reduce process time, and accelerate time-to-market, enabling our clients to stay ahead of the competition.
We want to continue our focus at building 'MAKE IN INDIA' AIML solutions and enhance our indigenous ideologies.
LA Esfera is a leading provider of technology consulting services, with a six-year track record of excellence in the intelligent automation space across industries
Describe your leadership style. How do you motivate your team to deliver the best quality services to customers?
At LA Esfera, our team is composed of experienced professionals who have worked with reputed multinationals around the world, as well as freshers who are eager to learn and grow. The challenge is to strike a balance between these two groups while keeping everyone aligned with the same goal.
To achieve this, I believe in being direct with the team, coaching and supporting them, and empowering them to create their own plans within the framework of our organization's ethics, code of conduct, and discipline. As our team members gain confidence, they become more independent and motivated to exceed our customers' expectations and their own capabilities, producing excellent work in every project they undertake. Seeing my people reach their full potential and build on what they have learned keeps me motivated and inspired.
What are the important lessons you have inculcated from The University of Texas and how have you been finding those experiences useful in your career growth?
My experiences at The University of Texas have been extremely valuable. I gained exposure to a wide range of industries and domains, as well as to the latest technologies and tools for creating a structured approach to transform businesses.
One of the most important lessons I learned was the importance of under standing the domain in order to identify gaps and work effectively with business users. The vertical specific focus of the coursework allowed me to work on both sides of the equation understanding customer needs and challenges, as well as communicating with my technical team.
Today, as a leader in my organization, these experiences have helped me build strong teams and deliver outcomes more efficiently. Moreover, I can drive more effective, faster collaboration between business and technical stakeholders, and ensure that our solutions meet the unique and consistently changing needs of our customers.
How have you been developing effective Corporate Growth Strategies? What are the key benchmarks made by LA Esfera so far?
As the founder of LA Esfera, I have been developing effective corporate growth strategies by focusing on organizational strategy development, change management, and improvements in communication, leadership development, corporate governance, and risk & compliance management. I have also integrated customer service programs, leadership/ vision planning, meaningful metrics, employee tools, and marketing programs, complemented by the resources, assets, and talent to execute winning models. As a result, LA Esfera now has a specialized team of 100+ members just in Automation & RPA practice across various domains, internationally.

During the Covid crisis, LA Esfera has been proactive in building a product organization pursuing data transformation projects using AIML, Deep Learning, and Computer Vision. The company has also designed and launched Healthcare Robots and is planning to launch one of the first online marketplaces for realtime trade entry and execution, AIML enabled agriculture and green energy initiatives. These initiatives demonstrate LA Esfera's commitment to innovation and staying ahead of the curve in the technology space.

Tell us about Health Robo and the benefits it delivers to your clients.
LA Esfera initially focused on working with charitable organizations to provide various services to remote locations in India and Africa. While engaging a country in West Africa, we encountered a situation of '50,000 people suffering from meningitis who couldn't go to Mecca Hajj'. LA Esfera organized necessary medication and accessories to help them, we also arranged diagnosis devices to continue assessing health conditions. This experience led to the development of Health Robo, a self-diagnosis tool that provides 188 different invasive and non-invasive test results. Health Robo has been supplied to remote locations as well as Primary Healthcare centers across various states. Product is further enhances with Tele consulting, Teleradiology to allow instant transmission of patient reports to doctors for prompt diagnosis and treatment. Additionally, we created an EMR and Patient Management Software to archive patients' health records for future reference, the records of doctors under whose consultation patients are receiving treatments. Our technology can help transform developing world and save lives 'supply healthcare services both digitally and physically to the last mile'.

What is the future destination you are heading towards?
Our vision is to expand our technological solutions to various verticals and domains across geographies. We are currently working on a public private partnership with the government in Africa to provide Agritech, Power tech,Energy tech and FinTech solutions. Our objective is to be a Global integral partner to enterprises and government towards their Digital journey.

Reema Shah, Founder & Partner, La Esfera
Having a PGD, AIML from the University of Austin, Texas, and a PGD in Leadership & Entrepreneurship from the University of Berlin,Reema is a visionary and enthusiastic business leader with deep learning in Technology, Crisis Management, Budget Planning, Development & Control Operation, and Automation with Consolidation & Integration.

•Awards & Recognition: MSME: Women Achievers Award for AIML (twice in a ROW), CIO India: Top 10 Consulting Companies, APAC Performers of Year consecutively for Five years, Business Connect Magazine: indo Global Entrepreneurship forum 2023 : Most Promising AIML consulting company