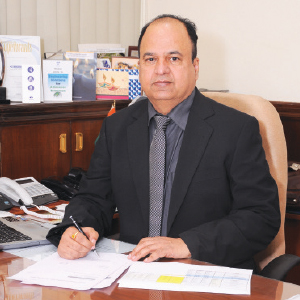 As a six decade old company, Voltas holds expertise in Air Conditioning & Cooling, and proud to be a part the Tata Group which has just completed 150 years. The company is broadly structured as projects & products business. The projects business has operations in India and the Middle East. It has done many iconic projects like Chennai Metro, AIIMS Delhi, Burj Khalifa Dubai and Ferrari Experience Abu Dhabi in HVAC and MEP space. The Unitary Products Business Group is present in Air Conditioners, Air Coolers & Commercial Refrigeration Products. Voltas is the No. 1 AC brand in India with 23.3 percent Market Share in Q3 FY 18 as per third party retail audit report and the only brand in Air Conditioning history to reach a landmark sales figure of one million ACs in a single year. Voltas has won numerous awards like National Energy Conservation Award from Ministry of Power for selling the highest no. of energy efficient ACs, and Effies & World Advertising Research Council Award for effectiveness in Marketing Communication.
Associated with Voltas from almost two decades, Pradeep Bakshi (MD & CEO) is utilizing his extensive experience from consumer durable & appliances industry into engineering smart cooling solutions for Voltas. The following excerpts of an exclusive conversation of Pradeep with CEO Insights articulate the reasons behind Voltas being the reputed maven of innovative home appliances since its inception.
Kindly throw some light on the journey and challenges of Unitary Products Business Group.
Voltas occupied peak position in the room AC segment for close to five decades since its inception in 1954, but it lost market share in late 90s and early 2000s when the MNC players offered feature rich & competitively priced products. In 2006-07, we realized that our large production facilities & manpower base weighed us down due to high
fixed costs. Hence, we decided to restructure the business model and charted out a four pronged strategy which included revamping the supply chain model to make it lean & efficient, expanding the distribution base to reach the length & breadth of the country, beefing up the product portfolio to cater to different consumer segments and position the brand based on sharp consumer insights. Eventually, we became the No. 1 AC brand in India.
We have continuously invested in state-of-the-art R&D facilities (Pantnagar) for both ACs and Commercial Refrigeration products which helps us to develop new products & technology catering to the consumer needs
What opportunities do you foresee in the industry with reference to Unitary Products Business Group and how are you moulding Voltas with respect to the same?
We have been pro-actively assessing the scenarios of reduced price differential between the acquisition cost of fixed speed & variable speed inverter split ACs. It should result in increased adoption of this category by consumers in this season. We have launched one of the largest range of Inverter ACs this season and also developed Industry 1st Window Air Conditioner with Inverter technology.
We have also strategically entered Air Cooler business around three years back with an aim to fill the gap for an affordable cooling solution between a fan and an AC. We have already become the top three Air Cooler brands in India (as per third party retail audit).
Voltas has vast expertise in implementing air conditioning and cooling technology. Kindly elaborate on these with key emphasis on your flagship offering and unique selling proposition.
Besides launching right from India's 1st Room AC to India's 1st Split AC, we have also launched India's first star rated AC in 2007, before it was made mandatory by BEE. We also introduced India's 1st All Weather AC in 2012 with an aim to deseasonalize the category. Moreover, we have launched the Voltas All Star Inverter AC with key
proposition of 'Steady Cooling & Steady Savings' based on product feature of 'Two Stage Steady Cool Compressor' that can cool up to 55 degree Celsius, super silent operation at 18 dB (A), and operate on 5D DC motor technology.

Innovation being the only way to stay ahead of competition in recent time, what kind of innovation/R&D is currently happening in Voltas?
We have continuously invested in state-of-the-art R&D facilities (Pantnagar) for both ACs and Commercial Refrigeration products which helps us to develop new products & technology catering to the consumer needs. For instance, we have developed India's 1st Window AC with Inverter Technology and 1st Deep Freezer with Inverter Compressor. Moreover, we are in the process of developing a completely new R&D facility in Delhi which would work on special product development projects.

What is the future roadmap set for your company?
We are continuously striving towards strengthening our market leadership position in all the product categories. We target to double our highest sales figure in the next three years. We have also entered into a Joint Venture with Arcelik (a leading European MNC) and would launch home appliances under the brand name of Voltas Beko. This would help Voltas become a full-fledged white goods player in the market.

Key Management:
Pradeep Bakshi, MD & CEO
Mr. Pradeep Bakshi is the Managing Director & CEO of Voltas Limited, having close to three decades of experience in the consumer durable industry. He has been awarded the Appliances Man of the Year, and has also received the President's award for Energy Conservation.

Offerings:
• Air Conditioners
• Air Coolers
• Commercial Refrigeration Products
• HVAC&R Products
• Water Treatment Equipments
• Textile Machinery
• Mining & Construction Equipments

Offices: Mumbai (HQ), Abu Dhabi, Ahmedabad, Ankleshwar, Baroda, Bangalore, Calicut, Chandigarh, Coimbatore, Delhi, Doha, Ghaziabad, Hosur, Hyderabad, Indore, Jamshedpur, Jaipur, Jeddah, Kohlapur, Kochin, Lucknow, Ludhiana, Madurai, Mangalore, Manama, Panjim, Pune, Singapore, Surat, Tirupati, Tirupur, Trivandrum, Vijayawada and Visakhapatnam