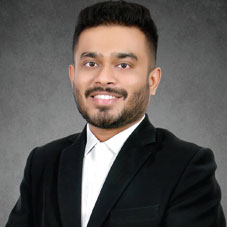 A versatile defense litigator with experience in the representation of individuals and corporate entities, Yash Patel (Managing Partner, J & Y Advocates) is adept in defending several high profile clients in criminal cases, personal laws, and corporate law. He is a panel advocate for Ahmadabad District Cooperative Bank & Gujarat State Cooperative Bank. Yash grew up in a family of lawyers with his father having an experience of over 35 years in the field of law. Right from his childhood he has been subconsciously exposed to the world of law.
The rush of defending clients against unfair attacks or assisting them to prosecute others who have harmed them and the look of satisfaction on their faces after months of anxiety is something that interests Yash the most in thisprofession. Legal practice requires critical thinking and coming up with a unique solution or strategy after indepth research is a recipe for a good night's sleep for the diligent advocate. He enjoys getting into the nitty gritty of laws, core procedures, principles of legal drafting, the art of advocacy, and every single aspect of being a lawyer. He strongly believes what Aaron Hurst says "Make your life matter and have fun doing it".
Client engagement is the key to successful litigation, and Yash is committed to maintaining a high level of communication. Let's hear it from him.
What inspired you to establish J & Y Advocates?
Since my days as a student, I had always had a keen desire to establish my law firm and start my independent practice as a litigation lawyer. So as soon as I started my legal practice, I decided to set up the firm with the same objective. Today, J & Y Advocates has become a notable law firm with clients ranging from individuals to corporate who are provided with representation at
all levels of the judiciary.
Tell us about the unique experiences the University of Illinois offers and what did you learn from the campus beyond academics?
The University of Illinois offers a wide array of courses that are structured in a manner that requires tenacity while making the subject interesting for the students. It offers practical courses such as Client Counselling and Negotiation Skills and Strategies that particularly helped me shape myself as a better lawyer for litigation where client counselling and negotiation are almost indispensable skills on daily basis.
Client satisfaction takes the central role in all the work that I do; client counselling begins right from the first contact with the client and remains an integral part throughout the case
The University of Illinois Urbana Champaign is a student town where I got the opportunity to interact with students from various fields and expand my network. Further, how the academic calendar at UC is planned gave me ample time to interact with other students of diverse academic as well as cultural backgrounds beyond academics and to participate in co-curricular activities as well.
What are the fundamental factors you take into consideration while providing integrated legal service across a broad spectrum of practice areas?
Client satisfaction takes the central role in all the work that I do. Client Counselling begins from the first contact with the client and remains an integral part throughout the case. It helps me understand the client better, and the significant factual details of the case. Further, maintaining a schedule becomes quite important. As the majority of litigation lawyers' days are spent in courts, it becomes vital to have a schedule to ensure efficient utilization of the remaining hours of the day. Typically, I try to attain this by scheduling my meetings post court hours followed by drafting and research work.
Reflect on some of the toughest challenges you have encountered in
your journey so far. How did you overcome them?
The toughest part of my journey so far was starting my practice during the pandemic. The courts were not physically functional and it was also nearly impossible to confer with my clients. Criminal litigation, especially bail matters requires visits to police stations or courts in time-sensitive situations, but the pandemic made it nearly impossible to do that.

However, after some initial struggle, I tried to inject some optimism into the misery and came to realize that I could actually utilize the situation as a learning curve. The cases were being heard virtually through video conferencing and it gave me a unique opportunity to argue my cases without any consciousness or butterflies that any fresh lawyer would usually get. Eventually, I gained immense confidence and self esteem which benefitted me when the courts physically reopened.

What are the changes in market behaviour that you anticipate, and what are the opportunities that you foresee?
Proactive changes are always required in the field of law to keep up with the changes in society, technology, and the economy. There has been a radical metamorphosis in the Indian legal system as well as education, especially in recent times, which has not only opened up new avenues for legal practice but also improved the quality of legal professionals. Law is a career that weathers all kinds of storms and beats all blues but also looks at the larger picture a legal professional play a stellar role in contributing to policy making, the rule of law, and overall societal development and growth. So, the increasing need for legal professionals coupled with the already never ending demand for lawyers means that there are infinite opportunities in the field if one knows where to look.

Yash Patel, Managing Partner, J&Y Advocates
Yash pursued LLB from Gujarat National Law University, a Master's in Criminal and security law from GLS University, and is planning to pursue a Ph.D. in law. His expertise lies in collaborating with a wide spectrum of clients to effectively solve their issues.

Awards & Recognition:
•CALI Excellence for the Future Award in Negotiation Strategies and Skills-2019, the Best Emerging Criminal Lawyer in Gujarat-2022.