Muralidhar Somisetty: A Visionary Entrepreneur Dedicated To Transforming Human Behaviour For A Healthy & Sustainable Future Community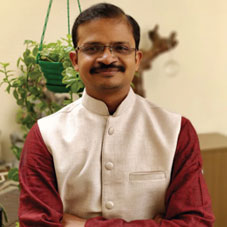 Over the last few decades, there has been an upsurge in the prevalence of yoga. Medical professionals are also adopting and recommending the regular practice of yoga due to its various benefits. Yoga is a way of living that aims towards a healthy mind in a healthy body. Muralidhar Somisetty, a technologist turned yogi and serial tech entrepreneur, is an exemplary leader dedicated to making holistic wellness accessible for everyone and integrating it as part of their lives through his startup venture Wellnesys Technologies, an emerging deeptech startup recognized as the most innovative startup by TIE Silicon Valley, Startup India, Ministry of AYUSH and won appreciation from global consumer leaders such as Apple, Qualcomm and Samsung. Yogifi a unique and innovative product idea that has come out of Muralidhar's own life experiences as a yoga practitioner/ teacher has won the hearts of many people and received multiple global awards under the innovation category at the Consumer Electronics Show (CES) Las Vegas.
In an exclusive interview with CEO Insights, Muralidhar Somisetty enlightens us more about his professional journey and Wellnesys Technologies.
Give a brief account of your professional background & experiences. What inspired you to establish Wellnesys Technologies?
Please rephrase this starting statement " I am the Founder and CEO of Wellnesys Technologies and instead "I am an entrepreneur who believes in harnessing modern technologies to address human and environmental health problems of the future. Given my two decades of industry experience working at Siemens and Cisco Systems, While i was at Cisco, i developed chronic..." I developed chronic lifestyle conditions, such as back pain, neck pain, borderline diabetes, and other symptoms that were hindering my professional productivity.
When I went to the doctor regarding my pain, they ran an MRI and discovered that there was a problem with my spine that required surgery. I was devastated by the surgery but
thankfully,I came across a yoga therapist. My yoga therapist examined my issues and determined that they can be cured. And that's when my yoga yoga journey began within six months to a year, I recovered completely from all of my ailments, and I discovered that my energy levels had grown, and I was able to focus again.
It's not just about making money or creating business it's about fundamentally changing human behaviour towards a healthy & sustainable future
There after, I became a certified yoga trainer from SVYASA Yoga University in Bangalore, and that training helped me comprehend the scientific reasons why yoga is vital. When I began taking online yoga
classes, I found that many turn off their cameras as they were conscious about privacy. So that prompted me to consider how I could truly give an engaging session without even using a camera. That's when the idea for Smart Mat came to my mind.
You possess more than two decades of experience, how has your path to success & what is your success mantra?
When you are satisfied with your work, you will always be enthusiastic about it and never lose interest in it. So that is my success motto. If I were to describe my decades of experience, it's not monetary or career success; genuine success is when you can enrich other people's lives in your day-to-day work. That's what inspires me, and my success motto is to be inspired and inspire others.
Could you tell us about the unique experiences the University of Illinois offers?
The University of Illinois is a great institute; it offers a variety of courses and, most significantly,it assists in understanding beyond academics through practical experiences and practical applications. That's a significant factor beyond academic learning that made us think and do things practically. If I'm becoming an entrepreneur now, it's all because of their curriculum and practice method of teaching. That was a one-of-a-kind experience for me, and even though I did this as an online program through a distance learning program, I didn't lose out on the oncampus experience since the faculty was outstanding in terms of presenting and engaging remote students.
How would you define Wellnesys Technologies as an organization & its position in the market?
Wellnesys Technologies was founded with the goal of creating holistic wellness solutions using technology. There are many wellness solutions, applications, and products available, but we wanted to build with technology. Our mantra is an ancient science combined with modern technology. We wish to smoothly connect old Indian science like Yoga and Pranayama meditation with technology so that more people can embrace these ancient practices because technology is a part of our life today. We are focusing on treatment, remote therapy for lifestyle diseases such as diabetes high BP, obesity etc. and technology based solutions for physical and mental health and provide unique immersive, interactive yoga learning experiences as daily routines to help everyone become and stay fit.

Going forward, what are the changes in market behaviour that you anticipate, & what are the opportunities that you foresee?
Health is real wealth; no matter how much you earn in life, if you're not healthy or don't have strong immunity, there is no meaning to all the financial or career success. I believe this is fundamentally changing human behaviour that health is important and the second one is the environment. Everybody should be conscious of the environment in terms of a sustainable environment. I believe health and sustainability are very important. In that context, I see opportunities for startups to make a big impact in the world in a positive way, because it's not just about making money or creating business, it's also about fundamentally changing human behaviour towards a healthy and sustainable future.

Muralidhar Somisetty, Founder & CEO, Yogifi by Wellnesys
Muralidhar Somisetty is a technologist turned yogi and serial tech entrepreneur driven by the vision of incorporating yoga into everyone's daily routine while harnessing the power of technology. He has been involved with the technology business for 24 years and co-founded a series of product startups in SaaS, BigData Analytics, IoT, Artificial Intelligence, and Electric Mobility. Muralidhar Somisetty has been an alumnus of NIT Warangal(bachelor)and the University of Illinois, Urbana Champaign (master). He was associated with IEEE Bangalore, Computer Society, and 5G groups. He is also a certified yoga teacher from SVYASA Yoga University, Bangalore. He is a certified yoga teacher from SVYASA yoga university, Bangalore where he is also pursuing MS/Ph.D in Yoga therapy/research.