Kumar Karadi: A Passionate Architect Driving His Company To Success Through In-Depth Industry Expertise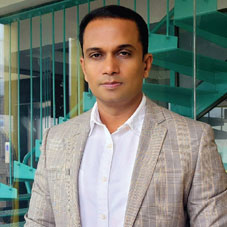 The number of Indian students wanting to pursue their higher studies in the US is increasing each year. According to Open Doors Report, the number of Indian students opting US for their higher studies has more than doubled over the last decade, accounting to 21 percent of international students studying in the US. The University of Illinois Urbana-Champaign, commonly referred to as University of Illinois of UIUC, is among the finest and elite universities in the US. Located in the twin cities of Urbana and Champaign, UIUC was founded in 1858 under president John Milton Gregory. Over the years, the university has evolved as one of the major centers of education in the US.
Spread across a 6,370 acre campus, UIUC comprises of 16 schools & colleges and offers 150+ undergraduate & 100+ graduate programs, taking-in over 53,000 students each year. Additionally, the university also boasts of being home to alumni, faculty members, or researchers that include 30 Nobel laureates, 27 Pulitzer Prize winners, two Fields medalists, and two Turing Award winners. The university is also proud to be the birthplace of many multinational corporates that include Abbott, Caterpillar, Capital One, John Deere, GSI, and Yahoo, among others.
Kumar Karadi (Director, Design Synthesis + Architecture)is one such alumnus of University of Illinois who has achieved exemplary success in his journey. CEO Insights had the privilege of having an exclusive talk with Kumar about the various aspects of his life as an alumnus of UIUC and a successful businessman. Below are the excerpts –
Explain briefly about your educational & professional background.
My decision to get into architecture was purely out of my natural instinct and interest. Belonging to a family having strong business background, my family expected me to get into business, However, I wanted to pursue my interests and thus took-up architecture. After completing my undergraduate program from BVBCET, Hubli, I worked in the industry for a while and then went-on to study M.Arch at UIUC. The experience I gathered working in the industry before joining UIUC helped me both in my academics, as well as to strengthen my understanding of various facets of the architecture industry.
Tell us about your time as a student at UIUC. How has it helped you

mold yourself as a successful person beyond academics?
The journey with UIUC has been one of the most exciting part of my life so far. It is an ocean of knowledge and offers students infinite opportunities to learn and improve themselves. The university enhances students' self-confidence and enables them to make choices for themselves. As a student, I also got to meet eminent personalities in the architecture realm such as Frank Gehry, Cesar Pelli and many other industry experts during some of the events.
Events such as seminars and conferences are organized very often, and as a person who was genuinely interested to learn more about the industry functions, I kept myself engaged with these knowledge events to learn as much as I can. BIM and Sustainability were trending back then, and I am thankful to UIUC for providing deep insights about them at the right moment. Thus, I am proud to be a part of the UIUC alumni network even today.
At DS+A, we call our practice 'Dynamic Focus', because while our focus is on the 'goals', the goals themselves are dynamic. Hence, what's important is to evaluate how goals evolves with time, different stakeholders, market dynamics, ROI, value engineering, and other aspects
Throw some light on you role at Design Synthesis + Architecture, & its various areas of operations. Also, what are some of the major projects you have under taken so far?
Design Synthesis + Architecture was incepted in 2012 by myself and Ar. Komal Karadi(Co-Founder & Director)in Bangalore. As a highly focused design firm we offer high quality, cost effective and timely solutions that fulfill our clients' every need. At DS - A, we call our practice 'Dynamic Focus', because while our focus is on the 'goals', the goals themselves are dynamic. Hence, what's important is to evaluate how goals evolves with time, different stakeholders, market dynamics, ROI, value engineering, and other aspects. Today, we are well-known in the industry for our innovative concepts, diverse expertise, service integrations, BIM and sustainable approach.
Shopping malls, multiplexes, F&B outlets, retail, super specialty hospitals, medical colleges/ facilities, housing, educational institutions and residential projects are currently our prime focus areas. How our clients know us is the way we treat challenges. There is no day without challenges, and we believe that no challenge is too challenging. Whenever we encounter any issues,
we resolve them with great speed & efficiency, and bring a positive impact. This practice of adaptability, spontaneity and creative thinking throughout our company has enabled a great learning experience for us.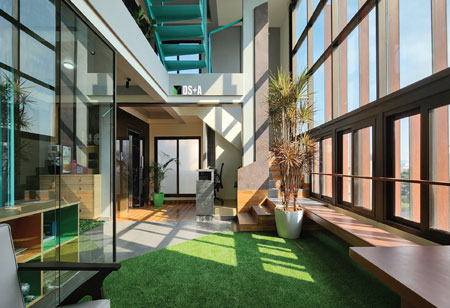 What are some of the qualities that you imbibe as a leader? How have they helped in your journey so far?
I am not a great reader, and whatever skills that I possess today are through sheer experience working in the industry. Complementing my leadership, Komal makes sure that we are up to date with the latest trends in the industry. I believe in an open workplace where there is no hierarchy and any person despite their position in the company can be approached by anyone at any point of time. This is one thing we strictly adhere to at DS+A, and this has resulted in increased mutual respect among the employees.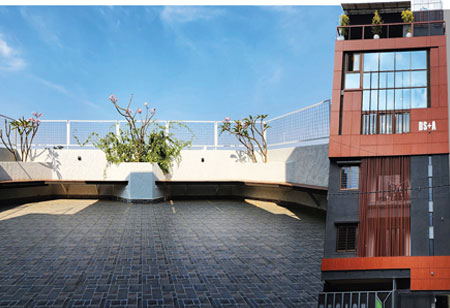 We encourage each employee in every aspect of their journey by giving them hands-on industry exposure, thus resulting in an enhanced industry knowledge and expertise. This has also resulted in an increased productivity among our employees. We try to maintain a stress-free work environment and ensure to meet all deadline without setting any rigid targets. Nurturing these talents, catering to the project demands, enhancing the learning experience and promising career prospects these are the key take away from DS+A.
As a successful leader, what is the piece of advice you want to give to aspiring entrepreneurs in the architecture industry?
Given the latest advancements in automation technology, a lot of work will be done using less resources in less time. This is as much good as much bad for the budding talents. So my advice to the youngsters foraying into the architecture realm would be to get their basics strong and develop logical thinking. Continued practice of these skills along with constant upgradation of self as per latest industry trends will take you a long way in your journey. Lastly, never let technology control your decisions making ability.
Kumar Karadi, Founder & Director, Design Synthesis + Architecture
Holding a Master's Degree in Architecture from University of Illinois, Kumar has over 18 years of experience in the architecture industry across India, US and Middle East Regions. He is very passionate about architecture and is also a Registered Architect, Council of Architecture (India).