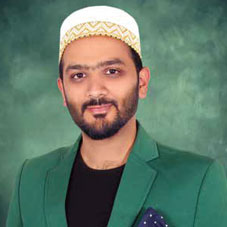 The world's best resources will be worthless if they are unable to reach their target. Not only must they be able to reach their objective, but they must also be able to reach it without being harmed. And, to ensure that your products arrive safely, the packaging of the goods is critical. To provide quality service and meet clients' objectives within the stipulated period, Yusuf Poonawala, Managing Director of Woodpecker Packaging LLC is leaving no stone unturned in acquiring human talent who can address customer challenges with ease.
A bachelor's in commerce, Yusuf Poonawala holds an MBA degree in Human Resource management along with certifications in dangerous good handling, skidding and heavy lift operations. As a MD, Yusuf is responsibly working and making strategies for greater customer satisfaction.
Recently engaging in an exclusive interaction with CEO insights, Yusuf Poonawala shared more about his career and journey, here's a snippet from the same .
Give us a brief about your professional background and experience. What drives you here?
I have a bachelor's degree in Commerce and a master's degree in human resources. However, as of now, my experience and expertise have helped me establish my professional profile, and yes, I have packaging related credentials such as dangerous goods handling, skidding, and heavy lift operations among others. But I consider customer appreciation certificates and prizes to be a feather in my cap. The region's expanding needs in Supply Chain Management were the bud to Woodpecker back in 2011.
I had a fantastic learning experience back then, from the beginning until now. Every day is a new task, every cargo is different with distinct packaging requirements/challenges, and I enjoy it.
Work like a warrior until you win the battle and acquire all your goals excel in your goals
Define Woodpecker Packaging as an organization. What makes it stand out from its competitors?
Woodpecker is a dream that has come true and is being nourished every day. It's the result of my family's collaboration, my work team's collaboration, and a timely strike. Our strategies and fundamentals on deliverables have not changed as an organization, and this has brought us a long way to where we are now, which we are happy to share with you. We haven't compromised on the efforts we put in from the beginning of this company as a setup until today, after the enriched experience's success. Woodpecker takes advantage of every business, learning, fostering, and improvement opportunity that comes our way. This allows us to continue to grow, stay unified at work, remember the organization's thumb rules, and ideals, and it shows in our service.
Tell us about your leadership approach, and the guidelines or methodologies you follow to lead your team. You possess fifteen years of experience, how has been your success mantra throughout your journey?
Plan and comprehend all benefits and drawbacks for the employees, love, pamper, and alarm knock on the door when necessary. I make it a point to learn each employee's talents and limitations, coach them where necessary, and prepare them for future advancement and growth. All of the nurturing I provide my staff will undoubtedly reflect in their work, teamwork, and customer service, which will ultimately benefit me. Woodpecker's profile is wholly people-oriented, they are essential to my success. I started my company with four employees, and they are still with me after eleven years.
Give a brief account of the fundamental factors you take into consideration while designing effective and efficient packaging solutions
These are the major and fundamental factors that should be addressed while planning and implementing any service. Woodpecker's main purpose is to ensure cargo safety and the full system involved in cargo handling, loading and offloading, from Shipper to Consignee. We start by determining whether or not packing is required. Understanding cargo integrity, type, packaging purpose, and handling requirements, among other things. Woodpecker assesses these criteria and recommends the most effective, time and cost-effective solutions to customers. The above golden principles are always kept in mind with top priority throughout the planning and delivery of service until signoff.

As a leader, what would be your advice to the budding entrepreneurs?
To new comers, I recommend that you start your research with a time and market analysis when you first start, when you're ready to launch, and when you're looking at your product's life cycle, which may be anywhere from 5 to 10 years. Changing technology, demand patterns, global economics, global warming, and natural and unusual influences(such as the Covid, Russia-Ukraine disaster)have significantly impacted the business system, its fundamentals, and product life. Always read out true success stories to stay informed. It aids you in understanding real-time issues and measures and warnings to be regarded at each stage of your setup's achievement. In terms of leadership, I feel that all successful leaders are those that lead and walk alongside the team! Finally, I would advise you to PREPARE YOURSELF... Any new step is difficult; fight like a warrior until you win the battle and achieve all of your objectives.

Yusuf Poonawala, Managing Director, Woodpecker Packaging LLC
Yusuf Poonawala holds a good experience and expertise in humanresource management. He is putting his efforts to provide best-in-class packaging service in Abu Dhabi.