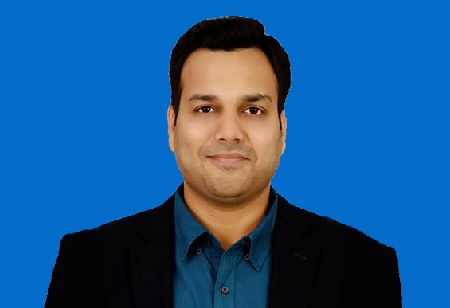 According to a recent report by Report linker. com, revenue from the global fantasy sports market is expected to grow at a CAGR of approximately 14 percent during 2020 - 2026. The pandemic has been a blessing in disguise for the industry. But even before the pandemic forced people to spend more time with their smartphones, the MyTeam11 Fantasy Sports one of the most sought after e-sport platforms in India has been at the forefront of the gaming rage in India by growing more than 30 times within the first two years after its inception in 2016. Having never taken its foot off the gas, the company continues to manifest an excellent growth trajectory with 18 million+ users on its platform. Thanks to an excellent marketing team headed by Manvendra Singh Rathore, Chief Marketing Officer, MyTeam11 Fantasy Sports. Manvendra has been exemplary with the way he navigated the company through the toughest of pandemic times, leveraging the market opportunities to the fullest.

CEO Insights engages in an exclusive interview with this growth hacker.

What inspired you to venture into the marketing domain. And after more than a decade in the industry, what drives you to day?
The way a market works and its various dynamics have always fascinated me. I was always enthralled to see how one can be creative in multiple ways to sell a product/service. The campaigns excited me. India is one of the biggest markets in the world, and there is so much we can do. I liked the challenges associated with it and ended up in marketing. With time, things have changed. Marketing is no longer what it was when I started. The strategies that worked then are redundant now. But then again, that is the challenge for us, and overcoming these new obstacles through innovative ideas is what acts as the fuel and keeps me motivated.

How would you define MyTeam11 Fantasy Sports as an organization and its position in the market? What is the unique proposition that your organization offers to clients?
Trust & faith have been our foundation pillars since inception, and by coupling them with our customer first approach, we have become a family of more than 18 million and the second largest fantasy sports brand in the country. Keeping up with the market trends and the dynamic nature of the industry, we have hallmarked ourselves as an innovative brand, revolutionizing to become a one stop online gaming destination catering to all audiences.

Every campaign has its fair share of unique challenges, and as marketers, we need to find a way out. It is important to be aware of the changing dynamics of the market and understand the needs of the people to be able to tackle any significant challenge.

Further, our various marketing campaigns like 'India's Most Trusted Fantasy App' 'India ki Apni Fantasy App' and 'Ab Poora India Khelega,' have always showcased our primary values highlighting that MyTeam11 is a home grown app meant for everyone. Our aim is always to provide our users with the best immersive experience while testing their skills and knowledge across our bouquet of offerings.

For our audiences, we are the one stop destination for all their online gaming needs starting from our core of fantasy sports to real money gaming and casual and hyper casual gaming.

What are the major challenges you have experienced in your journey so far? How did you overcome them, and what did you learn from them?
Every campaign has its fair share of unique challenges, and as marketers, we need to find a way out. It is important to be aware of the changing dynamics of the market and understand the needs of the people to be able to tackle any significant challenge. If I talk of the fantasy gaming industry, changing perceptions and spreading awareness were a couple of key challenges early on.

In your professional journey so far, which are the milestones that bestowed you with utmost satisfaction both personally and professionally?
If I look back at the journey, Organizing WWE Live event for the first time in India was a major mile stone. Launching Willow TV Canada and launching DSPORTS channel in India were also a few major milestones in my past stings. Currently, being a key member of the MyTeam11 team, growing from a small group of passionate sports lovers to being the second largest market leader with a market base of over 18 million users, really makes me proud.

As we advance, what are the changes in market behavior that you anticipate and the opportunities you foresee? What is the future roadmap planned for MyTeam11 Fantasy Sports?
The pandemic has led to a major boost in the online gaming industry. According to a recent Redseer and Lumikai Fund industry report, the gaming market in India is a $2.2 billion industry. It is projected to grow at approximately 30 percent CAGR to become a $7 billion market more than 3X in five years. This has created a massive opportunity for the entrance of several first time gamers into the industry. Also, I see vast potential in the tier-2 & 3 markets, which will be a critical consumer segment to tap.

In terms of MyTeam11's roadmap, we have recently integrated all our applications under one umbrella of the MyTeam11 app. So, we have moved from a monogaming model to a multi gaming model, further foraying beyond RMG to casual and hyper casual gaming. We will add several new games to the platform and concentrate on building the platform's positioning as a one stop destination for all online gaming needs.
In the light of your strong experience of more than 12 years in brand, marketing, and business management, what advice would you give to the aspiring leaders in the marketing domain?
It is all about the people. Campaigns and platforms will keep changing with time. It's imperative to understand your customers and their changing preferences and consumption patterns. Strategies that did wonders ten years back might not move a needle today. But as long as we keep ourselves updated and understand the human psyche and their needs, the product/service will sell. Hence, brands/marketers should focus on giving a human angle to their campaigns.