Ashish Khemha Wins Asia Pacific Enterpreneurship Award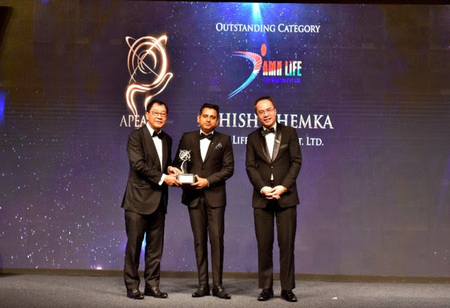 CEO Insights
Ashish Khemka, Chairman & MD of AMN Life Science Pvt. Ltd, a pharmaceutical manufacturer, receives the Asia Pacific Entrepreneurship Award (APEA) under the outstanding category for the year 2019. With the theme of 'Promoting Inclusive Economic Development through Sustainable Entrepreneurship', top 15 Entrepreneurs & Enterprises were recognized by the APEA'2019. Ashish led the list of winners.
Prior to venturing into pharmaceutical industry, Ashish had joined Trans Freight Container Corporation Ltd as a management trainee. He gained expertise in this field and simultaneously acquired managerial & leadership skill, and thus rapidly rose to the level of COO within a year.
Under the leadership of Ashish, the exports of AMN Life have had a progressive growth of more than 100 percent in the financial year 2007, and have bagged the Indian Exporters Excellence Award. With the continuous progress, the company previously has also bagged SME Business Excellence Award and Leading SMEs of India Award in 2016.
Ashish strives to drive operational excellence in every department of the company. He has managed to overcome the challenges to hold the quality and also to operate different department altogether. His innovative strategy involves streamlining an increasingly complex manufacturing system. Currently, AMN Life is eying the EU certification.

The Entrepreneur has also undertaken challenging green initiatives, which is reflected throughout AMN Life's Supply Chain. The effect of Pharmaceuticals on the environment has garnered plenty of media attention, mostly negative in the past several years. Most of the concerns with drugs in the environment revolve around consumers who either excrete un-metabolized active ingredients or dispose of unused medications into sewage systems. Under Ashish's leadership, AMN Life is able to ensure complete deactivation of waste residues by using alkaline solution before it is being sent to centralized insemination.

AMN Life is a Pharmaceutical manufacturing and export house. Established in 2003, it offers a plethora of brands, covering a wide range of therapies from both acute and chronic segments. These formulations cater to the therapeutic needs for allergic disorder, bacterial and fungal infections, malaria, erectile dysfunction, Diabetes, and Cardio-vascular diseases to name a few.