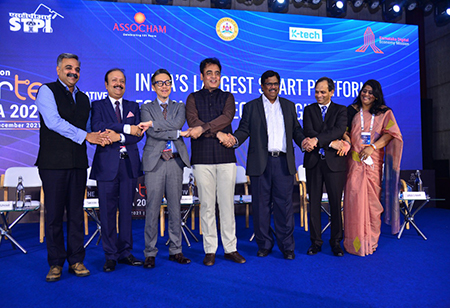 The Associated Chamber of Commerce and Industry (ASSOCHAM), the apex association of the country, in association with Department of Science & Technology of India, GoI, Karnataka Digital Economy Mission (KDEM) has announced the 2nd edition of its unique digital platform – SMARTecIndia 2021 from December 3 – 15, 2021 kicked off from today. The 12-day event is set to reach out to the industry at an international level and showcase the strengths, growth, and potential of the Indian Industry on a global platform. In a bid to provide a necessary boost to the smart technologies sector and boost global dialogue on strengthening the policy framework, international business potentials, etc. ASSOCHAM, DST& KDEM has joined hands to make a mark in the global smart technology ecosystem.
The event converged around the vision of recognizing the significance of smart technology in businesses and lives post-pandemic, the largest Smart Technology Convention platform in Asia was inaugurated at The Lalit Ashok, Bengaluru by a welcome address from Mr. Sanjeev Gupta, MD & CEO, Lahari.
The Guest of Honour Dr. C.N. Ashwath Narayan, Hon'ble Minister for Electronics, IT, Bt and S&T, Higher Education, Skill Development, Entrepreneurship & Livelihood, Government of Karnataka, addressed the audience on Bangalore being the Gateway in Global Tech Advancements along with the state's contribution to the country's digital economy and growth.
Set to boost a global dialogue on strengthening the policy framework and international business potentials

Guest of Honour Dr. C. N. Ashwath Narayan, Hon'ble Minister Electronics, IT, BT and S&T, and Minister for Higher Education, Skill Development, Government of Karnataka addressed the dignitaries on Bangalore's tech advancements

Global congregation of 12 smart technology sectors including State of Israel Ministry of Economy and Industry, Japan External Trade Organisation, World Health Organisation, Wipro GE, IBM, PTC, DRDO, Hero Electric Vehicles, NASSCOM
Among others to address the inaugural session of this prestigious event were Ms. Sindhu Gangadharan, SVP & MD, SAP Labs India & Head, AP User Enablement, Mr. Rajesh Agrawal, Hon'ble Deputy Mayor of London for Business, UK, Mr. Takashi Suzuki, Director General, Japan External Trade Organisation (JETRO) and Dr. Omkar Rai, Director General, Software Technology Parks of India.
Speaking on the occasion, Shri BV Naidu, Chairman of SMARTecIndia2021, Chairman, ASSOCHAM SRDC & KSDC, Managing Manager, StartupXseed Ventures, Founder and Chairman, The Gain said, "The country has around 60,000 startups and with an average age of 28 years of the founders of these startups. Nowhere in the world, such numbers of entrepreneurs are there. That happens only in India."
Dr. C. N. Ashwath Narayan, Hon'ble Minister of Electronics, IT, BT, and S&T, and minister for Higher Education, Skill Development, Government of Karnataka said "Moving forward we need to make use of any opportunities you have to us. We need to facilitate there's a huge potential and scope for the growth of the innovation and technology and entrepreneurship focr this to become more on much more successful, we need to come with many of the facilitating factors."
"In the state of Karnataka, we are willing to support the requirement of the industry in the terms of the skilled manpower", he added.
We are one of the first companies to get certified on the 3d secure 2.0 initiative from NPCI and from Visa MasterCard. All in all ISG partners with acquirers, issuers and, network operators and settling billions of transactions on an annual basis. We have large partnerships with group a MasterCard, Visa, and we are one of the largest processes of UPI transactions in India." Said Mr. Rachit Kumar, CDO, In-solutions Global Ltd
Event Partner ISG announced the launch of "ISG Pay", #SmartMerchant an all-in-one mobile payments app with a mission to reach every last mile of merchants across India. The app was launched by Mr. Ranjeet Jaiswal, SVP Business Head, In-Solutions Global Ltd.
In ASSOCHAM 2nd Innovators' Excellence Awards 2021 L&T Technologies Services won the award for Innovation in Overall Customer Experience, In Solutions Global Ltd for Best Process Innovation, Apeiron Techno Venture for Innovation in Service Sector, Blu Cocoon for Innovation in Environment and Sustainability, Tirupati Group for Innovation in CSR Initiatives and Smentor Solutions for Best Innovation by an SME.