Cummins India Limited Advances its Mission of Powering a More Prosperous World; Receives Certification for CPCB IV+ Emissions Standard Compliance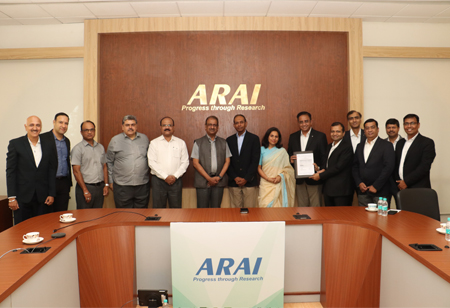 Cummins India Limited, one of the leading technology providers of power solutions, announced it has received various CPCB IV+ compliance certifications from the Automotive Research Association of India (ARAI).
The certifications awarded by ARAI reaffirm the readiness of Cummins India Limited to provide its customers with various CPCB IV+ emission norms compliant gensets, effective July 1, 2023, when the new regulations will come into effect.
Ashwath Ram, Managing Director of Cummins India Limited, says, "Cummins has been at the forefront of powering the growth and prosperity of India for more than six decades. For us, the transition to CPCB IV+ genset emission norms is more than just launching a technologically advanced and compliant product range. It is a long-term commitment toward providing the environment-friendly next generation of power solutions to our customers, industry, and the planet. The certifications are a strong testament to our capabilities in providing robust, Made in India, reliable, and sustainable power solutions."
Shveta Arya, Business Head, Power Systems, Cummins India Limited says, "As India gets ready to implement one of the most stringent genset emission norms on July 1, 2023, we are delighted to receive the various CPCB IV+ compliance certifications for our genset engines. This validation increases our confidence to provide exceptional power solutions that meet the highest performance, reliability, and environmental responsibility standards."
The CPCB IV+ emission standards are one of the most comprehensive and stringent emission norms for power generation engines that the Central Pollution Control Board (CPCB) is planning to implement from July 1, 2023.