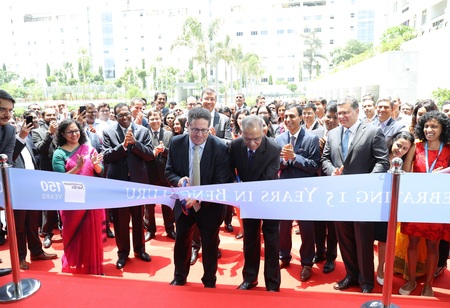 CEO Insights
The Global investment bank Goldman Sachs inaugurates its new office worth $250 million at Helios Business Park in Bangalore. The new office will serve as a global center, supporting innovation, at the union of technology and financial services. This office has 1.2 million square feet of building area housed within three 10-storey towers with a seating capacity of approximately 7,300 employees. Goldman Sachs first broke the ground for the construction of its new Bengaluru office in 2014.
Gunjan Samtani, head of Goldman Sachs at Bengaluru, states, "Our Bengaluru office has become one of the firm's global centers of innovation focused on the development and application of artificial intelligence, machine learning and data analytics to help solve business problems for our worldwide network. The world-class facilities built into 150 ORR(Outer Ring Road), which is a name that commemorates the firm's 150th anniversary this year, will enable our people to further locally innovate and collaborate with our offices around the world."
Goldman Sachs started its Bengaluru operations in 2004, and today it has over 5000 professionals as its employees. It is the company's third largest office in the world by headcount, and plays an important role in the firm's global activity. The Bangalore office stands second, by possessing the largest number of engineers, next to the company's New York headquarters.

In the past five years, the Bengaluru office's head count has increased by 24 percent CAGR. During this period, the company has also fueled the campus hiring for full time employees in India by 20 percent. Goldman Sachs has recruited from 89 Indian Universities and Post Graduate Programs in the year 2018.

"The Bengaluru office has grown in size and technological sophistication to become an incubator of talent for our businesses around the world. The significant investment we have made to build this state-of-the art workplace reflects the importance placed on the high-quality work done in India and our focus on hiring the best people," says David M. Solomon, Chairman & CEO, Goldman Sachs.