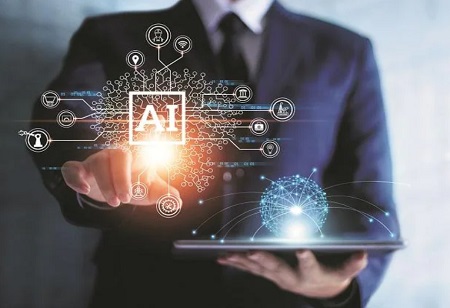 India currently ranks first in terms of AI skill penetration and AI talent concentration and fifth in AI scientific publications, a Nasscom report said on Friday.
India's 'AI Skills Penetration Factor' has been reported to be 3.09 -- the highest among all G20 and OECD countries.
It shows that India's tech talent is 3X more likely to have or report AI skills than other countries, according to the report by the National Association of Software and Services Companies (Nasscom) in partnership with Salesforce and Draup.
India is also expected to witness high growth in the demand for data science and AI professionals with an estimate of more than 1 million professionals by 2024.
"AI-led disruption in India's core sectors alone has a potential impact of $500 billion on India's economy in gross value added (GVA) terms by 2026. However, this cannot be achieved alone and would require concentrated efforts from the government, industry and academia to ramp up AI skilling and initiatives at scale," said Debjani Ghosh, President, Nasscom.
The recent announcement by the government to set up three Centres of Excellence to develop AI for India and to make AI work for India is acean excellent step forward in building the core capabilities in AI and design thinking needed to drive actionable impact," she added.
More than 1,900 AI-focused startups are providing innovative solutions, primarily in the areas of conversational AI, NLP, video analytics, disease detection, fraud prevention and deep fakes detection.
"People with the right domain expertise and business context have the ability to build predictive models, plan simulations and scenarios, and cluster data. These skills are in high-demand and have huge potential to optimise business efficiency and more importantly build trust among customers and employees," explained Deepak Pargaonkar, VP, Solution Engineering, at Salesforce.
As of August 2022, India's total demand for data science and AI stood at 629,000 with an installed talent base of 416,000.
The current demand-supply gap in data science and AI in the country stands at 51 per cent, significantly lower than major economies such as the US.
Currently, the top five roles -- ML engineer, data engineer, data scientist, data architect and DevOps engineer -- together constitute 73 per cent of all AI job openings in the country.
At the same time, the two top roles -- ML engineer and data engineer -- constitute 46 per cent of total installed talent.
With over 1.6 million digital talent pool (as of FY2022E), India has emerged as the prime destination for talent globally, said the report.