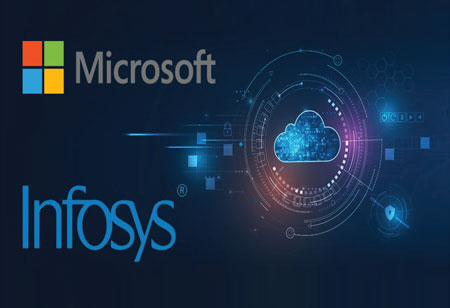 CEOInsights Team, 0
Infosys, an Indian IT services company, announced on Thursday that it will expand its collaboration with Microsoft to drive enterprise cloud transformation globally. The extended strategic collaboration between Infosys and Microsoft is expected to benefit enterprises by bringing them the best of Infosys Cobalt cloud offerings and Microsoft's cloud computing technologies, led by Azure, across the business value chain, according to a statement. "The collaboration will deepen with the on boarding of Infosys Cobalt solutions to Microsoft's industry clouds, enabling enterprises to build agile cloud-powered platforms and innovate at scale" according to the statement. The collaboration of capabilities in application modernization, enterprise solutions, data analytics and Artificial Intelligence (AI), digital workplace
solutions, low code, no code power platforms, and cyber security innovations will lay a solid foundation for cloud powered applications.
The Extended Strategic Collaboration Between Infosys And Microsoft Is Expected To Benefit Enterprises By Bringing Them The Best Of Infosys Cobalt Cloud Offerings And Microsoft's Cloud Computing Technologies
Microsoft Corporation is a multinational technology company headquartered in Redmond, Washington, US. The Windows operating system, the Microsoft Office suite, and the Internet Explorer and Edge web browsers are among Microsoft's most well-known software products. The Xbox video game consoles and the Microsoft Surface lineup of touch screen personal computers are its flagship hardware products. Microsoft was the world's largest software maker by revenue in 2019. It was ranked No. 21 in the 2020 Fortune 500 rankings of the largest United States corporations by total revenue. Along with Alphabet (Google), Amazon, Apple, and Meta, it is one of the Big Five American information technology companies (Facebook).