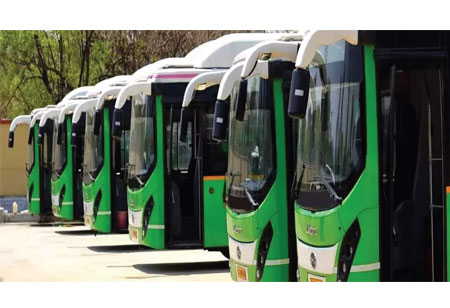 CEOInsights Team, 0
On Thursday, Olectra Greentech, in technical collaboration with Reliance, unveiled a Hydrogen Bus, a carbon-free alternative to traditional public transportation. According to a statement, Olectra Greentech (OGL), a subsidiary of Megha Engineering and Infrastructures (MEIL), will offer the nextgeneration transport system to the Indian market. Olectra has taken the initiative to accelerate the development of hydrogen-powered buses in response to the depletion of natural resources and the negative effects of air pollution and emissions. This initiative will assist the Indian government in meeting its carbon-free hydrogen goals.
According to the statement, Olectra intends to contribute to the nation's environmentally sustainable energy security with its Hydrogen buses. According to the
company the 12 metre low-floor bus has a customisable seating capacity of 32 to 49 seats for passengers and one driver seat. The bus can travel up to 400 kilometres on a single hydrogen fill. It only takes about 15 minutes to fill this range with hydrogen.
Olectra Has Taken The Initiative To Accelerate The Development Of Hydrogen-Powered Buses In Response To The Depletion Of Natural Resources And The Negative Effects Of Air Pollution And Emissions
In terms of emissions, these buses emit only water through their tailpipes. This is the main unique selling point for replacing old diesel and gasoline systems with these green buses. Type-4 hydrogen cylinders are installed on the bus's roof. The cylinders can withstand temperatures ranging from -20 to +85 degrees Celsius. Olectra plans to commercialise these buses within a year. Olectra Greentech, founded in 2000, is a pioneer in the manufacture of electric buses in India. It is also India's largest manufacturer of Silicone Rubber/Composite Insulators for power transmission and distribution networks.