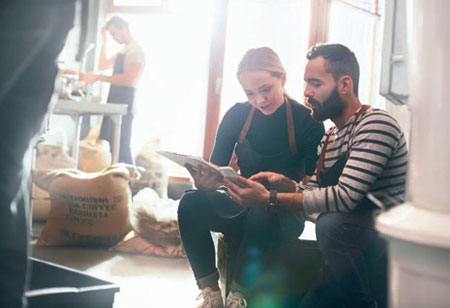 CEO Insights Team, 0
Having crippled the backbone of millions of businesses, especially small & medium, in the past one year, pandemic is far from gone. And the impact is here to stay for long. Though the world is standing back on its feet, the pace is slow and is mostly met with new challenges. However, optimism is the key and these small and medium businesses know that. Hence optimism is starting to improve and business owners are looking to move past COVID-19 as quickly as possible.
A study by Thrive Analytics reveals that most business owners in moderately affected business segments feel they will be back to pre-pandemic sales levels by the second half of this year. Harder hit segments, like hospitality and travel, feel it will be well past this year before they get back to normal. Talking about the challenges businesses face over the next few months, managing cash flow (60 percent) and getting customers back (48 percent) were among the top reasons.
"Optimism continues to improve in the small business community. It is still not at pre-COVID-19 levels but as more people are vaccinated and restrictions are lifted, I expect it will continue to trend up," said Jason Peaslee, Managing Partner of Thrive Analytics.
The Survival Strategy
Digital adoption was never loved and embraced as much by entire business fraternity as it was in the last one year. Going digital was the survival strategy and technology has been the life savior. A third of small businesses had to adopt new technology or upgrade existing technology
to operate in the COVID-19 environment. Workplace productivity (45 percent), communication (40 percent), payment processing (38 percent), and e-Commerce/ website upgrades (35 percent) were top areas of investment. This trend is expected to continue and nearly 70 percent of the respondents (business owners) stated they felt these new technologies were critical to their success.
While payment processing (35 percent) will remain a top area for investment this year, sales/ordering tools (33 percent), and financial tools (28 percent) will follow. Jason added, "The COVID-19 pandemic has accelerated technology adoption in the small business marketplace. It has forced two-three years of adoption into a few months. As we emerge from this pandemic, some things will never go completely back, and businesses will have to continue to evolve."
Pandemic has taught customers to go for brands that have helped the social cause during the pandemic and served the humanity
However, when we look at the other side of the challenges, they remain same but have worn new capes. For instance, finding customers and building brand awareness can be zipped under one category but efforts to achieve them will also route through one path. How? Pandemic has taught customers to go for brands that have done their part in serving the social cause during the pandemic and served the humanity. Indeed a social brand building is what today attracts loyal customers.
On the other hand, hiring talent have become more competitive. The talent war has become more fierce and companies now look for more core and domain specific talent that will be in demand. Financial planning is another focus area that needs constant attention. Many small and medium businesses are dealing with financial crisis, and this has resulted in the death of many of them. Hence sharpening the financial skills should be one of their top priorities.